When the curtains rise on the Miss Guyana Universe pageant this evening at the Princess Hotel, the venue would have welcomed a special guest, Ms Universe 2011, Leila Lopes from Angola, who is here for four days.
At a press conference held at the Princess International Hotel on Thursday, Miss Universe spoke about her past year's accomplishments and her friendship with Miss Guyana 2011, Kara Lord. She reminisced on the 2011 pageant, noting that Miss Guyana was the very first person to greet her when she arrived in Sao Paulo, Brazil. They had a previous connection on Facebook and they were immediately friends at first contact. She said they always talked about their individual countries and she longed to come to Guyana after meeting Kara. Leila expressed how delighted she is that she is finally here.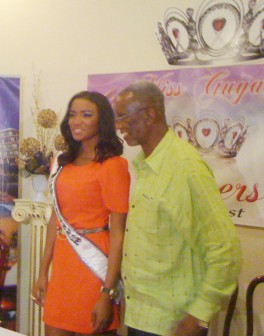 Miss Universe has a lot on her plate during her four-day visit to Guyana: a courtesy call on President Donald Ramotar, visiting the Maternity and Children's wards of the Georgetown Public Hospital, rural villages like Buxton, Kaieteur Falls and other sites.
Odinga Lumumba, National Director of the pageant, highlighted that the two countries share a lot in common and just having Miss Universe here is special. He further expressed that Ramotar should make her an honorary Guyanese stating that Guyana played an integral role in the independence of Angola.
He then thanked everyone for their hard work and contributions, "These things cannot happen without the support of everybody." He further thanked the sponsors and corporate supporters.
Meanwhile, the contestants for today's pageant were sashed last Sunday at the Palm Court in a ceremony that started two hours late.
This evening, one contestant will be crowned and move on to represent Guyana at the Miss Universe Pageant 2012 in Santo Domingo.
Comments

GEMS Theatre Productions presents a new half an hour sitcom "Days Like Dese," a family-oriented comedy that surrounds the Rupauls, a middle-class Guyanese family.

Just three weeks short of the staging of the Miss Guyana Renaissance pageant, twelve ladies are kept busy perfecting dance routines, walk and speeches.

Twenty-year-old Keisha Brazh under the African name 'Serwah Mawusia,' is representing Ghana.

Put to task at the age of just ten to help to create the family's Christmas cake propelled Rabina Shivraj into a world of baking and decoration and today she has learnt the art of hooking her customers, first with her creativity and secondly with the taste of her creations.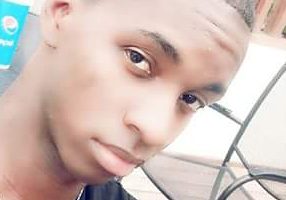 By Joanna Dhanraj With August fast approaching, the contestants of the Mr and Miss Guyana African Roots 2017 pageant are busy perfecting their skills for their big nights.