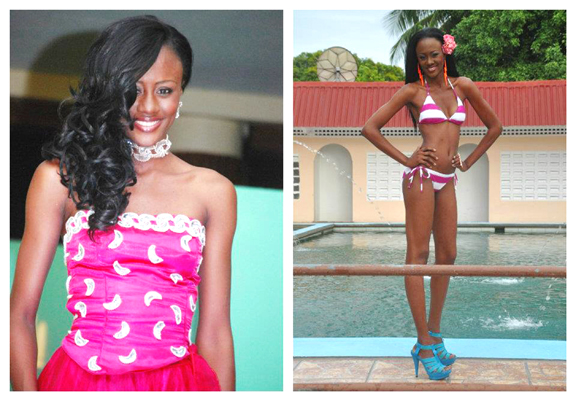 By Jairo Rodrigues
Ayana Harris hopes to perform in regional pageants across the Caribbean to gain experience in the fashion world. She will also be working closely with the Beacon of Hope Charity, a charity that provides clothing and food items to the less fortunate during her year's reign as Miss Guyana Jamzone.
Ayana did not do as well as she would have hoped, but is content that she gave it her best. Ayana was the third runner in the Jamzone International Pageant held here in August last, which was won by Jamaican Kerrie Bayliss. The first runner-up was Miss St Lucia Louise Liza Victor, followed by Miss St Kitts and Nevis Trevicia Adams, Ayana and then Miss Trinidad and Tobago Renee Bhagwandeen.
Ayana, however, did win two special prizes: Best Fantasy Wear and Miss Congeniality.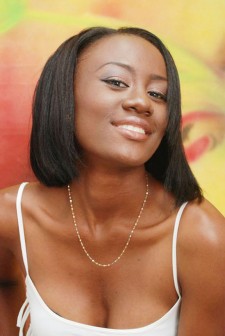 It was easy to see how she copped that second prize. When asked about the road to being chosen to represent Guyana, she said it was an amazing experience and she would be willing to do it again if she had the chance. She misses the girls although they talk every day. "The love we have for each other was enough to heal the world," she said.
Ayana was born on March 6 1989 at the Georgetown Public Hospital and from the age of nine she lived in the Werk-en-Rust borough in south Georgetown. "From what I can remember the area was always quiet. I spent most of my time playing in our yard with my brother," she said.
She jokingly recalled that her folks were very strict so she and her younger brother weren't allowed past the gate. Her brother is just one year younger. Her parents separated and migrated when she was an infant so she was left in the care of her paternal relatives. "It was a very strict environment but it was filled with love and happiness," she said.
She has two brothers, a pair of twin sisters, two other sisters and a baby on the way.
She describes her grandmother to be just like Madea (the character created and made famous by Tyler Perry), "maybe crazy or justified but always the root of the household. We argue a lot in our household if we don't our days don't go well. It's sheer drama, trust me. But I love them, they mean the world to me."
She said her family was never rich, but they (the children) were comfortable, happy and grateful. "We were given everything that was needed. Whatever the sacrifice was, it was made and our needs were met."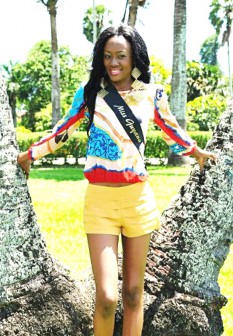 Childhood memories are of house parties and barbecues, grilling and other communal activities that were very dominant in her neighbourhood, like little children playing on the streets. "Princes Street, Werk-en-Rust is the friendliest and most welcoming community and we look out for each other too," she said.
She attended the St Ambrose Primary School, Central High where she gained eight CSEC Subjects and then did CAPE at St Roses' High. She has a Diploma in Business Administration from the University of Cambridge and diploma in Marketing from the University of Guyana. She is now in her third year of a degree in Management at the University of Guyana.
Ayana recalled that her first pageant success was at high school where she won the Miss Central crown and the impetus to do this came from her grandmother.
"I had asked her [grandmother] if I could do it and she said yes without even thinking. My grandmother is the glamour lady. I learnt about stilettoes from her. She wore 6" heels to work and as a little girl I would try them on and march my little body around the house in them," she said. Ayana has since done four more pageants: Miss Guyana Talented Teen, Miss Guyana Junior, Miss Guyana Universe and Miss Jamzone. She won Miss Guyana Junior and placed 3rd runner-up for the Miss Guyana Universe 2011.
Ayana's love for fashion goes way back. She recalls participating in fashion shows since nursery school.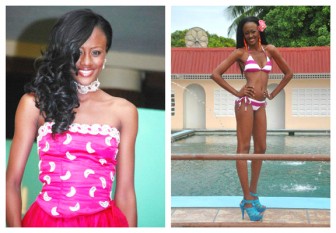 "I see myself having a relationship with modelling, we are like husband and wife and we go through all the ups and downs that you can find in relationships," Ayana said. "Modelling is something that comes natural to me and so pageantry gives me the stage to showcase my modelling talent and to elaborate on a platform that interests me, coupled with the fact that I get to highlight this beautiful country of ours. My crown is an achievement to me. It's like a success story that was long awaited."
Apart from her grandmother who is her biggest supporter she said she draws strength from others like her uncle and aunts; Jenel Cox, a former Miss Guyana Universe and a good friend who "really motivated me to enter the pageant"; Marcia Abrams, Ryan Dey, Keisha (her hairdresser) and other close friends. "All these folks were instrumental before and during the pageant and I'm so grateful for and to them," she remarked.
"Battling for the crown, I thought I had to bring my 'A' game which I thought I did. Pageant night I gave all of Ayana Harris. I knew who my competitors were and my main objective was securing a place in the top 5 which I thought was the safest and closest place to the crown.
"I was nervous for my first appearance which was my introduction. To be honest I'm always nervous at the beginning of any competition, after my first appearance everything else flows for me. Confidence is always there even when I'm nervous so on stage you could have told me the worst thing and it wouldn't have bothered me. The one thing that's gets all of my nerves is the thought of the final question. The only thought that's in my mind then is: just make sure you answer the question."
In the distant future she hopes to walk the runways of Paris clothed in a Valentino garment. "Maybe," she said, "I'll do another pageant, finish my degree, work in the marketing arena and start a family."
Ayana enjoys watching a good game of cricket and is currently glued to theWorld Cup T20. She loves football and mentions that it is also football season where she is focused on her support for her favourite teams: Barcelona, Chelsea and Real Madrid. Her hobbies include cooking and being on her Blackberry. She also loves to watch boxing, track events and listen to "oldies" music.
She is not really the club going type but said she does like the Palm Court vibe. She is social in the sense of casual hanging out with friends who, as she puts it, "Will make me laugh on a sad day or let me know that everything is going to be alright when I think it is not. I'm addicted to happiness, it makes my world feel alright."
Around the Web