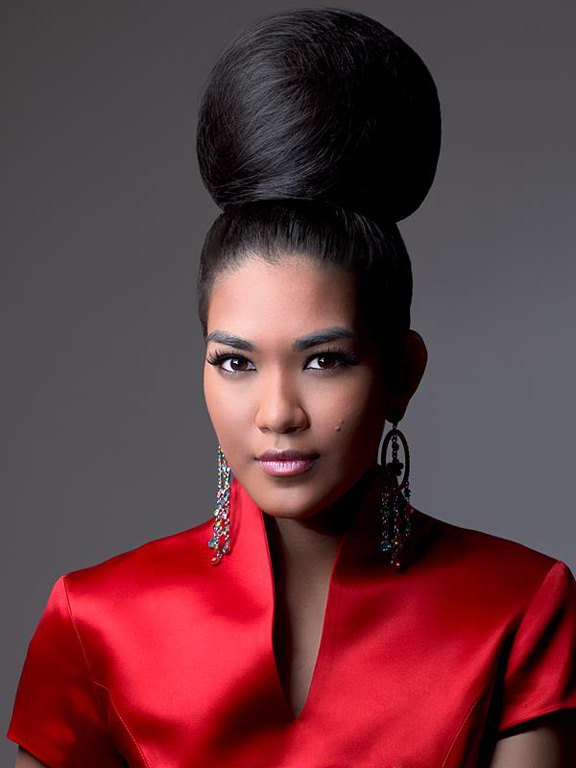 'I believe in staying positive and grounded regardless of the challenges life may throw my way. When you believe in yourself, dream big and work hard, success is inevitable. It is also better to try and fail, than to fail to try, that way you live with fewer regrets and avoid ending up at the point of thinking, well, what if…?' – Arti Cameron, Miss Guyana World 2011-2012
By Jairo Rodrigues
While holding the title Miss Guyana World for two years, Arti Cameron made history over and over again. Her success story began on July 31, 2011, after being crowned Ms Guyana World 2011. But when it came to the Miss World Pageant in London, Arti got into a sticky situation. Her British visa was delayed, causing her to miss the international pageant. The Miss World Organisation proposed that she represent Guyana the next year and so Arti went on to battle 115 other contestants in Ordos City, China where she represented Guyana well. Mass support from Guyanese and people from around the world gave her the opportunity to win the 2012 Miss World People's Choice Award.
The first Miss Guyana World to hold the title for two consecutive years, Arti shared with The Scene her international pageant experience and how she thinks the franchise should be promoted on a national stage. "I believe that my horizons have been pushed back and I have gained a wealth of experience in dealing with challenges effectively, overcoming obstacles with grace and staying positive no matter what life has thrown my way," she said.
"The whole pageantry experience has also been a huge learning experience and I now understand how we can improve Guyana's chances of getting closer to premier international crowns such as the Miss World title. We need to first ensure that the pageant franchises are in proper, responsible hands so that the best interests of Guyana's representatives are protected and Guyana has the best chances to succeed. This is a patriotic requirement and anything less would not suffice."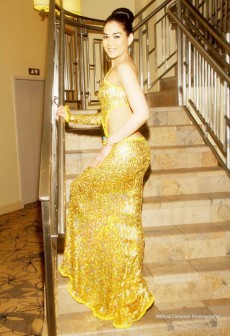 With 115 other contestants, making the pageant the largest in Miss World's history, the competition was steep and Arti found it to be a tough one. To quote her on her struggles: "I knew I was not playing with a full deck of cards so to speak. I knew that other Miss World contestants enjoyed a stronger backing and support system from their franchise holders and the organisations they were working with on the national level when I was basically abandoned by the Miss Guyana World Organisation. However, I decided to put my best foot forward because I knew that people believed in me, and I believed in myself. I was well aware that some things were just not in my hands, but doing my best was what was required of me and that's just what I did."
Overcoming the abandonment, home sickness and her illness, she pressed on. "Just before I got on stage, I would get a bit nervous, but as soon as I was in the spotlight I was overwhelmed with a great sense of personal and national pride which made me smile from ear to ear. I think I was one of two Guyanese in that entire building [the second being Miss Jamaica's mother] but I felt so supported and so loved by my people. This really gave me a boost of confidence. I felt very proud and privileged." Miss Guyana World said.
When asked how she feels about being a role model and an icon to many, she said "I feel very honoured to be seen as a female icon of Guyana. I have always seen the crown as a symbol for empowerment. I hope to be a good role model to those who look up to me and to inspire those who are courageous to dream big despite the disadvantages of life."
Living her dream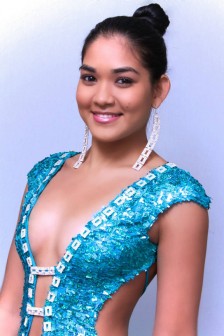 Ideas of one day being on an international stage had danced in her head since she was 16, but at that time with CSEC examinations around the corner she had stopped participating in extra-curriculum activities to facilitate studies. Arti expressed that in 2011 when she was preparing to write her final examinations before graduating with her Bachelor's Degree, a family friend suggested the idea of her participating since they thought she would be a good candidate for the Miss Guyana World title.
"I was quite thrilled at the thought at first but decided to discuss it with my family and other friends to get their feedback on the topic. I decided to take advantage of the opportunity to compete for the title and a chance to represent my beloved Guyana on the world wide stage- and live my dream."
And her dream was well lived. In the 2012 international pageant, Arti received massive home support from Guyana and around the world as the People's Choice to wear the crown; perhaps the largest unified support in the country's history. If the pageant was a democracy, Arti would surely have been Miss World 2012.
When asked to comment on that experience, she answered, "I feel very blessed to have gotten the overwhelming amount of support from Guyanese at home and abroad. This led to our victory in attaining the People's Choice Award powered by Missosology during the Miss World 2012 Competition. When I found out we had won, I felt like the luckiest girl in the world. I was so happy to have my country's support especially when I was so far away from home. I also felt motivated to continue doing my best. It did not matter that I was ill for ten days while at Miss World even during the Sports Segment, for which I was a finalist. Only the closest people to me knew I was ill but I remained motivated, thanks to the support I received."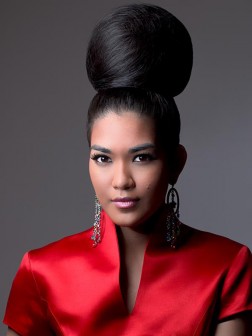 She continued, "I will always be thankful to the Guyana and Diaspora media for their support, before, during, and after Miss World. They showed a great deal of international savvy and an understanding that they were supporting Guyana on the international stage through me as the country's national representative at a premier international pageant."
But what does the weight of the crown really mean to Arti? "I think pageantry when done correctly, can provide a good platform for young women to really find upliftment and further growth," she told The Scene. Pageants can maximise the potential of young women by motivating them to focus on themselves and being the best they can be.  My crown represents a dream come true for me. Not only does it symbolise the idea that by believing in yourself and working hard anything is possible, but it means that I get to use it for the good of others. Having the crown means I can use my platform to highlight important issues like domestic violence, the empowerment of our youths, and change in their own communities. Having the crown gives me more leverage to empower and support others."
She said the driving force behind her pageant life was having grown up around very passionate people, so motivation came naturally. "My family has always been very supportive of what I've decided to do in life and once I've let them know what my plan is, they've always helped me to weigh my options and supported my efforts. If I were to choose one person who I look up to as a role model and who inspires me a whole lot, it would be my stepmother. She is a strong woman, who has never let the challenges of life prevent her from achieving her dreams."
In describing pageant life and the experience of a world stage, she said: "Pageantry is very challenging, at every level. Apart from being a big production, it's also a business. A title holder needs to be strong, motivated and very balanced in approaching all of her duties because she experiences her reign under the spotlight. The whole pageant experience was a whirlwind experience for me. I have had the opportunity to meet many wonderful people [including the other Misses of the world], shared my views on my beautiful country and had the opportunity to work on and support several humanitarian causes."
Early life
Arti was born to Wilfred Cameron and Savitri Chotoo on December 14, 1988 at the St Joseph Mercy Hospital, in Georgetown. She spent the first six years of her life growing up in Hadfield Street and would pass and admire the Brickdam Cathedral on her way home. One of her fondest memories of that time is running and playing in the yard surrounded by the beautiful plants and flowers that formed a welcoming corridor leading to her house.
Shortly after her sixth birthday, Arti and her dad packed up their bags and headed to Jamaica. She spent the next five years of her life in the Westmoreland Parish of Jamaica where she frolicked in a yard filled with all sorts of trees: tamarind, orange and breadfruit. She recalled having the sense and enjoyment of freedom while playing in such open spaces.
Arti returned to Guyana in 1999 and wrote the Common Entrance Examination, gaining a place at the St Joseph High School.
She noted that some people do not readily realise she had attended and completed high school in Guyana and only went to college in the United States. Once at college in New York, she quickly realised that her Caribbean education was second to none.
Arti said she shares a great relationship with both of her parents but somehow felt closer to her father. She noted that her mother was always there but she thinks her father was a very involved parent who didn't want to miss a beat when it came to his then only child. Her parents separated when she was about four years old and eventually divorced, from then on her father single-parented her for the remainder of her childhood.
Her brother (on her mother's side) was born when she was just ten years old and her sister (on her father's side) is 21 years her junior, so she spent most of her childhood being an only child. She notes that she has maintained a very close relationship with her mother's side of the family especially her grandparents because by the time she returned to Guyana at age ten, most of her father's relatives had migrated to the United States.
Special bond
Arti said she grew up in a family oriented home and has always received love and care from her family in every situation, especially from her father whom she describes as strict, but always her best friend. "We've lived in three different countries and have gone through a whole lot together, so we have developed a very special father-daughter bond. My family—including my father, mother and stepmother—has always been very supportive and held high expectations for and of me," she said.
Sharing some of her Jamaican memories, Arti recalled her childhood best friend. "I would see my Dad in the morning before he left for work and before I headed out to school. I spent most of my free time growing up alone. I would do my homework, clean my room after school and then spend the remainder of my free time by myself reading or at my best friend Chinsia's house…  She lived right across the street from me so we made ourselves snacks (like fried eggs and ripe plantains) and played until my Dad picked me up on his way home from work. I remember there was a truck repair service right across the street from where I lived and right next to Chinsia's house. We would always get excited when the big trucks came in to park… I am not sure why but it was a treat."
But then Arti stepped into a new era of her life. Before attending the Fiorello H. LaGuardia Community College and Hunter College at the City University of New York where she attained an Associate of Science Degree in Liberal Arts, Math and Science, she was in the Ms St Joseph's Pageant where she won the crown that opened the gates to her Miss World experience.
When asked to comment on her first experience in a pageant, she said: "I was no stranger to competitions but I always participated as part of a team. For example, I was on the school's netball team; I participated in dance competitions in the group category and I was part of a marching band in primary school. I would always admire the young ladies who represented their countries at the major international pageants and wished I could have the honour one day but pageantry was never a primary focus for me." She said her academic life was and still is her main focus.
Arti is currently a pre-med student preparing to write the Medical College Admission Test (MCAT) at the Hunter College in the City University of New York. In the near future she sees herself finishing her medical degree and practicing. She hopes to travel back to Guyana and other parts of the world to volunteer her services to those in poverty stricken areas.
Around the Web