Guyanese-American poet, Raa'id Khan, 27, found new fame in Guyana when he captivated his audience with his powerful words at the three-day National Islamic Convention hosted by the Guyana Islamic Trust at the International Conference Centre at Liliendaal, East Coast Demerara.
He has also performed at various public places and Inter-faith events as well as festivals organised by the mayor of Florida.
Raa'id, of South Florida discovered his natural talent at age 15 and is using it to spread positive messages especially to young people.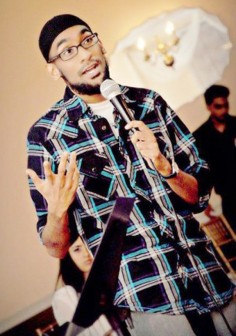 It all started when he attended a two-week camp and "saw two brothers doing rap and it intrigued me enough to pick it up and start writing. I just ended up calling my work poetry."
Since then, there has been no turning back and he has published a book, Inside My Mind featuring a collection of over 100 poems. His writings highlight issues facing youth and provide inspiring solutions. He has since written hundreds more.
Among his other work is a three-part poem called "Epic Story", based on the life of a dedicated Muslim brother (now deceased), that he plans to put together in a single book. Raa'id said his writing began as a personal journal and at first he had no intentions of sharing it with anyone. But as it "started to evolve" he picked up the pen-name, 'Silent K,' which aptly describes his "quiet and shy" personality.
He began to share his poems with family members and recognizing his gift, they encouraged him to go public.
Five years later, Raa'id, still using the same name 'Silent K' commands attention on stage when he releases the power of his "spoken word", proving to be anything but silent.
Growing up as an "introverted person," Raa'id's skills have "forced me to kind of step outside of my shell, outside of my box… That is when you learn how to do public speaking and communicate and interact with people on social settings."
His studies had nothing to do with poetry. In fact, he has earned a degree in Small Business Management/Entrepreneurship and Marketing from Florida Atlantic University. Raa'id who is employed as an office manager, information technology coordinator and computer teacher, was just 11 months old when he moved to the US.
He is a member and former president of the Florida Association of Young Muslims and enjoys working with youth.
His writings range from personal to "specific occasions where I highlight different things like injustices, wars or current events that have been happening or I would write specific pieces for the stage."
He stressed too that "if I want to share a message or to get this concept across then I would sit and do different researches and put them into an artistic form."
Thankfully, Raa'id does not keep his talents to himself and would be invited to share them with youth groups and high school students.
He would also conduct workshop sessions "with the youth to motivate and encourage them to take up writing or any kind of artistic expression like painting, drawing, poetry, essays or creative writing… so they can have a well-balanced education.
"I always encourage them to find that talent, that gift that God has blessed them with, maybe it is being a great debater, public speaker or journalist and they need to bring it to light… They have to try to figure out what is it that they have, what is special about them and how they can use that to contribute."
The youth would also be given the opportunity to perform at poetry events at cafes and even be inspired to do their own writings.
Meanwhile, he is happy that when he shares his poetry "from different angles" and at certain venues he would get comments from the majority of the people in the audience like, 'there are good Muslims' or 'Islam isn't bad'."
According to him, "Their perception of Islam changes when they see me and interact with me at these forums…"
While his work is "geared mostly to the youth" he is surprised that many adults are also interested in the "poetry and the spoken word…."
Comments

GEMS Theatre Productions presents a new half an hour sitcom "Days Like Dese," a family-oriented comedy that surrounds the Rupauls, a middle-class Guyanese family.

Just three weeks short of the staging of the Miss Guyana Renaissance pageant, twelve ladies are kept busy perfecting dance routines, walk and speeches.

Twenty-year-old Keisha Brazh under the African name 'Serwah Mawusia,' is representing Ghana.

Put to task at the age of just ten to help to create the family's Christmas cake propelled Rabina Shivraj into a world of baking and decoration and today she has learnt the art of hooking her customers, first with her creativity and secondly with the taste of her creations.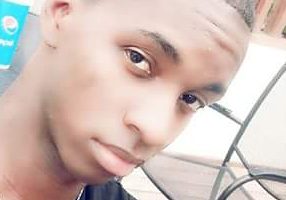 By Joanna Dhanraj With August fast approaching, the contestants of the Mr and Miss Guyana African Roots 2017 pageant are busy perfecting their skills for their big nights.