The first time The Scene spoke with Lisa Punch was after she had won the Star Guyana competition; the second time was when she launched her professional singing career, but this young woman has grown a lot between now and then. Beyond thrilling crowds with her melodious voice, Lisa has ventured onto the drama stage. Taking to it like she had been doing it all her life, she recently won the 2012 National Drama Festival Best Supporting Actress Award.
Not only that, Lisa is also on radio these days and with her pleasing voice has a growing number of fans.
Twenty years ago she was born at the Georgetown Public Hospital on September 4. She lived at the Eve Leary Police Compound for six years, Berbice for two years and then to Charlotte Street, Georgetown where she has resided since. Lisa grew up with her strict, yet loving, parents. The family was not a rich one but as she said, they were very contented with whatever God provided.
Ruminating on her childhood, she told stories of the different experiences. She said she clearly remembers the beautiful childhood she had in Eve Leary: playing with the neighbouring children, climbing mango trees, playing in the old police vehicles, and petting the horses in the stable. But Berbice was a whole different experience, digging for worms and fishing with her cousins, staying up late at nights to look up at the starry skies, playing a lot which was followed by working a lot.

Charlotte Street was different from both Eve Leary and Berbice. She could not play with the children around the area but she certainly did not ignore them, it was her priority to just say "morning" and "good afternoon" and that was it. Mostly an indoor girl from that point onwards, television and reading books were all she had for entertainment. It was on television that she saw the music video of Whitney Houston's "Greatest Love of All" and got the chills.
She said the hair on her body stood up and tears came to her eyes because it was just a beautiful song with a beautiful lady singing. From that day she fell in love with Whitney Houston and music.
So at the age of nine, young and talented Lisa Punch decided that she was going to sing. At age 11, with her parents' encouragement and support, Lisa began to enter various talent shows. She was 14 when she entered and won Star Guyana, earning US$1,500.
This, she says, was the start of her professional career. "Professionals are persons who are paid to use their skills and services. I believe I became a professional the day I won Star Guyana."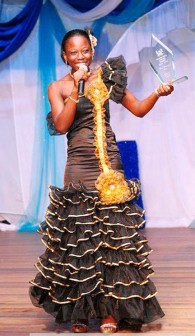 She subsequently became best known as the girl who sang the Carifesta theme song, but now she is a young woman who has achieved so much in so little time.
Her newest challenge of being a dramatist has proven to be quite successful. Lisa said drama is the food that allows her to grow as an individual. She is a member of the Theatre Guild and has so far won the Theatre Guild's Best Supporting Actress Award 2011, the Drama Festival Best Supporting Actress Award 2011 and Drama Festival Best Supporting Actress Award 2012.
But all her talent did not come overnight. For years she has been involved in the arts and developing herself. She was acting since in nursery school. In secondary school, she represented the Georgetown district in Dramatic Poetry in the Children's Mashramani Competition going home almost every time with the first place trophy.
She is currently a radio announcer/producer at the National Communications Network. She produces and presents a programme called 'Young, Talented and Wise' aired every Saturday morning from 09:00 hrs to 09:30 hrs on the Voice of Guyana 102.5 FM/560 AM. She also does the afternoon request show on the Voice of Guyana from Monday to Friday at 16:05 hrs to 16:58 hrs.
But it is to music that Lisa is constantly drawn.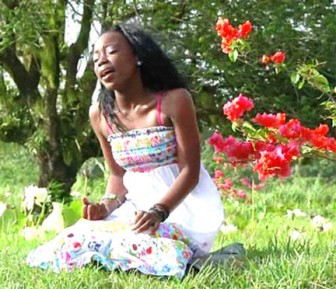 She still strongly admires the legacy of Whitney Houston but now she has added NeYo, Beyoncé and Rihanna as people she admires for their creativity.
"Music is the booster of esteem. It's the only thing that allows you to create your own world. It means everything to me. It allows me to express myself clearly without the fear of being judged," she said.
Soul is her comfort zone but she can sing any genre.
"Once the beat is talking to me I listen, doesn't matter the genre. My music is about young love, being yourself and loving the people around you right now and not later when they're gone."
When promoting music on a national stage, Lisa said, she would just be herself. In every performance, she states, she shows her audience what she is capable of and what Guyana is made of. She promises that in every public appearance her country will be mentioned.
She would like to continue as an entertainer and a radio announcer, and plans to attend the Savannah College of Art and Design to further her career. She definitely plans on bringing more music and an album in 2013.
Lisa's latest hit tune, "One Last Time", which she wrote with her mom, is dedicated to her cousin Samuel Paul, who died recently. "God is the reason I am where I am. I am thankful to Him for everything," Lisa said.
She also wanted to mention her present producers, "Darrell Pugsley and Ken 'DaBeatMaker' Taylor. I want to say thanks to Ken also known as Hulk for recording me at his home when I was 12; singing all those Whitney songs. Thanks to Bonny Alves and Mark Hall for recording me at the age of 14 – launching my career.
Thanks to the persons who believed in me from the beginning! To the lovers of my music, thank you so much for everything!"
Comments

Having been able to keep huge corporate client Demerara Distillers Limited has had Makeup Artist Cideca B Mangal turning heads for quite some time.

Dancehall artiste Keon 'Rictyza' Forde will be releasing three brand new singles just in time for the Mashramani season.

Authentic jewelry, handmade with stones and beads is accessible at the newly opened Divas Art and Craft Store located in the Avinash Complex on Water Street, which boasts of producing pieces that will last for a lifetime.

Nigel Butler, a former Burrowes School of Art student, is making great strides with his unusual artwork around Guyana.

The Guyana Ballroom Dancers Association (GBDA) hosted its third show and dance off last Saturday night at the King Solomon Hotel (Main Street Plaza).