Hi Everyone, I couldn't possibly reveal the subject of this column in the headline for fear that you might not buy the paper. For fear that you might groan and say: "Not again! Enough already!" Just bear me with one more time, please. I want to tell you about… ammm… Okay imagine me whispering it in your ear: a pepper chutney! Now imagine me looking everywhere else but at you.
Love me. Don't put down the paper!
I'll say this quickly and then get out of the way and we need not talk about hot peppers, again, for a while. One can only hope.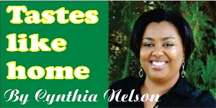 So, last year while on my media rounds in Trinidad promoting, ahem, the award winning, Tastes Like Home – My Caribbean Cookbook, I bought a book, Caribbean East Indian Recipes and subsequently met one of the authors, Dr Kumar Mahabir. It's one of those books you find in cozy neighbourhood bookstores. There are so many treasures of readable pleasure to find in such bookstores.
The book features over 70 iconic recipes that are synonymous with Indo-Caribbean food. Dosti roti, Kitchree and Rasgoola all makes appearances but one recipe caught my attention simply because of the introduction.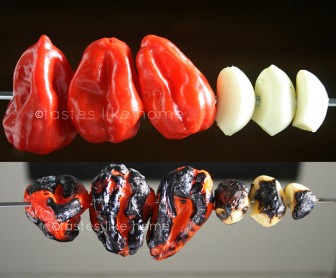 "This type of chutney is rarely served nowadays. It is, however, still homemade and eaten mainly by rural Indians as an accompaniment to a meal." While the recipe calls for the ingredients to be first fire-roasted and then ground to paste and tempered with hot oil, it gives a variation that says, In Guyana, the ingredients are minced and then fried with mustard oil.
Five ingredients and several minutes later I found myself scared as hell to eat the chutney. Man, you could smell the potency of the heat. It looked great with its darkness from the char and the hint of redness from the peppers, the delicate pieces of fresh coriander (cilantro). The garlic gave it a creamy texture. I was brave but I didn't want to show off so I took just a little to eat with my food. It was blazing hot. I was so scared the first time I had the chutney that I was not concentrating on its flavour but more on the heat. However, upon subsequent helpings, I appreciated the smoky-charred-fire-roasted flavour.
If you're a real chili-head and think can stand the heat, give it a try.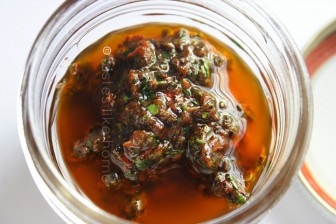 Pepper Chutney
(Caribbean East Indian Recipes)
INGREDIENTS
3 large scotch bonnet peppers (big peppers, hot peppers)
3 large cloves garlic, peeled
¼ cup finely chopped fresh coriander (cilantro) sub: chadon beni (culantro)
Salt to taste
1 ½ tablespoons vegetable or canola oil
DIRECTIONS
1. Roast the peppers and garlic over an open flame until tender and mostly charred.
2. Puree or grind pepper and garlic along with salt.
3. Mix in coriander and transfer mixture to a heatproof dish with high sides.
4. Heat oil in a metal ladle until very hot and pour over pepper-garlic mixture. Stir well.
5. Eat as a condiment.
6. This chutney can be stored in a sterilized glass jar in the refrigerator for 2 – 3 weeks.
Thanks for indulging me.
Cynthia
Around the Web