Hi Everyone,
There is one particular vegetable that I buy every week when I go to the market – Okra – even when it is selling for BDS$6 (GUY$540) a pound. I. Love. Okra. A whole chapter in my book is dedicated to okra. I just can't seem to get enough of it. I was thrilled therefore, a few years ago while doing a course in nutrition, to learn of the many health benefits of okra. As you can imagine, that only increased my gusto for the mighty okra.
Being a good source of vitamin C with healthy amounts of vitamin A and a rich source of dietary fibre, okra, is yet another one of those foods that we get so readily and abundantly in the region that is so good for us.
One of the major challenges we have with eating things that are good for us but we don't necessary like, is the way in which they are prepared. Therefore, those of us who cook have the added responsibility of coming up with ways in which to make the undesirable, irresistible. For example, everyone knows about my lack of love of eggplant (baigan), however, if it is first fire-roasted and pureed and then cooked into a dish such as a choka, fritter or cooked with potatoes and tamarind, I would want to lick my plate. If it is not fire-roasted before cooking, keep it, I want nothing to do with eggplant. Here's another example, a friend of mine will not touch okra but make Bajan Cou-Cou (cooked cornmeal with okra) and she will clean her plate. Go figure.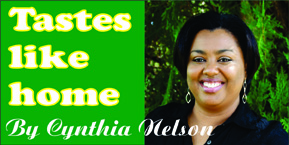 The other thing is, when you buy certain things so often, you are always on the lookout for different way to prepare them and that was certainly the case a few years ago when I first came across stuffed okra. I'm not sure why I took so long to share this recipe with you (though I mentioned in Tastes Like Home – My Caribbean Cookbook) that one of the many ways in which to prepare okra is stuffed. You'll have to thank my friend Hafiz Rahman for me finally getting around to writing this recipe as a result of our exchange about the lovely okra (ochro), also popularly known as lady's fingers, gumbo and bhindi.
Often, when those of us outside the sub-continent, talk about Indian food, we think of North Indian cuisine or South Indian cuisine, rarely mentioning the West or East of India. The little I have learnt over the years is that the cuisine of India is varied, vast and regional, so too is the cuisine of other large countries. Heck, the cuisine of the Caribbean is varied.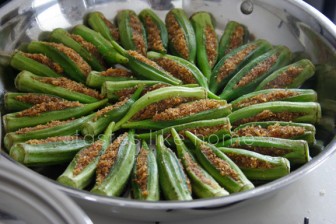 Stuffed okra is a common dish in India but a lot of people connect it to the western state of Gujarat. The stuffing used to stuff the okra gives an indication of the regionalism of the dish. The stuffing can vary from a combination of spice powders, such as garam masala, coconut, lentil powders, sesame seed powder, paneer and tomatoes. The method of cooking is also different. Some people deep fry the okras once stuffed, some pan fry while others steam and then sauté and yet another group steam, and then fry up with onions, tomatoes, turmeric and whole spices. My recommendation would be to go with what suits your taste. I opted for a spiced coconut filling because I love cooking with coconut – flesh and milk. While stuffed okra is more widely known as an Indian dish, there are other types of stuffed okra. For example, it can be stuffed with a shrimp or fish paste and steamed. Drizzle some pepper sauce or soy sauce and you could easily wolf down a dozen. Or, the okras can be stuffed with a spiced peanut butter paste, wrapped in bacon and grilled… hmmm appetizer ideas. Oh yeah!
So here's how I made stuffed okra.
Stuffed Okra with Coconut
INGREDIENTS
1 lb. okra
1 cup finely grated coconut (preferably fresh)
2 tablespoons split pea powder
Oil
2 tablespoons finely chopped onions
1 tablespoon finely chopped garlic
Minced hot pepper to taste
2 teaspoons freshly ground jeera (cumin)
Salt to tasteFrom page 3C
DIRECTIONS
For filling:
1.  Add coconut to a dry frying pan, spread out in a thin layer and toast on medium low heat, tossing intermittently until the coconut is dry, fragrant and very lightly brown. Transfer to a plate or bowl.
2.  Wipe the pan clean and sprinkle in the split pea powder, toast on low heat, turning often until it changes colour slightly. Remove from pan and set aside.
3.  Wipe pan clean and add 2 tablespoons of oil and heat on medium heat.
4.  Add onions, garlic and pepper along with ¼ teaspoon of salt, reduce heat to low and let cook until softened. Do not let the ingredients colour.
5.  Add the coconut, split pea powder, onion-garlic-pepper mixture along with oil in pan and ground jeera to a food processor and pulse until fine. Add in salt to taste and pulse to mix – this is going to be the only salt seasoning for the entire dish so be sure to season well.
6.  Or, grind all the ingredients together (see # 5)
For okra:
1.  If the okras were refrigerated, bring them up to room temperature and wipe very dry. Cut off the top, just the stem it self, or you can opt to cut off the top altogether.
2.  Take a small knife and make a slit along one side of the okra. The slit should not go all the way down to the tip nor should it cut through to the other side of the okra. Repeat until all of the okras are slit. Set aside.
Stuffing & Cooking:
1.  Take the okra, one at a time and gently pry the slit open and stuff it with the coconut mixture. Do not be afraid to pack it in, but be careful not to split open the okra. Repeat until all of the okras are stuffed.
2.  Add 2 tablespoons of oil to a large skillet and heat on medium heat.
3.  Add okra in a single layer in the pan with the stuffed side facing up. Cook for 3 – 4 minutes or until the bottom of the okra is brown; reduce heat to low and cover loosely (you do not want the okra to steam, so place the lid on one side of the pan and let cook for 7 minutes or until okra is tender.
4.  Remove lid, carefully flip each okra, and let cook for 2 – 3 minutes.
5.  Serve with rice and dhal or with roti or eat just as is or as a vegetable side dish.
Cooking Variations
You can choose to steam the okra in their filling then heat the oil and sauté them on high heat to get some colour. Alternately, you can put the stuffed okra in a covered microwave dish, microwave them for 4 minutes, give them a stir and then cook for another 2 – 3 minutes or until cooked through and then sauté on high heat.
If you are cooking using my directions, do not cook the okra in a karahi as it will start to steam, you have to use a skillet or shallow frying pan.
Enjoy!
Cynthia
cynthia@tasteslikehome.org
www.tasteslikehome.org
Around the Web