Hi Everyone, Often we grow up following and maintaining traditions without knowing or fully understanding why we do so. We just know that it's been done from the time we became aware of ourselves and our surroundings. Sometimes people (like me) question these traditions in the hope of understanding. That was certainly the case (seeking enlightenment) when I asked my mom about the tradition of making special bread – aniseed bread, every year for distribution – St Anthony's Bread. Like others that I had asked the answer was universal – it's a tradition we follow. We make the bread and distribute it to the less fortunate in honour and observance of St Anthony's Day (marked every June 13). Only partially satisfied with this answer, I decided to do some research into St Anthony's Bread. Just in case you haven't figured it out yet, I was raised Roman Catholic.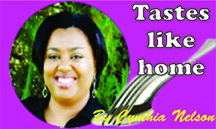 Saint Anthony is said to be the patron saint of many things and various categories of people – expectant mothers, fishermen, travellers, the mail – but he is most famously known as the patron saint of lost things and elderly people. It is written that St Anthony had a special love for poor and oppressed people.
So where does St Anthony's Bread fit in?
St Anthony's Bread is actually a term used for offerings made in thanksgiving to God for blessings received through the prayers of St Anthony. In other words, you pray to St Anthony, for whatever the cause, asking him to pray to God on your behalf.  St Anthony prays to God to grant you whatever favours you are seeking. When your prayers have been answered, you make offerings in thanksgiving. St Anthony's Bread is when you give gifts as offerings, as thanks. The gift is not literally that of bread as we know it, but the gift can be things such as feeding the poor and needy, making generous donations of money or items that will all benefit a good cause and especially the less fortunate.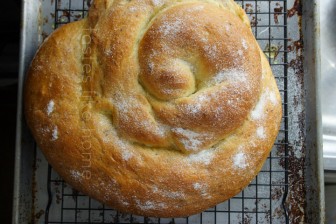 The feast day of St Anthony of Padua is celebrated on June 13 every year. He died on June 13, 1231 at the age of 36. On the feast day, parishes, chapels the world over mark the occasion in a variety of ways. Some might have animals blessed; there might be the blessing and distribution of lilies (lilies remind us of St Anthony's purity), and in some cases the literal baking of loaves of bread that are then blessed and shared to the poor and needy.
When I was growing up, Sacred Heart Church's, Society of St Vincent DePaul (SVP) took the literal approach of baking and distributing bread in honour of St Anthony's feast day. The group (SVP) would organize the baking of the bread at a local bakery, have it blessed and distributed. Though the church (as in the physical building) is no longer there, the tradition or practice still continues today.
In Guyana, the bread made in honour of St Anthony's day is anise/aniseed bread. The bread I remember was a regular white loaf flavoured and peppered throughout with aniseed. The loaves were never large, more medium and I think that they were always round. At least that's what I recall. I loved the smell of the bread. Members of the Society of St Vincent DePaul (to which my mom belonged) would get a loaf if any remained after distribution. Mommy would break it into pieces and share it among us. I liked to dunk mine in tea.
Through my research I couldn't find anything to indicate why bread flavoured with aniseed was chosen as the special bread to be made for St Anthony's day in Guyana. However, throughout the world there are many sweet aniseed breads – they are popular throughout South America, Mexico, Portugal, Italy, Morocco and elsewhere. Some make the bread at Easter, for some it is everyday bread and others make it to mark other occasions.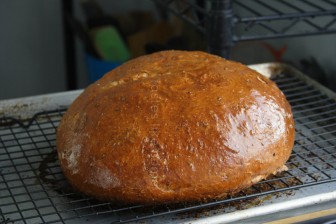 This whole thing of finding out about St Anthony's Bread got started because I felt like making bread and wanted to try something different. I thought that I'd kill two birds with one stone – satisfy my desire to make bread and turn it into a column by sharing the recipe for anise bread. So, I reviewed and analyzed several recipes – Italian, Moroccan, Peruvian, Mexican and a few others. Oh boy, each was different, ranging from the quantity of flour, anise, shape and glaze. Each sounded outstanding in its own right but I knew what I wanted my anise bread to taste like. There are different things from the recipes reviewed that I like, such as the glaze in one case, the quantity of anise in another, so what you see here is my take on anise bread. The recipe is highly adaptable so feel free to make it your own.
Anise/Aniseed Bread
Yield: 2 loaves
INGREDIENTS
For dough:
3 ½ cups all-purpose flour
1/3 cup white granulated sugar
½ teaspoon table salt
2 level teaspoons instant yeast
2 eggs, room temperature, very lightly beaten
½ cup water
½ cup whole milk
1 tablespoon plus 1 teaspoon anise
¼ cup or 2 oz butter or shortening
For glaze:
Option # 1
¼ cup orange juice
½ cup white sugar, divided equally
Option # 2
1 egg, room temperature
1 tablespoon water
DIRECTIONS
1. Mix together in a large bowl: the flour, sugar, salt and yeast and set aside.
2. Add the water, milk, anise and butter to a small saucepot, stir and heat on low to 115 degrees F. If the temperature is reached and the butter is not completely melted, heat it to 120 degrees F then remove the saucepot from the heat and let it cool to 115 degrees F.
3. Make a well in the center of the flour and pour in the eggs followed by the water-milk-spice-butter mixture and mix to form a soft dough. Dust a work surface with flour, transfer the dough and knead for 6 – 7 minutes dusting lightly with flour as you work.
4. Transfer the dough to a large oiled bowl, cover with plastic wrap or a flour-bag kitchen towel and let rise until more than doubled in size – about 1 ½ to 2 hours depending on your location and temperature.
5. Punch down risen dough and knead for 1 minute then let the dough relax for 5 minutes, covered.
6. Divide dough in half and form into your shape of preference – plait, round or oblong or roll each piece of dough into a log 16 – 18 inches in length and then roll into a tight spiral. Transfer dough to oiled pans, cover and let rise until more than doubled in size about 45 minutes to 1 hour.
7. Meanwhile make the glaze of choice. For option # 1 add the juice and ¼ cup of sugar to saucepot over medium heat and stir until the sugar is dissolved; let the mixture come to a boil for 1 minute, remove from heat and set aside.
8. For option # 2 – whisk together the egg and water and set aside.
9. Preheat oven to 350 degrees F 20 minutes before the second rise is complete. If using option # 2 as your glaze, then generously brush the loaves with the egg wash and transfer to oven and bake for 25 – 30 minutes or until the loaves are browned and sound hollow when tapped.
10. If using glaze option # 1, as soon as the loaves come out of the oven, brush them generously with the orange syrup and then sprinkle the remaining sugar all over the loaves.
11. Let cool in pans for 10 minutes and then transfer to wire racks to cool completely.
12. Serve warm. This is not a bread to slice but is best served, broken or torn.
Cynthia
Comments

Hi Everyone, Several years ago while standing in the cashier line at one of the supermarkets here in Barbados, a man (tourist) standing immediately behind me pointed to the small tray I had just put on the cash belt and asked what it was.

Hi Everyone, What's Cooking is a series in which I answer questions and share advice about food and cooking that you may have but are too shy to ask.

Hi Everyone, Have you had your fill of mangoes yet? Me? Almost. Next week I am going in to preservation mode – pureeing the pulp and freezing in half cup portions for use later in the year.

Hi Everyone, This is the third and final part of our heat series on hot peppers.

Hi Everyone, This week, we continue our heat series featuring hot peppers currently in season.