Hi Everyone,
I remember a time when dessert was a very simple affair – right out of a box and sometimes a can or tub. So much time was spent preparing appetizers and main courses that desserts were an afterthought. Invariably, my mom would look for the box of strawberry Jell-O mix and ice cream would be store-bought. Lest I be disowned let me hasten to add that this was not always the case, my mom would make desserts like trifle from scratch making her own pound cake, custard and fruit sauce. Nevertheless, for us kids, it was the ice cream and Jell-O that we preferred.
My sister Patricia and I would peek into the refrigerator every hour to see how the Jell-O was coming along. Was it set yet? We'd gently nudge the Pyrex to judge the state of firmness. It was maddening I tell you. As I think about it now, it was one of those cases like where you stand at the stove waiting for the milk to boil but it takes forever and as soon as you turn your back, the darn milk raises and boils over and messes up the pot and the stove! Pat and I would resign ourselves to the fact that even if the Jell-O did get firm, we'd have to wait until the next day when mommy was ready to serve it – after lunch. Oh the torture.
When lunch was over, half an hour passed like a long year and then it was Jell-O and ice cream time! I'd insert my spoon with reverence and cut into the smooth firm mold of deep burgundy. Lifting the spoon, I'd stare in adoration then gently place it into a glass and repeat a couple more times. Three scoops per glass was my standard serving. Glasses filled halfway with Jell-O, it was now time for the ice cream (always vanilla), two generous scoops for each glass. Soon everyone would be sitting with their glass and spoon eating ice cream and Jell-O. I love how the ice cream would melt and wind its way down through the crevices of the Jell-O eventually sinking to the bottom to form a pool of creamy goodness. To eat, you would scoop and ensure that you got ice cream and Jell-O in each spoonful.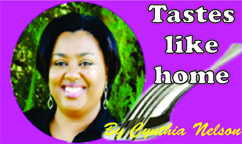 As the ice cream melted and the Jell-O dwindled, we then took our spoons and mixed the two together. The ice cream, now a beautiful pink with the Jell-O mixed in. Ah, good times and good eats indeed.
Ice cream and Jell-O were not the only milky treats to savour though. For example, if we didn't have ice cream, out came a can of sweet condensed milk. Pure bliss! Oh man, to drizzle that milk over Jell-O and watch it lazily, luxuriously coat the Jell-O was high art. How about condensed milk with snow cones? (I stopped to rub my hands in glee after writing the preceding sentence.)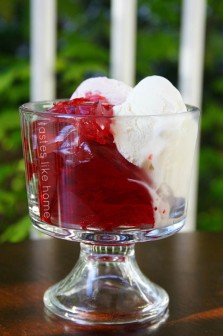 When last have you had some of these milky treats? Cream Soda with Carnation milk (righteously accompanied by tennis roll and cheese). How about soursop (the pulp) mixed with condensed milk? A dear family friend, Auntie Henrietta introduced me to this whilst on a trip to Barbados. A Guyanese friend here in Barbados told me that while growing up, they would eat monkey apple mixed with milk. Of course we cannot leave out peanut punch, fudge, custard blocks or Strawberry Nesquik (the only flavour of Nesquik that makes any sense). Mommy used to make the Strawberry Nesquik and pour the mixture into ice cube trays and freeze it. We'd eat it when we came home from school. It cooled us down after the walk home in the hot 3 o'clock sun.
Make something this weekend, for yourself, your children, your grandchildren, and your friends. Or, flag down the snow cone man and get yourself a snow cone with condensed milk. Wicked!
Enjoy.
Comments

Hi Everyone, Several years ago while standing in the cashier line at one of the supermarkets here in Barbados, a man (tourist) standing immediately behind me pointed to the small tray I had just put on the cash belt and asked what it was.

Hi Everyone, What's Cooking is a series in which I answer questions and share advice about food and cooking that you may have but are too shy to ask.

Hi Everyone, Have you had your fill of mangoes yet? Me? Almost. Next week I am going in to preservation mode – pureeing the pulp and freezing in half cup portions for use later in the year.

Hi Everyone, This is the third and final part of our heat series on hot peppers.

Hi Everyone, This week, we continue our heat series featuring hot peppers currently in season.