Hi Everyone,
A friend: "I ain't want no blond sauce (referring to all light coloured sauces). I want dark sauce."
Another friend: "I ain't eating no white-looking chicken. I want my baked chicken brown and nice."
Overheard: "Dah rice too white (referring to steamed and boiled plain rice). It look like de rice bleach. You got to put some peas in de rice man and give it a lil colour."

It is true that we eat with our eyes first. The attractive colour of the food is what draws us in, it seduces our senses and we salivate. Just from looking at the food we can tell if it's cooked well or not. We can imagine the taste, texture and flavour. The lack of a specific look (colour) to certain cooked ingredients and dishes quickly closes the door to pleasurable enjoyment and opens a window to eating out of desperation.
Shades of brown come to mind when we think of food, the doneness and their deliciousness. There is golden, light brown, brown and dark brown, even charred. Each of those shades is assigned to a wide array of foods. Certain cookies are golden, fruit scones are light brown, fried bakes are brown, for some people a stew is dark brown, fried ripe plantains, charred and even caramelized.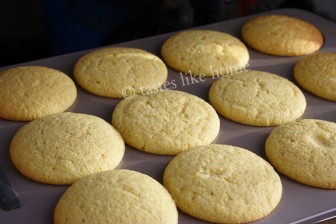 We Caribbean people love a lil colour in our food and I dare say that we are not the only ones. In this case, I am not just talking about colour-flavour additions such as Worcestershire Sauce, Cassareep, Angostura Bitters or Soy Sauce that are specific for the creation of certain dishes but I am talking about simply using these and other ingredients such as browning or burnt sugar to "brown" or "colour" the food.  Personally, I like my food to be naturally coloured by the ingredients, cooking methods and signature looks rather than by the addition of some sort of colour. Of course the exception is made when a particular dish requires colouring that is integral to its taste and flavour such as Pepperpot, curries and stews.
For more than a year now I have wanted to make Cantonese-style Steamed Chicken. This is where a whole chicken is steamed with aromatics such as green onions (scallions) and ginger, then chopped into pieces, and served with a ginger-scallion sauce over a bed of hot white rice. Sounds good doesn't it? Alas, I have not been able to make this dish because I have no one around me that can stomach eating the chicken because, steamed, the chicken is devoid of colour. The pale, translucent chicken is not visually appealing to Caribbean people– no eating with the eyes. And so I continue to wait for someone to come along who would be willing to share such a meal with me.
The colour of food is not only important for visual appeal but it also speaks to the question of authenticity when cooked. For example, I get many emails from visitors to Barbados who return to their homes seeking a recipe for Bajan macaroni pie. I'd send them my recipe for macaroni pie and hasten to add that for a real taste (flavour and colour) of Bajan macaroni pie, they need to add some tomato ketchup and the signature orange Mello-Cream Margarine to the cheese sauce. These two added ingredients provide the signature deep golden-orange colour to the pie as well as the flavour. Sure the type of cheese and variety of pasta is equally important but long before the pie is physically tasted, it has to look like the Bajan macaroni pie they fell in love with. They must first eat with their eyes.
Fried Rice is another of those dishes that people quibble about when it comes to look. Many of us are accustomed to the rice having a brown colour as a result of the use of dark soy sauce to flavour the dish, which ends up providing colour. The other day in my newsletter, TASTESMONTHLY, I shared two photographs of Lap Cheong Fried Rice that I had made on separate occasions. I used dark soy sauce in one batch and in the other I didn't. Therefore, one batch was brown and the other was white. The only difference between the two dishes was the colour of the rice, all the other ingredients were exactly the same. One looked like "real" fried rice and the other just looked rice fried up with sausages and eggs. Though the latter was photographed attractively, visually, the batch with the brown-coloured rice looked more appealing.
The subject of the colour of food is a relative one and it really is dependent on what we grew up knowing and understanding. It is based and our own education and exposure to other cuisines, cooking techniques and methods. We have to add in our personal preference. Why is it that we can easily eat steamed fish but turn up our noses at steamed chicken? Take note the next time which piece of fried plantains go first. Look how people pick and choose the piece of fried fish and chicken they want (not exclusively because of the cut but rather by the colour and look of doneness). Slice the roast pork and watch which pieces go first.
So who's brave enough to have some Cantonese Steamed Chicken with me?
Cynthia
Cynthia@tasteslikehome@gmail.com
www.tasteslikehome.org
Comments

Hi Everyone, Several years ago while standing in the cashier line at one of the supermarkets here in Barbados, a man (tourist) standing immediately behind me pointed to the small tray I had just put on the cash belt and asked what it was.

Hi Everyone, What's Cooking is a series in which I answer questions and share advice about food and cooking that you may have but are too shy to ask.

Hi Everyone, Have you had your fill of mangoes yet? Me? Almost. Next week I am going in to preservation mode – pureeing the pulp and freezing in half cup portions for use later in the year.

Hi Everyone, This is the third and final part of our heat series on hot peppers.

Hi Everyone, This week, we continue our heat series featuring hot peppers currently in season.