Hi Everyone,
Have you ever had a meal at a restaurant and then tried to replicate it at home? I have. However, try as I might, it never turns out exactly the same but rather some version of the original. Sure it tastes good but the texture, flavour and appearance are not spot-on, it's just not the same and disappointment ensues.
I received an email from a regular reader of my work – skilful in the kitchen – who is frustrated by her best efforts to replicate the flavours she so enjoys at her favourite Chinese restaurants. She explained to me that she has bought many recipe books on Chinese food looking to recreate the flavours she knows and loves, but alas, her efforts are in vain. She has become so obsessed that when she does cook her favourites, instead of enjoying the tasty food she has made, she spends the time figuring out where she went wrong, what she missed out.
In responding to Lily, (the reader), I pointed out several things that contributed to the inability of home cooking to recreate certain types of restaurant foods. I share those factors with you too.
Adapting flavours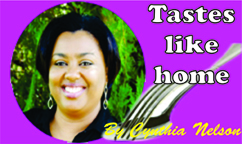 Ask any Guyanese living abroad or those who travel often what they think about our Chinese food and hands-down they will tell you it's the best. Some will go as far as to say that it is the best in the world! Ask the same question to Trinis, Jamaicans, Surinamese, Fijians, etc and they will all most likely say that their (Trini, Jamaican, Surinamese…) Chinese food is the best. It would be futile to argue which is the best because each version has its own unique flavour that is best suited to the palettes of the population. The basic ingredients might be the same but there would be variations and adaptations to make the food taste and even look the way we prefer it. For example, ginger might be front and centre as a flavour profile in some country's Chinese food while star anise might be in another. Even the colour of fried rice might be different – light brown in one place but browner in another. Heck even what we call the dishes might be different. Chow Mein in Guyana is not the same thing as Chow Mein in Trinidad and Tobago. In Guyana, it is about noodles cooked with vegetables and meat or seafood – In Trinidad and Tobago, it is about a whole heap of vegetables stir-fried with a little bit of noodles. Apart from the noodle to vegetable ratio being different, the flavours are not exactly the same either.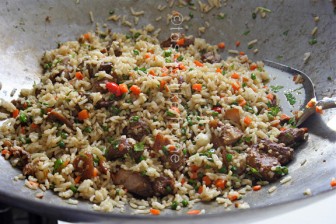 Apart from the adaptation of flavours from one country to another, the ingredients used in a restaurant kitchen may not be the same used in a home kitchen. For example, in Chinese restaurants, dark soy sauce is what is used to colour the rice. There are basically two types of soy sauce in Chinese cooking – dark and light (not light as in low sodium). Dark soy sauce is darker, thicker and less salty than light soy sauce. Light soy sauce is thinner, has a lighter colour and is salty. Right there we have a different flavour profile, as most homes might not stock both types of soy sauce and may not use both to cook the same dish, as a restaurant would. The darker soy sauce would be used for giving colour, adding depth of flavour and for marinating while the light soy sauce is used for seasoning.
Heat
A home kitchen stove almost never carries the heating power of stoves found in restaurants. Therefore, the high heat used for wok cooking to sear, char or crisp the ingredients in our favourite dishes cannot be easily replicated in our home kitchens; we might get close if we have certain tools and equipment.
Skill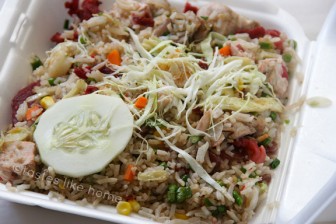 The skills-set of a restaurant cook or chef has to be admired and respected. They are cooking more often than home cooks and for longer periods. Their exposure to ingredients, techniques and methods, many of us will never know of in a lifetime. As a result, trying to replicate a dish that they know inside and out with all the nuances of coaxing, mixing and matching flavours is ambitious of us as home cooks.
Time & applications
There are certain dishes that take days to prepare and involve more than one cooking technique. For example, there is a reason why it is said that day-old cooked rice makes the best fried rice. It is because the rice needs to be of a certain degree of cool and dryness so that when it hits a hot wok it heats, bounces and pops to absorb flavours quickly and to finish cooking on-time with the other ingredients.
Char Siu – Chinese barbequed pork requires a day ahead marinating before it can be cooked; this is so that the flavours can penetrate the meat. The combination of ingredients for the marinade may not be readily available items we stock in our home pantry. Crispy-skinned roast pork (Siew Yok) needs hours of resting so that the salt can penetrate the skin before it is roasted. The Vietnamese beef noodle soup (Pho)  takes 2 days to prepare, one day dedicated to making the broth alone. Many of us don't have the luxury of time to spend preparing these dishes; it's why we go to our favourite restaurants to eat them.
I wanted to try making the Chinese-style crispy skinned roast chicken at home. While I could make the time, one of the methods involved was not something I was willing to do, at least not if I wanted to avoid the emergency room or a burn unit.
The recipe required the bird being held aloft after one stage of the cooking process and then be bathed with smoking hot oil! Another recipe suggested that I hang the cooked bird at a window to really dry out the skin so that I can then crisp it in the oven. If I hang a cooked chicken at a window, the birds would have a feast.
On another occasion, I wanted to recreate the chicken feet dish that I always have at dim sum wherever I go. When I learnt that I would have to deep fry the chicken feet that angrily spit hot oil while cooking, I immediately abandoned the idea. A friend warned, "There won't be anywhere far enough for you to run." It's not just the danger of being burnt but the recipe for this dim sum chicken feet requires 2 days of preparation and more than one type of cooking. As much as I'd like to have this dish at home whenever I felt like it, I am very happy to only have it at dim sum sans burns, scars and massive oil-spatter clean up.
I've spoken at length here about Chinese food but there are many other cuisines with dishes that are not easy to recreate at home. We go to restaurants and want to lick the plates because the sauce was so good. Ah but we don't realize that they used veal stock instead of water or that the sauce was finished with a lot of butter to give it that velvety, silky, creamy look and taste. The pasta was handmade the same day; the lamb braised overnight, the gulab jamun flavoured with cardamom and fragranced with rosewater was allowed to languish in the sweet syrup for hours and is ideally made a day head.
In closing, I advised Lily to embrace the excellent food she makes. Go to restaurants and enjoy the food they make, the way you like it. Come home and make your versions, trying to get as close as you can to the real thing. It's what I do. And who knows, maybe you'll end up liking your version better or even creating an altogether new dish! Bear in mind also that restaurants can only attempt to make top-notch home-cooked food. They have their ways and we have ours.
Comments

Hi Everyone, Several years ago while standing in the cashier line at one of the supermarkets here in Barbados, a man (tourist) standing immediately behind me pointed to the small tray I had just put on the cash belt and asked what it was.

Hi Everyone, What's Cooking is a series in which I answer questions and share advice about food and cooking that you may have but are too shy to ask.

Hi Everyone, Have you had your fill of mangoes yet? Me? Almost. Next week I am going in to preservation mode – pureeing the pulp and freezing in half cup portions for use later in the year.

Hi Everyone, This is the third and final part of our heat series on hot peppers.

Hi Everyone, This week, we continue our heat series featuring hot peppers currently in season.