Hi Everyone, After all the talk about roast chicken over the past two weeks, it begs that we address stuffing – a most flavourful, savoury accompaniment to roasts of any kind.
There are two camps when it comes to stuffing – those you like it stuffed right into the bird or encased securely between meat and those who like it cooked separately, as a dish by itself. The stuffing aficionados say that it is not stuffing unless it is stuffed into the bird. That is why some people call is dressing, because it is cooked separate from the bird. Sigh. Personally, I like it both ways.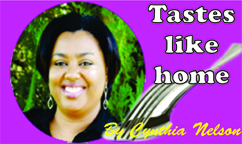 However, since I am the type of cook who wants to have less stress in the kitchen (don't raise your eyebrow), I often opt to make it as a separate dish because I don't want to be bogged down about getting the mixture to the right temperature before stuffing it into the bird, lest I poison people with salmonella. I also want to ensure that there is more than enough stuffing for everyone and the cavity of a bird or a large piece of meat can only hold so much stuffing. Given that stuffing is one of the first things to be polished off, I want people to have their belly-full of stuffing, so I prefer to make it separately.
One of the main reasons why we like the stuffing that is stuffed into the poultry or meat itself is because it tends to be moister than the stuffing baked separately. However, you can have moist stuffing cooked separately. Most people tend to not put enough liquid into their stuffing mix when making it to be cooked separately. This results in a dry stuffing. And a great stuffing needs a flavourful broth/stock.
At its basic, a stuffing is some sort of carbohydrate – bread, biscuits, muffins, rice, couscous, that can absorb liquid and become softened – mixed with cooked aromatics such as herbs and then moistened with stock/broth. Those are the basic ingredients; from there, you can mix and match flavours and other ingredients such as meats, dried and fresh fruit, spices, nuts and vegetables. With so many options, stuffing is a dish that can keep reinventing itself. It is also one of those things that you always want to have a second helping.
My mom used to make her stuffing with salt biscuits. I remember her using Continental Crispy biscuits to make stuffing. That changed over the years to a different brand but always, her "breading" of choice for stuffing was salt biscuits. The other things she'd add to her stuffing were chicken livers and gizzards, chopped into small bits along with onions, thyme, celery and pepper – that she'd "fry up". Mommy preferred to stuff her bird rather than cook the stuffing separately. I used to watch her sewing up the chicken to secure the stuffing. There was always one major problem when it came to eating time – there was never enough stuffing to go around! No matter how much meat would be on my plate, I always felt short-changed by the lack of adequate stuffing.
Each time I make stuffing it is different. I often use whatever I have available, it is a very forgiving dish; as long as it is moist and flavourful you're good to go. I usually start by raiding my fridge of all the little bottles of fats and drippings I have stored from cooking – bacon, pork, chicken, lamb etc. all these provide incredible depth of flavour to my stuffing. Like I said last week – do not throwaway drippings; the uses are endless.
Here a tip for broth for your stuffing: don't waste your money buying expensive readymade broths/stock; instead, pick up a couple packets of your favourite brand of bouillon cubes – chicken, beef or vegetable, crush them in water, bring to a boil and simmer for 5 minutes. There you have your broth/stock. Average 1 large bouillon cube to 3 cups of water.
Stuffing is not only for special occasions and holidays, it is a welcome addition to regular Sunday lunch.
Cynthia's Stuffing
Yield: 1 (9 x 9") square pan
INGREDIENTS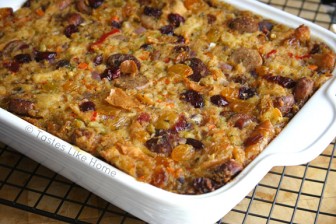 4 oz. salt biscuits (1 pk Sodabix crackers)
1½ cups whole milk
7 cups cubed bread (4 large tennis rolls/Bajan salt bread) or regular white bread
1 packet of your favourite gourmet sausages (optional)
3 tablespoons oil, plus extra to brush baking pan
1 cup chopped onions
2 cups finely chopped stalk celery
1 cup finely chopped carrots
2 tablespoons chopped fresh tarragon
2 tablespoons chopped fresh thyme
Salt and pepper to taste
2 ½ cups hot stock/broth
1 cup mixed dried fruit – raisins and cranberries (optional)
DIRECTIONS
Preheat oven to 350 degrees F.
Brush baking dish with oil and set aside.
Break up biscuits into small pieces into a bowl; pour milk over the biscuits, toss and set aside.
Add bread to a large bowl and set aside.
Cut sausages into bite-size pieces and set aside.
Add 3 tablespoons of oil to large frying pan and heat until hot but not smoking.
Add onions, celery, carrot to heated oil, sprinkle salt and pepper to taste, toss to mix, reduce heat to low and let cook until the vegetables are softened; it should take about 10 – 12 minutes.
Add the herbs and cook for an additional 2 minutes.
Mix together the soaked biscuits and bread. Add in the softened vegetables and herbs and toss to mix.
Return the pan to the heat and raise heat to medium. Add the sausages and let them brown, tossing intermittently.
Transfer the sausages and its drippings to the bread mixture and toss to mix.
Pour in the broth and toss to mix well. Taste for seasoning (salt and pepper) and adjust if necessary.
Fold in the fruits and then transfer stuffing mixture to greased pan. Smooth in an even layer.
Bake for 35 minutes or until a knife or skewer inserted comes out clean. The top should be browned but feel soft when pressed.
Remove from oven and cool on a wire rack. Serve warm as a side dish.
NOTE
If using fresh (as in uncooked) sausages, remove the casings and separate meat into bite-size pieces.
Comments

Hi Everyone, Several years ago while standing in the cashier line at one of the supermarkets here in Barbados, a man (tourist) standing immediately behind me pointed to the small tray I had just put on the cash belt and asked what it was.

Hi Everyone, What's Cooking is a series in which I answer questions and share advice about food and cooking that you may have but are too shy to ask.

Hi Everyone, Have you had your fill of mangoes yet? Me? Almost. Next week I am going in to preservation mode – pureeing the pulp and freezing in half cup portions for use later in the year.

Hi Everyone, This is the third and final part of our heat series on hot peppers.

Hi Everyone, This week, we continue our heat series featuring hot peppers currently in season.