The private sector has been less than diligent in pursuit of the appropriate lobbies to compel the government to address the issues that impact negatively on the well-being of the business community, Leader of the Opposition Brigadier David Granger told Stabroek Business in a telephone interview on Saturday.
"What we often get from the private sector umbrella organisations is a chorus of compliance with pronouncements made by the government. As organisations responsible for private sector advocacy these bodies have not been able to hold the government to account," Granger said.
Granger told Stabroek Business that "the compliant posture" of the private sector organisations coincided with the commencement of a regimen under the Bharrat Jagdeo administration when the government simply began to shout at the private sector. "Everyone bore witness to instances in which prominent private sector functionaries were publicly shouted down and ridiculed by Mr Jagdeo. Obviously, no one wanted to get hurt; so the business community simply became afraid to speak out," Granger said.
Meanwhile, the leader of the parliamentary opposition also said he believed the private sector now has the opportunity afforded by "a more democratic dispensation in the National Assembly" to ensure that demands for a more secure environment in which to conduct business are met. "The government is being made more accountable for public security and that is a development that is as relevant to the business community as it is to the rest of the society," Granger said.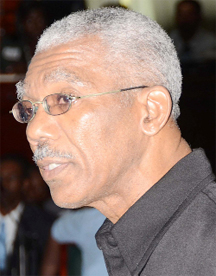 He alluded to "a condition of legitimate, ongoing and deep worry" over "the continued neglect of the need to secure the country's borders," a circumstance which he said had caused the flow of illegal fuel and guns to become a way of life in the Guyana's hinterland. "What we have is a situation in which crimes that have implications for both the economy and for security persist cheek-by-jowl with a gold mining sector that is supposed to be a legitimate and critical sector of the country's economy. As far as the illegal trans-border movement of guns is concerned, it appears not to have occurred to the government that Guyana shares a 1,120 km border with the world's fifth largest   producer of small arms," Granger said. Meanwhile, Granger told Stabroek Business that while production and earnings from the gold mining sector continued to increase, the sector was operating "amidst violent crime, shakedowns by rogue policemen, fuel smuggling and a wild west environment that simply must be brought under control. The fact is that while gold mining is contributing to the country's GDP it is functioning in an appallingly lawless and insecure environment. Miners and mining camps have been particularly vulnerable to criminal attacks over the past five years. The worst cases of insecurity were the massacre of February 2008 and the murders of September 2012, both in Bartica, which were actually bloody gold robberies," Granger said.
He stated the business community had good reason to be concerned about the impact of an insecure environment on the capacity of the economy to create new jobs. In this regard, he said, the growth of the country's manufacturing sector can be assured only if government moves to address "some of the quite obvious impediments" to private sector development, especially the uncontrolled inward movement of contraband goods especially from Venezuela and Suriname. This allows for the importation of a wide range of what, in some cases, are cheap goods of questionable quality. Contraband is a major contributor to the painfully slow growth of the manufacturing sector.
And according to Granger the failure of the government to devise security measures to curb smuggling has also affected some of our traditional businesses in the manufacturing sector. "We are aware, for example, that local alcohol, beer and beverage manufacturers have been continually bemoaning the impact of smuggling on their businesses, year in, year out," Granger said, adding that "as long as the various law-enforcement agencies do not realise a far higher success rate than they do at the moment in suppressing cross-border smuggling, those concerns and complaints will persist. The fact of the matter is that the government has failed to create a secure and enabling environment in which the country's manufacturing sector can flourish. As long as a situation persists in which cheap imports – particularly those that are imported illegally – continue to compete with goods produced by what is already a weak manufacturing sector and in circumstances in which contraband goods continue to evade the attention of the authorities, our locally-manufactured products, even those food items that we produce, will continue to face unfair competition. Those processed foods manufactured by our agro-processing sector will also continue to be particularly vulnerable."
Granger told Stabroek Business that Guyana's raw materials, especially gold, diamonds, fish, timber, rice, sugar and vegetables had the potential to support a far more vibrant jewellery, agro-processing, candy, frozen-food, furniture and manufacturing industry than they do at present. Owing to lax security and weak law enforcement, however, a huge volume of cheap trinkets and craft items being imported into Guyana are being sold alongside our own locally-made craft items at prices that do not allow our own products to compete fairly. "All of our local producers, even of items such as trinket boxes, leather craft and picture frames as well as the artistic creations of our Amerindian craftsmen and women that could have been self-sustaining are struggling to survive," Granger said.
"The other side of smuggling" is the loss of revenue to the economy, he added. "We are not able to estimate, even remotely, the loss of revenue resulting from the smuggling of gold out of the country. The government appears very much at sea as far as smuggling is concerned. Enough has not been done to strengthen the Guyana Defence Force's Coastguard and the Police Force's Maritime Branch to enable these units to suppress smuggling," Granger said.
According to Granger there can be no real relevance in statistics as a measuring rod for growth in circumstances where there is evidence that in the absence of a sound and reliable security environment crime continued to pose "a mortal danger" to legitimate business. He added that beyond providing a more secure physical space within which legitimate business can be pursued  the government had a responsibility "to strengthen those security institutions that can limit if not eradicate altogether what is now widely believed to be significant criminal involvement in what may once have been legitimate business."
Granger told Stabroek Business that the high costs associated with the protection of business enterprises from criminals had also impacted heavily on both competitiveness and profitability in the business sector. He noted that criminal attacks that target business places do not spare miners, fishermen and even small-scale shopkeepers, stall-holders and vendors.
Around the Web