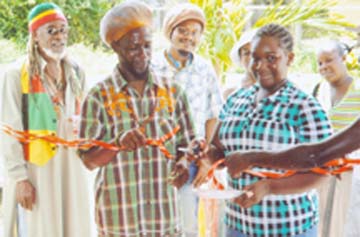 Every year, since 2000, the clothing, jewellery and trinkets bearing both the distinctive style and colours of Rastafari have been a feature of David Samuel James Morrison's participation in GuyExpo.
Daweed, as he is known to colleagues and customers, markets himself as 'de Kulture Ambassador,' a businessman who seeks to make his entrepreneurial mark by promoting clothing and craft identified particularly though not exclusively with Rastafari.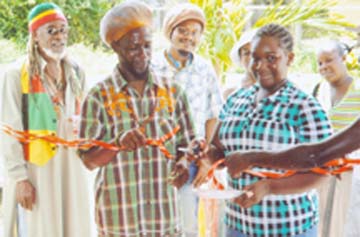 His pursuit, he seeks to assure, is no "cultural gimmick." He is stimulated, equally, by his adherence to a cultural identity and a passion for a business sector which, he says, can promote Guyana as effectively as any other.
Daweed's experiences, both in the local commercial environment and in what he calls the more challenging  "rough and tumble" of "hustling" in the region suggests that he has earned the right to be described as a bona fide businessman.
A welder by trade, he served as an immigration officer for two years before leaving that job to set up a modest stall at 12 Longden and America streets in 1992. He recalls that the initial investment in that venture, TT$3,000, came from his eldest sister who resides in Trinidad and Tobago.
What he now describes as De Culture Embassy has grown from a modest investment to a multi-million dollar business enterprise situated on David Street in Kitty. The intervening period in the growth of the enterprise is the essence of an enthralling story.
In November 1996, Daweed suffered his first major business setback when goods valued at hundreds of dollars stored in an area close to the Stabroek Market known as Donkey City were stolen. What that meant was that he had to begin again, "from scratch".
Three years later, in August 1999, while in Trinidad, Daweed received a telephone call from Guyana during which he was told that a trusted friend had relieved him of his entire stock of craft. He concedes that this second experience almost broke his spirit.
Daweed believes that the turning point in the fortunes of his enterprise came in 2000 and that the transformation was linked to his participation in GuyExpo that year. The promotional push afforded by GuyExpo allowed for a steady annual growth in business, paving the way for the establishment of his current business premises; situated at 76 David Street, Kitty.
Influenced, perhaps, by his experience as an officer of the law in his earlier life Daweed is keen to make public his pursuit of a legitimate business which pays scrupulous attention to a responsibility to honour a legal obligation to remit to the state monies due in taxes, employees' National Insurance Scheme contributions and other compulsory remittances. He is, he says, altogether unprepared to wear the stigma of illegitimacy. Nor does Daweed encumber himself with the kind of "identity crisis" which he says might sometimes afflict enterprises like his own. If his faith and beliefs are manifested in both his life and the orientation of his enterprise he refuses to regard his business as a poster for his African-ness. He is, he says, first and foremost, a Guyanese, and if he can, he wants what he does to help reflect the diversity of influences and cultures that comprise "who we are; Guyanese." Business, he says, must seek to transcend political, cultural and religious barriers and must seek instead to promote sound business practices and high-quality goods and services.
Over a period of more than twelve years in business, Daweed has come to understand that successful commerce is a function of the application of rules that apply across the spectrum. He seeks, he says, to work within those rules. His enterprise serves as a market for skilled craftsmen and women. Always, however, he seeks "high, quality," careful not to create the impression that he is prepared to do business within the confines of "patronage and friendship", while ignoring the need to ensure that he gets "value for money." His other focus, he says, is on working with price ranges that attract customers from all walks of economic life. He offers goods ranging from ornamental trinkets priced at $100 to more elaborate creations, particularly carvings, costing as much as US $500.
Times may have changed but the challenges have not disappeared altogether. Daweed says he is concerned by the lingering stigma associated with "being Rasta." However much he seeks to market his enterprise as a legitimate business his visual image as a Rastafarian endures. He dislikes what he says are random and seemingly biased checks by police. Accordingly, he has become aware of what he says is "extra pressure to market himself appropriately through high standards of dress and deportment." He is mindful of the requirement of compliance with the laws of the land including those associated with doing business and engaging financial agencies. He is prepared, he says, to pay the price of that extra measure of circumspection for ensuring that his business and what it represents – both as a commercial enterprise and a cultural showpiece – secures the respect, recognition and patronage that it deserves.
Born and bred in Uitvlugt, on the West Bank Demerara, Daweed now resides in a section of the new significantly renovated premises in David Street, Kitty that houses his enterprise. He still travels – along with other "Kultural Ambassadors" – to foreign trade fairs and for good measure he has, on four occasions, participated in the Caribbean Festival of Arts (CARIFESTA).
Comments

The unchanging dilemma of an uncompetitive   local manufacturing sector continues to be manifested in the persistence of high electricity costs coupled with a notoriously unreliable power supply system and high costs of imported raw material inputs, among other things, Former President of the Guyana Manufacturing & Services Association (GMSA) Ramsay Ali who is also Chief Executive Officer of Sterling Products Ltd.

With the global coconut industry now offering numerous potentially lucrative opportunities to the manufacturing and agro-processing sectors, the local company, Sterling Products Ltd is signalling its intention to utilize the sector to enhance its own expansion and diversification programmes.

It had always appeared to be the case that the assurance given the citizenry by Town Clerk Royston King in a statement last week that following the withdrawal of services by City Hall's substantive service providers, Cevons Waste Management and Puran Brothers, the City was putting in place contingency measures to manage, in an environmental friendly manner, the city's waste disposal, was little more than just another example of the municipality getting ahead of itself.

(Trinidad Guardian) China Railway Construction Corporation (CRCC) has been awarded a $221.7 million contract by the National infrastructure Development Company (Nidco) to build the controversial Curepe Interchange, the state company's chairman Herbert George has confirmed.

Gold Prices for the three-day period ending Thursday August 17, 2017 Kitco is a Canadian company that buys and sells precious metals such as gold, copper and silver.