By Lloyda Nicholas-Garrett
While there exists myriad niche market opportunities in the Guyana economy, taking advantage of these depends on a number of factors not least of which are availability of capital, business acumen and the skills necessary for success in the chosen sector.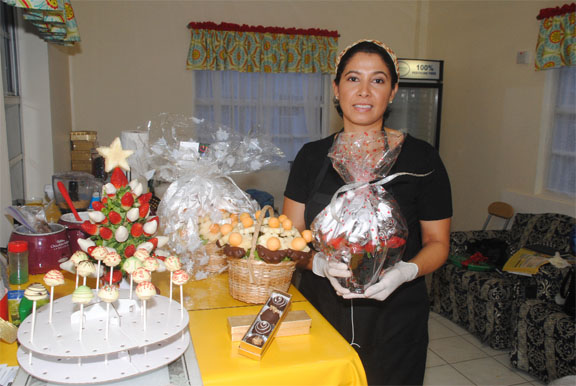 Indra Mekdeci has been fortunate enough to possess all of the resources necessary for that kind of     investment. Reminiscence, Mekdeci's small enterprise which she runs from her home, produces wonderfully decorative confectionary including chocolate dipped fruit, cake pops, edible hampers and an assortment of chocolate truffles.
Increasingly these days, Mekdeci's offerings can be seen decorating tables at high-end functions. The unique arrangements are all handmade by the self-taught proprietrix. She got the idea from a cousin who resides in London and who has a similar passion. Her designs, however, are her own original ideas, fashioned to appeal to the Guyanese market.
Possessed of a natural talent for marketing both her company logo and her company name are intended as marketing tools. She gestures to some arrangements on a nearby table pointing out that they "are a way of helping people to keep their connections, by remembering good times spent together. If you look at my logo, which Gerry [her husband] and I designed and Sharon Lalljee perfected you'll see the strawberry children celebrating and the circle of unity. It's a way of bringing people together. It's an absolutely beautiful way to express your feelings to someone special."
In addition to her affinity for marketing, Mekdeci sees herself as a creative person. Her enterprise is the vehicle for her self-expression. "We are more talented than we give ourselves credit for," she says of Guyanese.
She is probably best remembered as Indra Changa, the first runner-up in the Miss Guyana Universe pageant in 1999. She represented Guyana at the Miss World pageant.
At the age of 16 she began living on her own. The experience moulded her. Earlier, she had been sent by her mother to live with her grandfather and an aunt on the East Coast Demerara. She attended Annandale Secondary School. When she was only 15, her grandfather passed away. She had to complete her CSECs on her own.
Indra braved the circumstances, moving ahead with her quest for self-realisation. Her first job was a front desk position at the Hotel Tower. Eventually, she got a job at the then Guyana Television (GTV) as a reporter.  During these years she also served as an actress and as a singer in the Majestics Band.
It was after she met her husband that her life changed. Gerry Mekdeci is a well-known businessman. His firm, JT Mekdeci & Company, operates the largest hydroponics farm in Guyana. "I did not want to be a trophy wife or a stay-at-home mom," said the mother of an eight-year-old son.
Her own preoccupations apart, Mekdeci works as the Marketing Manager in her husband's business. She has also pursued other business ideas of her own ranging from an operation known as Just Burgers to a tiny health-foods-by-order business and a brief foray into high-end fitness wear.
Setbacks have not deterred her. "Most people don't get back into business because they can't afford it. Not that I have the money to throw around," she said. "Failure is not a reason to quit. Gerry and I believe that great things can happen here."supportive of Reminiscence, though she started the enterprise with capital which she raised on her own.
Having tried several other pursuits Mekdeci is confident that Reminiscence will be successful. She believes she has a marketable product though she concedes that the pursuit is not without its challenges.
Much of her raw material is imported and acquisition incurs high air freighting costs. Unreliable supplies and wildly fluctuating prices only add to the risk. Her products are hand-made and comprise ingredients ranging from Belgian chocolate to local Savannah lettuce.
Her ultimate aim is to provide a service that secures the support of both the local and overseas markets. She has made what she considers to be important inroads on the local market. Last year her creations proved popular at prominent public functions including Digicel's end-of-year party for the media at the Pegasus Hotel.
Reminiscence was launched on December 5, 2012, just in time to take advantage of Christmas orders. She is hoping that 2013 will bring a more lucrative market. "I am offering something different.  You get a bouquet of flowers and you watch it wither away; I am offering an alternative that the whole family can enjoy."
She said her husband is
Around the Web