Local maritime officials are upbeat about the future of the shipping industry but have repeated their warning that the realization of the industry's goals depends crucially on the speeding up of initiatives to clear the Demerara River channel.
And in a move seemingly designed to send another  reminder to the authorities regarding the negative consequences resulting from the protracted failure to dredge the channel  Chairman of the Managing Committee of the Shipping Association of Guyana (SAG), Desmond Sears, on  March 22 told the Association's  Annual Dinner Awards presentation that the lack of a modern Demerara Harbour places the country adrift of much of the rest of the international community in terms of maritime development.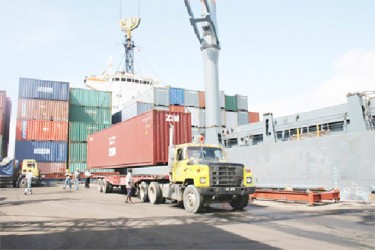 "The entire maritime world is moving ahead in leaps and bounds.  Countries all around us have either begun or completed the modernization of their sea ports.   Guyana must now be made ready to meet the stringent demands of shippers all around the world for more modern port facilities and more efficient operations," Sears told  the awards ceremony.
The issue of the shallowness of the channel and its maritime and economic implications has been at the forefront of the shipping industry's agenda for several years. On Friday, Sears detailed some of the current negative economic consequences and the likely future lost opportunities that could accrue from further delays in undertaking the dredging of the channel.
Alluding to the "severe limitations that the shallow draught of the Demerara River Channel imposes on maritime commerce" Sears told the forum that the restrictions placed on the size and weight of vessels and cargo entering or leaving Port Georgetown "has had a negative impact on shippers, the commercial sector, the public sector including GUYSUCO, and the private productive sector". According to Sears the limitations of the channel have resulted in a significant slowing down of business. "Some Caribbean and international markets have been lost or reduced because cargo vessels could only take out limited volumes of cargo.  The same inefficiency applies to the movement of cargo inward," he added.
Last year the SAG prepared a paper on the problems of the channel for the regional shipping journal Caribbean Maritime in which it suggested that the issues which have negatively affected opportunities for significant growth are, in several respects, linked to the delay in implementing port development measures including the dredging of the channel.
Despite concerns about the channel, however, Sears painted an optimistic picture of the prospects for the local maritime industry pointing out that the industry was likely to secure a significant boost following the commissioning of a Berbice Harbour. "We are already beginning to witness growth in that region…It is safe to assume that more small vessels will take to the waters to ferry goods via the Berbice and Demerara Rivers.  There will arise the need for representation,hence the intention of SAG to carry out outreach programmes in the Berbice business community," Sears added.
Meanwhile, according to Sears, the SAG is moving to ensure that the requisite industry skills are readily available by intensifying training and skill development at the intermediary and tertiary levels.  He said that the Association had already  undertaken preliminary discussions with the Ministry of Education "to encourage the inclusion of maritime related subjects in the curricula of secondary and vocational training institutes in Guyana." Additionally, Sears said, "SAG intends to continue discussions with the Critchlow Labour College, and the Caribbean Maritime Institute for technical assistance to resuscitate the Maritime Transportation and Transport Logistics diploma and degree level programmes at the University of Guyana."
Around the Web