Vice President of the Georgetown Chamber of Commerce and Industry (GCCI) and Chief Execu-tive Officer of Brain Street Lance Hinds wants local small and medium-sized enterprises to look to the Caribbean Export Develop-ment Agency (Carib Export) to fill the gap in support of local businesses arising out of the difficulties associated with securing funding from commercial banks and high interest rates being charged by other lending agencies.
Addressing a two-day workshop delivered by Carib Export on April 23 and 24 Hinds told the gathering of local small and medium-sized entrepreneurs that he believed that Carib Export "can help you scale up, expand your presence and extend your reach."
Not for the first time in recent months a forum designed to provide support for the growth and development of the small business sector has broached the subject of the lending policies of local commercial banks and the impact of those policies on small businesses. "It is a reality that… businesses, especially in their embryonic stages are not able to access the facilities available in the local financial environment because of the conditionalities and regulations that exist. Hinds cited a report published by the Economic Commission for Latin America (ECLAC) titled SME Competitive-ness: Challenges and Opportuni-ties which identify scarcity of affordable capital, high commercial bank interest rates, shallow liquid capital markets, and commercial banks' concern over high administrative costs associated with lending to small and medium-sized businesses.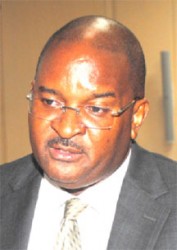 The recent Caribbean Export forum was the second of its kind this year ahead of the agency's Call for Proposals which will be made in August this year and which will signal the entity's readiness to receive proposals from small and medium-sized businesses in Cariforum countries for assistance under its Direct Assistance Grant Scheme (DAGS).
DAGS is a reimbursement grant funding facility specifically created to provide financial assistance to legally registered firms, individuals and Business Support Organisations (BSOs) that have the potential to export their products and services.
Caribbean Export's Senior Grant Advisor Kirk Brown said the greater sensitisation of small business owners arising out of the workshop aims to increase the number of applicants from local firms and also to increase the number of successful applicants.
Since 2011 a total of 142 grants have been awarded to regional business enterprises under the agency's regular procedure and 50 under the accelerated procedure. The funding amounts are €50,000 for the accelerated procedures and €30,000 for the regular procedures. Under the agency's June 2012 Call for Proposals a total of 92 firms and BSOs from across the region were awarded 2.5 million euros in grants.
Beneficiaries of the scheme have been from the manufacturing, creative and professional services industries among others.
Around the Web