Carolyn Paul is hoping that her venture into a major commercial enterprise with four Surinamese business partners can, in its own way, contribute to cementing relations between the two South American republics.
The new $1 billion business venture in which Paul is not only the sole Guyanese but the only woman, will, she says, be seeking to raise standards in the delivery of services in two important areas of the food sector.
Last Friday, Rosignol Butcheries Inc opened its doors for business at 72-73 Church Street, Alberttown. There is a thorough sense of newness about the facility. The building itself is new; sections of it are still not completed. Inside, the equipment and utensils are also new. The display includes portions of meat: both beef and pork, that appear to have been cut by expert hands; chicken and fish.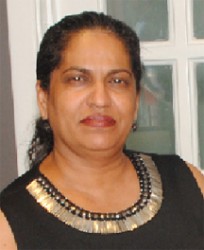 There are salads, cheeses and various types of sausages on display. Walk-in freezers, mincers, a hand packager and a smoke house are among the accoutrements that lend a sense of authenticity to the establishment. The sprinkling of early customers appears to be pleasantly surprised. Rosignol Butcheries Inc could catch on.
Apart from being a partner in the enterprise Carolyn Paul is the Company Secretary. For the time being she is also serving the company's General Manager. She is serious about the temporariness of that position.
After working as a public servant for more than 30 years and retiring recently as Registrar of the Deeds Registry she now runs a consultancy of her own that offers services that are within the range of her years of experience.
She is excited about what Rosignol Butcheries can do to raise standards in the local food sector but she intends to hire a qualified General Manager.
The major shareholder in the enterprise, Gerrad Van Dijk is an experienced Surinamese businessman who owns a chain of about 20 butcheries in Suriname. Van Dijk had visited Guyana several years ago and had contemplated establishing a business enterprise here; an abattoir. That, however, never materialised. Still, he stuck to his initial intuition. Meat is his business and he has simply stuck to what he knows.
Paul is drawn to the project by the knowledge that it is intended to make an impact. She believes that Suriname boasts much more experience in the meat industry than Guyana, and that the presence of Rosignol Butcheries here could enhance the local appreciation for the sector.
She recalls that the project was about eight years in the making and embraced a demanding sequence of exercises that included developing business plans, engaging the  commercial banking sector about financing, securing finding and renovating a building and engaging in the kind of market research that inevitably attends an enterprise of this kind. She credits Go-Invest and the Food and Drug Department with each playing useful roles in the realisation of the enterprise.
Rosignol Butcheries regards itself as part of the local commercial landscape and Paul said it will be sourcing all of its meats, fish and chicken from local suppliers. Farmers in Berbice, East Bank and West Demerara have already benefited from the company's patronage. Paul says that the butchery intends to work closely with its local suppliers in order to secure reasonable assurances regarding the quality of product that it secures.
The company's Belgium-born butcher, an expert at his trade will play a key role in the monitoring exercise; visiting suppliers to observe how the animals are reared and fed.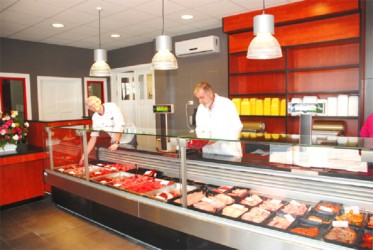 In exactly one week's time, a bakery, the other half of the enterprise, will be opened. Paul said it will offer a range of breads and pastries baked by the renowned Surinamese establishment, Fernandes Bakery. The range, she says, will include garlic breads, French rolls, croissants and pastries. These will be pre-cooked and transported to Georgetown overland in freezer trucks. The cooking process will be completed in the bakery in Guyana.
Four Guyanese and three Surinamese have already been employed by the company. Paul says that in the short term that should increase to 25. She is currently seeking to recruit butchers, cashiers and sale clerks who will receive on-the-job training. In the case of the butchers they will receive training from experienced Surinamese butchers who will be rotated between Georgetown and Paramaribo.
Around the Web