But for the fact that he has infused a measure of contemporary communication technology into the service that he provides, the pursuits of Deodat Ramsukh bear a conspicuous resemblance to those of the traditional Bell Crier.
If you want to disseminate a piece of important information – anything ranging from a birth, death, wedding or christening to the availability on the market of some new consumer item – Ramsukh will get it done for you, utilising media which, in this contemporary era would be considered outdated.
However, old habits die hard and Ramsukh is taking full advantage of a tradition that has been branded on the Corentyne coast over the years.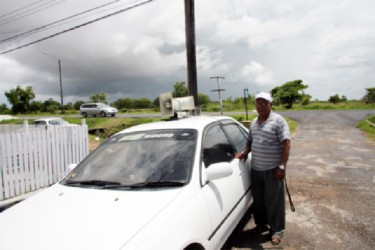 Every day of the week, Ramsukh sets out on his journey from Number 32 Village journeying to Crabwood Creek by car, his loudspeaker strapped to the roof, blaring out such public announcements as the communities consider important. Time was when he would be compelled to voice the announcements repeatedly as he moved from village to village. These days, the one-time television producer pre-records his public announcements and feeds them into his public address system.
It is an altogether appropriate medium of communication in communities that have long favoured 'word of mouth' as a means of disseminating and receiving some forms of communication while simultaneously accepting that radio, television and newspapers are more suitable for other types of news.
Nor is the service that Ramsukh provides confined to the parochial media. Formal institutions in the communities which he 'covers' acknowledge and embrace the relevance of his pursuits; so much so that he has secured police permission to do what he does. More than that, the police and other government departments utilise his service to disseminate such information as they seek to disseminate to the public.
We could not find a resident anywhere on Ramsukh's 'run' who was not familiar with the man and his work.  It is, a Crabwood Creek housewife told us, the most reliable way of knowing "who alive and who dead. All you have to do is listen, wherever you are. For television and radio you have to be close by."
Ramsukh says that large sections of the business community rely on the service. There are charges that resemble those that apply in conventional advertising, though, as a concession to the communities that he has served for years, some types of information, like dates for the distribution of pension books, are done free of charge.
There is, he says, no shortage of conventional private sector advertisements, community-related announcements and government publications, including dates for school examinations, Guyana Police Force recruitment, Ministry of Education notices, state and private sector vacancies, announcements by churches and social organisations, public entertainment, and of deaths and burials.
Costs are based primarily on the frequency with which the messages must be aired and the distances that they must travel. They could range from "around $5,000" at the high end (that fee would take the announcement, repeated thrice, from Crabwood Creek to Number 63 Beach entrance, including the various housing schemes and back streets). Ramsukh says one important conditionality is that the vehicle travel at no more than "ten to 15 miles per hour." Repeat announcements involve additional costs.
Administrative matters are expedited at Ramsukh's home by Ramsukh or his wife Devika. The information is received, written in a fashion that is compatible with Ramsukh's broadcast style and recorded onto a flash drive. At the start of the day the drive is placed in a tape deck in the car hooked up to the loudspeaker. The messages are voiced by Ramsukh or Devika.
The enterprise, Ramsukh says, is governed by traditions. For example, in cases of deaths, concessions are granted to customers who are known to possess limited ability to pay. There are other occasions when circumstances demand that credit be expected. That is what is expected of Ramsukh.
The Upper Corentyne, Ramsukh says, has a rich tradition of Bell Criers. He recalls a predecessor named Joe Chung who employed the traditional method and who died about four years ago. Chung, he says, may have been the community's first Bell Crier. One of Ramsukh's uncles, Ramjattan, worked as a Bell Crier during the 1960s.
His present job apart, Ramsukh has been around. He previously worked for the National Insurance Scheme before moving to St Kitts. After a spell there he returned to Guyana and took up a position as a manager with Channel 19 television station in the Upper Corentyne. Ramsukh says he hosted several shows and quizzes and prepared advertisements, pursuits which equipped him to do his current job.
In 2004, he took up his present job at the urging of the community.
Ramsukh says he is part of a "deeply rooted tradition" in the communities that he serves. Originally, the Bell Crier worked on foot stopping at strategic areas to make announcements. Afterwards, a bicycle and a bell became the tools of the trade. These days, motor vehicles and upgraded information technology allow for the delivery of a more effective service.
At 62, Ramsukh is looking for someone to understudy him. He understands that the job of making public service announcements does not compare with those "cushy jobs" to which youngsters aspire these days. Still, he hopes that someone with a sense of history will come forward and keep the tradition alive.
Around the Web