The Georgetown Chamber of Commerce and Industry (GCCI) says it is backing women and young people between the ages of 18 and 35 to create a countrywide micro and small business culture that can serve as "effective catalysts in creating jobs for the country's rapidly developing economy."
An article published in the Chamber's recently released 2013 edition of its publication, Business Guyana, credits the mushrooming of micro-financing organisations with creating greater opportunities for women and young entrepreneurs to make their mark in the Guyana economy. The GCCI cites the Institute of Private Enterprise Development (IPED) and its affiliate the Guyana Youth Business Trust (GYBT), Women of Worth (WOW) – a Guyana Bank for Trade and Industry (GBTI) small business lending initiative, the Caribbean Export Development Agency (Carib Export) and the still to be launched state-administered Small Business Bureau as critical financing institutions in the quest to grow the country's micro and small business sector.
Publication of the article comes against the backdrop of oft-expressed concerns by small business operators and budding entrepreneurs over what they say is a less than positive posture towards loan seekers in the sector. While local Business Support Organisations (BSOs) have declined to join the chorus of criticism that has targeted the commercial banking sector, the GCCI is on record expressing concern over the lack of borrowing opportunities for small businesses. Arising out of this concern the Chamber has moved to enhance its relationship with Caribbean Export, an EU-funded regional facility which provides grant funding for deserving small business projects.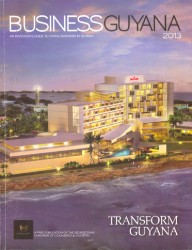 The GCCI has also given its tacit backing to the position taken both by the commercial banks and Caribbean Export that qualification criteria for access to financing should include the demonstrable ability of applicants to manage businesses. In this context the GCCI has, both on its own and in collaboration with Carib Export, been executing workshops locally to raise awareness of the importance of prudent management among small business owners.
Noting that in Guyana micro and small businesses comprise the majority of privately-run businesses and contribute 40 per cent of the country's gross domestic product, the Business Guyana article says that micro and small enterprises "not only provide a healthy baseline of jobs but also serve as a safety net for the poor and others who face significant challenges in gaining self-sustaining employment."
Earlier this year the Chamber broke with tradition by creating a window through which smaller businesses can now secure access to membership.
The GCCI says that the emergence of micro-financing organisations has helped the government and the business community to deal effectively with the most critical challenge facing the small business community, that is, access to finance.
Around the Web