Starr Computers says local service providers in the business technology sector are likely to support such moves as the Georgetown Chamber of Commerce and Industry (GCCI) may make to develop "meaningful linkages" between equipment and service providers and businesses that can be both enhanced and protected by the technology that is coming on the market.
"I suspect that there could be quite a gap in some cases between the technology that is available and can be beneficially employed by many local businesses and their actual awareness of the presence of that technology. What I believe the sector would support is a relatively small, technical… group under the auspices of the Chamber that could serve as a link between the potential users of technology and the local enterprises that market them," Starr Computers General Manager Rehman Majeed said.
Starr, along with the Guyana Telephone & Telegraph Company, Guyana Publications Inc, Digital Technology and NT Computeac mounted displays and otherwise participated in last Wednesday's technology seminar hosted by the GCCI at the Pegasus Hotel.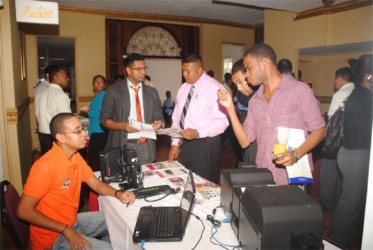 Majeed said Starr lauded the effort and noted that it marked the start of a "more sustained initiative designed to put the service provider and the market together." Majeed said that Starr apart, he believed that it was "more than likely" that other local technology companies would be only too pleased to keep the market abreast of the emergence of technology that would be useful to them.
Majeed said he believed that one area in which the business community could secure "immediate and useful support" was security technology. "The system that we use at Starr allows us to track the evolution of security technology, in some cases directly from the manufacturers. What we have done is not only to make much of this technology available in Guyana but also persuade the companies to work with us to send their people here to assist with local training of our own staff. There are opportunities for a sharing of knowledge and it is just possible that the Chamber might well be the institution to help put the parties together. Actually, we have already been talking about writing to the Chamber about what we are thinking," Majeed said.
Around the Web