– seeks to reform waste disposal culture
Thirty years after it first commenced operations in 1983, Caribbean Container Inc (CCI) is seeking to come into its own in more ways than one.
First, its recycling plant is seeking to significantly increase the volume of old corrugated cartons (OCCs) which it processes into new cartons annually. Second, and equally significant, CCI is seeking to make its own positive impact on a decadent and dangerous domestic and commercial waste-disposal culture.
Currently, CCI's Paper Recycling Plant recycles, on average, 4,000 metric tonnes of OCC per annum. At least a third of the OCC is collected locally. That, however, is nowhere near enough to satisfy the company's production needs so the remainder is imported.
CCI is mindful to make the point that recycling 4,000 metric tonnes of cardboard waste per annum – as opposed to using wood pulp – saves around 68,000 trees that can absorb a total of 1 million pounds of carbon dioxide from the atmosphere.
The company has the capacity to recycle  an additional 12,000 metric tonnes of OCC per year. To do so, however, it must significantly increase its local collection capacity.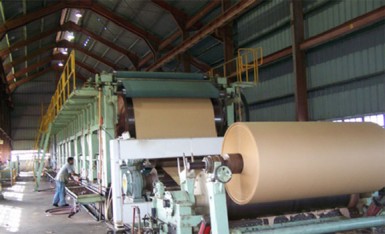 The company currently purchases from independent local suppliers, who acquire their material from urban commercial areas. Cardboard waste collection has become an increasingly popular entrepreneurial pursuit; the domain of persons many of whom are otherwise unemployable.
They traverse the streets of the city on foot or with push carts, collecting empty cardboard boxes and waste cardboard in other forms. In some instances the collectors transport the waste cardboard directly to CCI's Farm, East Bank Demerara plant. In other instances they are middlemen who re-sell to large traders who themselves transport the material to the factory.
CCI also purchases material from the new Haags-Bosch Landfill, where 'pickers' are paid to separate and stockpile material for pickup by the company. Estimates indicate that every metric tonne of cardboard recycled saves approximately nine cubic yards of costly landfill space. Also numbered among CCI's suppliers are several local companies that generate significant amounts of cardboard waste, including Banks DIH Ltd, Demerara Distillers Ltd, Sterling Products Ltd, the Beharry Group of Companies, New GPC Inc, National Hard-ware, Courts Guyana Ltd, Muneshwer's Ltd, N&S Mattai, Giftland Office Max, Payless Variety Store, DeSinco Trading, Guyana Thermo Plastics Ltd and Guyana Paper Supply Ltd. Additionally, some government agencies and non-governmental organisations have supply arrangements with CCI.
As the company seeks to increase its production it is currently working on initiatives designed to enhance its collection of cardboard locally. This time around it seeks to significantly expand its collection regime beyond the capital and its environs though the management concedes that such ambitions are not without logistical challenges. It seeks, in the first instance, to establish various prominent collection points at various commercial areas around Guyana. While the details of the logistical arrangements are yet to materialise, CCI is encouraging potential suppliers across the country to communicate with its Waste Paper Recovery Department.
From an environmental standpoint, CCI can boast of its "entirely green" value chain, from its "retrieval of our primary raw material from the solid waste stream… to the conversion of the recycled paperboard into corrugated packaging, and consequent supply of an environmentally friendly, biodegradable, recyclable packaging option." It is a statement that makes a comment on the contribution which the company makes to halting a slide into environmental lawlessness. Contemporary urban trading generates massive volumes of cardboard, the disposal of which is not always attended by any particular mindfulness of the environmental consequences. CCI's pursuits, its management says, are as good for Guyana as it is for the company's profitability.
Around the Web