Lloyd Doobay is modest about his evident success as a farmer and reluctant to concede, despite manifest evidence, that he is the owner of what is probably the single largest cherry orchard at Laluni on the Soesdyke-Linden Highway. Rather than discuss his own accomplishments as a farmer, he appears more inclined to talk about some of the problems that plague farming communities on the highway and about the remedial measures that can transform their well-being.
Doobay's success with his cherry orchard is obvious. He is one of the largest local suppliers of Demerara Distillers Limited's (DDL) Topco Juice plant.
Laluni is accessed through Kuru Kururu, travelling eight miles north along a road that cannot be traversed by ordinary vehicles. Doobay made his tractor available.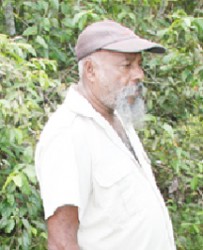 At 58 and contemplating retirement, Doobay seemed more than eager to reflect on the journey that took him to Laluni. He was born at Enmore, East Coast Demerara (ECD) grew up at Haslington, ECD. He first went to Laluni in 1983, at the urging of his father-in-law, to plant tobacco. Up to 1994 Laluni was a tobacco-farming community, supplying the Demerara Tobacco Company.
Doobay concedes that he was less than successful as a tobacco farmer and that the income from farming had to be subsidised by the returns from a 'bottom house shop', which his wife Ramdolarie still runs.
After tobacco he ventured into red beans and simultaneously took his first plunge into buying and selling fruit, acquiring passion fruit and cherries from farmers in the community and selling to DDL.
It was at the urging of a DDL official that Doobay established his own orchard in 1998. He had already commenced a relationship with the company and the growth of its fruit juice/drink operation meant that it could serve as a stable market.
He began with 25 trees, expanding gradually over the years to the more than 3,000 trees that comprise his orchard today.
Cherry trees are particularly resilient, bear prolifically and can endure for as many as 40 years. They bear fruit three to four times annually and, according to Doobay "do better" when they benefit from watering and chicken dung. He has dug a 60-foot well and employs a pump and a network of PVC pipes to take the water to the cherry trees.
Successful though his venture has been, his orchard is still unable to meet the needs of DDL's plant. What he has done, however, is to provide a market for cherries cultivated by farmers at Laluni, adding to his consignments for DDL.
Cherry is both a delicate fruit and a highly perishable one and the challenge of supplying DDL with the fresh product the company demands requires an all-day routine. The pickers arrive early to begin the harvesting and the fruit is moved from Laluni to DDL's Diamond operations during the mid-afternoon period, arriving there by 4 pm. There, the fruit is examined for spoilage and weighed.
The picking of cherries can be a tedious task. DDL's quality considerations require that the fruit be harvested from the tree rather than retrieved from the ground and the pickers must invariably operate for several hours in the sun. Packed in crates and pails the fruit must endure the ride across the same deplorable Laluni road.
Time was when the road was in better shape and the fruit was moved from farm to market in Doobay's Canter. The continually deteriorating condition of the road now means that a tractor and trailer has been pressed into service.
As in so many other sectors of the economy, the lure of 'the gold bush' has seriously affected labour retention. Doobay estimates that it now takes three days to harvest the same amount of cherries, which, five years ago, was harvested in one day. These days he is forced to recruit labour from outside the community, mostly from Kuru Kururu.
These days too, most of pickers are women. Part of the 'contract' requires that they be transported to the orchard and that they share the return journey with the cherries en route to Diamond. The scarcity of labour works to the advantage of the pickers. These days they can earn as much as $500 per five gallon pail of cherries. DDL currently offers $1,500 per pail
.
Cherries apart, Doobay has also thrived as a cash crop farmer. He plants red beans, bora, pumpkin, plantain, pepper, boulanger, cassava, squash and sweet potato. He cultivates about 40 acres on a rotational basis. The location benefits from a huge expanse of savannah area which is also cultivated during the rainy season.
The size of his operation means that his presence can also benefit other enterprises in the community. For example, he purchases chicken dung from poultry rearers in the community. He says that this particular form of manure is much richer in nitrogen than urea. He estimates that manure costs can be as high as $300,000 every six months
The farming pursuit is not without its challenges. Wild animals, notably deer, find the cash crops to their liking. As far Doobay recalls only one deer was ever caught. When Stabroek Business visited Laluni there were four acres of red beans ready to be reaped, but which were destined to remain un-harvested. A scarcity of labour means that the beans cannot be harvested, placed in the sun to dry and threshed. At current market prices that amounts to almost $400,000 in lost earnings.
There is also the challenge of combating the Black Sigatoga disease. The community is waiting on the Ministry of Agriculture to make good on its promise to bring a measure of relief from this particular challenge.
Still, Doobay perseveres. His enterprise is established, DDL represents a reliable market for his cherries and there are prospects for expansion. By the same token, he believes that much more can be accomplished with official support for enhanced infrastructure.
Around the Web