The Guyana Bank for Trade and Industry (GBTI) is partnering with four of the country's leading service and solutions providers in the information technology sector in order to raise the level of consumer access to tools necessary for their effective utilisation of the information super highway.
Corporate Secretary and Head of Credit at GBTI Shaleeza Shaw told Stabroek Business in a telephone interview on Wednesday that it will be providing loans ranging from $70,000 to $300,000 to facilitate the acquisition of iPads, Notebooks, Smart Phones and other IT accoutrements.
Shaw told Stabroek Business that under the bank's 'Easy To Own, Technology Loan' plan, it will be partnering with Starr Computers, CCS, NT Computeac and Global Technology to render key IT tools more readily available. "GBTI believes it has a role to play in developing IT skills," Shaw told Stabroek Business.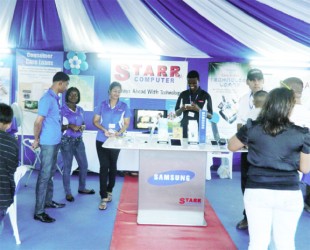 Shaw said the 'Easy To Own, Technology Loan' initiative generated considerable interest at last weekend's International Building Expo and the bank was looking at acceptable collateral arrangements that would be less than burdensome to borrowers.
According to Shaw persons wishing to access loans for the purchase of IT equipment would be required to secure a quote from one of the four companies which would then be processed by the bank. She said that subject to approval by the bank, a response to applications should be forthcoming in "a few days" and disbursements "in a week."
Shaw said that the bank's initiative was intended to make it easier for the populace as a whole to own computers and other technological devices, adding that the bank was particularly keen to ensure that its initiative "allows students to assimilate the benefits of the digital age and make them more self-sufficient." She said the bank was also seeking to ensure that the initiative contributed to enhancing the lives of Guyanese.
According to Shaw the Easy to Own Technology Loan will target primarily school children, university students, and young adults and will be promoted at periods that are deemed peak seasons for computer and electronic shopping, particularly August and December.  During each campaign the bank will set up a 'GBTI Tech Camp' at a central location such as the University of Guyana Campus. The Tech Camp will display a list of products offered by selected suppliers and suppliers' representatives will be present.
The financial facility will be a partnership between the bank and the four companies. Shaw said that customers will be expected to provide 10% of the overall cost as equity for the loan. The interest rate applicable for the loan will be ten per cent per annum, with the term not to exceed 18 months.
Starr Computers General Manager Rehman Majeed whose company, just a few weeks ago mooted the idea of a closer relationship between IT consumers and suppliers  during a forum organised by the Georgetown Chamber of Commerce and Industry (GCCI) told Stabroek Business that the GBTI initiative was consistent with the direction in which Starr was seeking to take the industry.  "This new offer by GBTI is a great opportunity for persons who are trying to advance themselves and their businesses to acquire the latest support technology," he said.

Majeed said he believed the initiative was a breakthrough for the sector as a whole and more particularly for smart phone distributors "since these are the phones that will be used for paying bills, monitoring home security and even opening your front door."
Around the Web