A delegation to Guyana from Trinidad and Tobago comprising representatives from two of the country's business support organizations says that a key objective of their visit is to develop "direct  relationships" with the business community here to help reduce resort to government involvement whenever important private sector initiatives are to be taken.
Representatives of Trinidad and Tobago's Export TT, the entity responsible for providing multi-faceted support for export-driven local business entities and the Trinidad and Tobago Manufacturers Association held an hour-long meeting on Tuesday with representatives of the Georgetown Chamber of Commerce and Industry (GCCI) including Chamber President Clinton Urling and the organization's Immediate Past President Komal Ramnauth.
Much of the meeting was spent discussing possible strategies for strengthening bilateral ties between Georgetown and Port of Spain at the private sector level in the light of what was felt to be the diminished effectiveness of the Caribbean Association of Industry and Commerce (CAIC).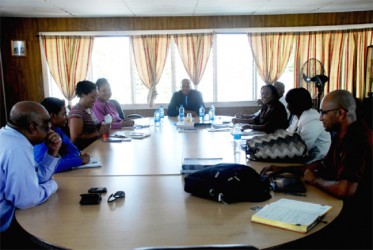 The Trinidad and Tobago delegation has mooted the creation of an intra-Caribbean private sector designed to strengthen multi-level intra-regional private sector collaboration, thereby removing what sections of the regional business sector believe to be needlessly bureaucratic and time-consuming engagements with state entities that can be reduced through direct, reliable and sustained contact between and amongst regional private sector entities.
The visit here by the Trinidad and Tobago business support delegation comes in the wake of sporadic exchanges between Georgetown and Port of Spain, at the government-to-government level on the issue of private sector collaboration in pursuit of agricultural and agro-processing ventures aimed at strengthening regional food security, reducing extra-regional food imports and providing potentially lucrative investment  opportunities for businesses in the region.
The most recent of those engagements occurred in November 2012 when a Trinidad and Tobago delegation headed by the country's Food Security Minister Devant Maraj visited Guy-ana and held talks with officials of the Ministry of Agriculture here.
Little has since been heard of the promised Memorandum of Under-standing which both sides said would result from the visit to give direction to the envisaged commercial pursuit of various agribusiness ventures.
While Guyana has long been a market for products manufactured in Trinidad and Tobago, meaningful bilateral trade continues to be hamstrung by a lack of competitiveness in the local manufacturing sector resulting primarily from high fuel prices compared with significantly less energy costs which businesses in the oil-rich Republic pay.
While the visit here by the Trinidadian  delegation is centred around information-gathering on behalf of a private sector that is seeking to expand both its regional and extra-regional markets, Tuesday's meeting with the Georgetown Chamber also dealt with exploring opportunities for joint venture manufacturing initiatives involving business enterprises in the two countries.
Both Export TT Senior Export Development and Promotion Officer Shirley Ann Noel and Trinidad and Tobago Manufacturers Association Team Leader Renee Penco said that the fact-finding  visit was a reflection of the Trinidad and Tobago private sector's increasing interest in doing business with the regional private sector.
Meanwhile Noel said that while it was unlikely that a formal Trinidadian delegation would visit Guyana for GuyExpo this year, the island's private sector would be seeking to participate in the event in 2014. Prior to its departure for Paramaribo this weekend the visiting delegation was due to meet with other Business Support Organiza-tions including  the Guyana Manufacturing and Services Association (GMSA).
Comments

Even as Roraima Airways prepares to host the annual Wedding Expo next month, the company's Chief Executive Officer, Gerry Gouveia has told Stabroek Business that the process of amending the country's Marriage Act to reduce the residency requirement from fifteen days to two days for non-nationals wishing to marry in Guyana, must be accelerated.

S&P Global Platts, the international provider of energy and commodities information has reported in its January 2018 Global Survey of member countries of the Organization of Petroleum Exporting Countries (OPEC) that, for the sixth straight month Venezuela's oil output has fallen,  reaching 1.64m barrels per day in January.

Berlinda Duncan- Persaud has spent much of the past two years trying to interweave the art and craft of the Amerindian communities into mainstream Guyanese life by making the work of indigenous craftsmen and women available to a coastal market and even to extend the demand outside of Guyana.

In an advertisement in this week's Stabroek News, Guyana Deep Water Operations Inc (GDO) listed 31 areas for service opportunities.

(Jamaica Gleaner) Renovation of the first 600 metres of berth under the first phase of the expansion of the Kingston Container Terminal (KCT), being undertaken by operators Kingston Freeport Terminal Limited, is now completed and ready to accommodate Panamax vessels.