Securing and sustaining external markets and ensuring the overall health of the local population "in both the short and long term" are challenges that require Guyana to be particularly mindful of its food safety standards a United States-based Guyanese food science technology expert has told Stabroek Business.
Head of the Food Science Programme at Tallahassee University Dr. Neil James told Stabroek Business in an interview earlier this week that while costs associated with raising food safety standards are likely to be considerable, the benefits of higher food safety standards in "a globalized international community" meant that Guyana had no choice but "to pay the price of admission."
Dr. Williams, a Chemistry graduate from the University of Guyana who holds a Phd. in Food Science from Leeds University in the United Kingdom told Stabroek Business that the raising of food safety barriers worldwide meant that Guyana had to take food safety issues seriously.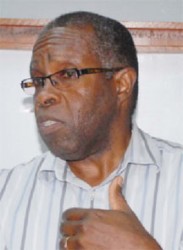 In the wake of the enactment by the United States Congress of the Food Safety Modernization Act (FSMA), a piece of legislation that raises the safety bar for foods sold on the United States market, importers of foods into the US are required to meet new and higher safety inspection standards. Dr. James, who is in Guyana for two weeks to work with local shadehouse farmers under the Partners of the Americas  Farmer to Farmer programme told Stabroek Business that the costs and technological inputs involved in meeting the requirements of the FSMA meant that it was probably unlikely that some smaller, under-resourced business entities would be able to afford to meet those requirements. "The reality is that some businesses here may not be able to compete and in that sense we are going to have to make decisions", Dr James said. Noting that the costs associated with food safety included technical training and the acquisition of equipment and materials for testing, Dr. James said that there were "no easy answers" for entities faced with resource deficiencies.
James, who once served in the United States Department of Agriculture as a Researcher, told Stabroek Business that the advent of the FSMA ought to be seen by Guyanese food exporters as an opportunity to raise standards.
Meanwhile, James who has already undertaken field assignments with local shadehouse farmers told Stabroek Business that one of his primary concerns was with supporting their efforts to raise food safety standards by applying "preventa
tive rather than curative approaches." James told Stabroek Business that lettuce, customarily produced in large quantities by shadehouse farmers was highly susceptible to food safety risk in view of the fact that it is eaten 'mostly
raw." Accordingly, James said that there were concerns associated with providing protection from micro-organisms that might arise during washing packaging and transporting over long distances. "On the whole we can improve food safety by working at breaking old habits. More than that there is a role here for consumer education that will help consumers to be in a position to reject food that is not safe," James said.
Around the Web