Severe downpours on Tuesday night that increased in intensity early on Wednesday morning provided Georgetown's established merchants with a head-start on the pavement vendors. Still, the city's tenacious itinerant traders were not about to miss out on a back-to-school windfall, which, this year, had come in fits and starts. We are in the last full week before the new academic year begins and this, quite simply, is the last opportunity for trading to 'pick up.'
Up until a few days ago there had been a discernable delay in the appearance of shoppers in the sorts of numbers which the traders had anticipated.  Georgetown last week was a sea of pavement vendors and established stores seemingly displaying little beyond school-related items. Except that the buyers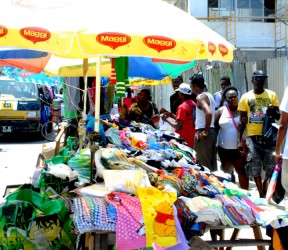 were not in evidence. The people on the streets seemed mostly to be browsing.
By weekend, public and private sector employees having received their wages and salaries, that changed. Stabroek Business had been on the streets twice during the previous week and we decided that this week we would take a look at the back-to-school shopping 'crush' again.
For several weeks we had been receiving mixed signals regarding the availability of text books. The controversy over pirated text books had evolved somewhat over the past few months and the books had disappeared from the shelves of some of the establishments that had traded them over the years. That appeared to have had a positive effect on patronage at Austin's Bookstore where the proprietor, Lloyd Austin had told us that book sales this year appeared to be "on the increase" compared with previous years. Contrastingly, another dealer in published texts, New Horizon Bookstore reported that stocks of books amounting to "millions of dollars" were simply not moving. Subsequently, we became aware of at least two establishments in the city which, this week, were doing a brisk trade in copied texts though the authorities had said this illegality would not be permitted.
Those stores with established reputations for school-related items – clothing, shoes, stationery etc – were particularly congested last weekend, Stores like Ashmin's, Guyana Stores and Fogarty's offer a greater measure of shopping comfort compared with the smaller, more cramped  establishments. The larger stores have more sales assistants, displays are convenient and prices are clearly marked. The 'crush comes' when you get to the checkout.
In some of the smaller stores in Regent Street and Water Street, primarily, there was evidence of conditions bordering on chaos. Still, the available evidence suggested that the smaller establishments – particularly some close to Bourda Market on Regent Street – were holding their own by offering items like socks and underwear at wholesale prices. On Wednesday, one such store was bringing in new stocks of those items in preparation for the weekend.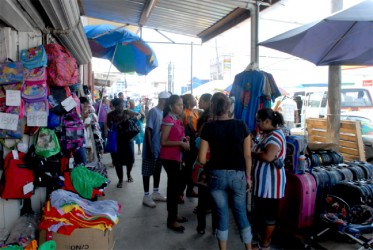 This newspaper discerned long ago that there is a strategic significance to vending during the back-to-school period. Earlier in the week the vendors were doing a brisk trade in those items – hair ribbons, rags, shoe laces etc – which some shoppers had clearly decided were not worth facing the counters of crowded stores for.
School stationery ranks among the most difficult items for which to shop. We found that some stores appeared to have given themselves over almost entirely to offering stationery with price differences – for increasingly popular haversacks – being linked to 'brand names.' It is much the same with  training shoes. The brands which children insist on can cost their parents a 'pretty penny.' It's all about bragging rights and bragging rights are important in the contemporary school culture.
Unlike in previous years there appeared to be less evidence of exercise books, pens and pencils on the streets. The proprietor of a small store suggested that price differences meant that shoppers preferred to acquire those items from established merchants who enjoyed the facility of offering significant discounts and wholesale prices.
This weekend Stabroek Business envisages a condition bordering on chaos in the city. 'Last minute' shopping has become a kind of 'fix' for Guyanese and the back-to-school season is no exception. Prices – we must caution buyers – have, in some instances, increased. It appeared to us that stationery prices were up as were shoe prices. Still,  what has to be said for Guyanese parents is that, on the whole, they are not inclined to 'take any prisoners' as far as their children's education is concerned. The weekend should be an interesting one.
Around the Web