Guyanese artists, craftsmen and women who travelled to Suriname to display and market their art and craft at the recently concluded 11th Caribbean Festival of Arts (CARIFESTA) were required to pay a non-refundable fee on their respective consignments, contrary to what they understood to be the conditions under which they were participating in the regional festival.
Irene Bacchus, a member of the Guyana art and craft contingent that participated in CARIFESTA in Paramaribo told Stabroek Business that the imposition of the tax came as a surprise to the Main Street creative arts group with which she travelled to Suriname. Bacchus said that while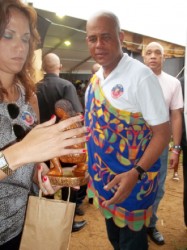 it was her understanding that a tax would be charged on each item sold, the Customs authorities in Paramaribo simply valued the entire consignments that were being brought in for CARIFESTA and charged a tax on the entire amount. "The idea as I understood it was that the authorities in Suriname would do an audit of what we were taking in and have us pay a tax on what we sold at CARIFESTA. That is not how it turned out since we were given no refunds when we were leaving, Bacchus said.
The Linden-based former Treasurer of the Guyana Arts and Craft Association told Stabroek Business that while the imposition of the tax may have inconvenienced some members of the group she doubted that any formal complaint would be made.
Meanwhile, Bacchus told Stabroek Business that she believed that the recently concluded regional arts and culture exposition was a "success in some senses" for Guyanese artists and craftsmen and women who participated in the event. "I recall counting at least twenty Guyana stalls at the event and in fact I believe that we were probably the single biggest visiting contingent at the event," Bacchus said. Bacchus told Stabroek Business that visitors to the event paid a good deal of interest in Guyanese creations. "We actually had the distinction of Haitian President Michel Martelly purchasing a piece of sculpture done by the Guyanese artist Ras Iah."
Bacchus said that while she believed that local artists and craftspeople who attended CARIFESTA might have done reasonably well in terms of sales" she did not see the event as marking a breakthrough in terms of opening lucrative regional markets for Caribbean art and craft. "Frankly, I detect a protectionist attitude in the region. Perhaps it may have to do with the global economic crisis but you really do not get the impression that the various Caribbean territories are about to open up their markets to external art and craft even if it comes from, within the region," she added.
Bacchus said that the absence of a vibrant regional market for local art and craft presented a challenge to local institutions including the Guyana Art and Craft Association to undertake initiatives that would secure markets for local work overseas. "Events like CARIFESTA are really show events and at any rate they are one-off events. We need more opportunities to expose our work to wider markets." Bacchus says that what makes the challenge greater for the local Arts and Craft Association is the fact that local artists and craftspeople are "mostly poor people who cannot afford to market their own work."
In April 2011, then President Bharrat Jagdeo met with members of the Arts and Craft Association and committed government to the creation of a $10 million fund to help craftspeople who had been unable to access bank loans to enhance their businesses. At the same time government had also allocated a building for the Association to set up a Secretariat. Bacchus, who told Stabroek Business that she was "disappointed" with the manner in which the Association was functioning said that as far as she was aware the building was being occupied but she could not say whether the $10 million pledged by the government more than two years ago had been accessed.
Around the Web