Natural Resources and Environment Minister Robert Persaud has told Stabroek Business that the country's bauxite industry should be seen as being "in recovery mode" and has credited the two expatriate major shareholders in the industry with making important contributions to the turnaround process which he said is underway.
"In a broad context Bosai and Rusal have been able to assist the country in the process of seeking to turnaround the bauxite industry," Persaud said.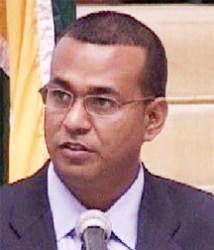 "While we have been able to emerge from the troika of commodities – sugar, rice and bauxite – that kept our economy going, we remain optimistic about the bauxite industry. We should not romanticise about the bauxite industry of the past. There is a new dynamic to our economy and the bauxite industry would have to adjust to that national circumstance and to global realities."
Production figures provided by the Natural Resources Ministry indicate that overall bauxite production for the month of July reached 175,684 tonnes, volumes which the ministry said exceeded budget by 15.5 per cent.   Production for the current year reached 1,109,511 tonnes, an amount that represents 95.3 per cent of budget. RASC production for July this year reached 16,172 tonnes or 84.4 per cent of budget while overall production for 2013, up to July was 114,682 tonnes or 85 per cent of budget.
Calcined grade bauxite production for July this year was 5,041 tonnes or 57.7 per cent of budget while overall production up to July this year reached 37,612 tonnes or 60 per cent of budget.
Metallurgical grade (MAZ) bauxite production for the month of July was 154,471 tonnes, an amount that exceeded the budget by 28.7 per cent while production for the year up to July reached 893,999 tonnes, 1 per cent over budget.
In making the case for a turnaround in the bauxite industry, Persaud said that compared with the nineties, "we are now seeing an upsurge in mining activity.  We are seeing the development of new mines both at Linden and in the Berbice River. Production has been increasing and so far available figures suggest that they are on target."
Meanwhile, Persaud disclosed that a signing ceremony was due to take place yesterday between officials of the Bauxite Company Guyana Inc (BCGI), in which Rusal has majority shares and the village officials at Kurubuku that would "clear hurdles to allow BCGI to proceed with its work plan." BCGI has said that the project is expected to be attended by community development-related initiatives as well as the construction of service roads and a comprehensive production complex to crush, dry and on-load commercial bauxite.
With regard to the operations of Bosai at Linden specifically in relation to the promised establishment of a smelting facility, Persaud said that while "energy" remained the major hurdle which the smelter project would have to cross, the project remained "on the table" as far as the Government of Guyana was concerned.
"Strategically we continue to keep smelting on the table though there are different views on it. For us it is still as national goal," Persaud said.
Meanwhile, Persaud told Stabroek Business that Bosai currently has a proposed energy project on the table that involves a "clean coal power" facility that would produce close to 50 megawatts of power. "Since peak demand for the Linden community and the bauxite operations at Linden is 12-14 megawatts we are looking at excess energy from that project," Persaud said.
"Down the road," Persaud said, "we need to strive to make the bauxite industry more competitive and our product much more marketable. That remains a challenge for the companies. Stripping costs are among the highest compared to other countries. In some instances we may have logistical advantages in terms of transportation but those stripping costs are still a challenge."
Persaud said that he wanted to provide assurances that bauxite continues to be important and will get the relevant attention "but must be seen as part of an economic development process. We currently have two reputable companies working in the sector and we will never give up on bauxite," Persaud told Stabroek Business.
Around the Web