Upper Corentyne businessmen want the recently concluded agreement between Guyana and Suriname that will see detachments from the Guyana Defence Force (GDF) Coast Guard undertake joint river patrol operations in collaboration with their counterparts from Suriname implemented with haste.
Chairman of the Upper Corentyne Chamber of Commerce Keishnand Jaichand told Stabroek Business in a telephone interview earlier this week that the development was "good news for the fishing industry and the business community as a whole". Jaichand said the joint patrols which seek to "to maintain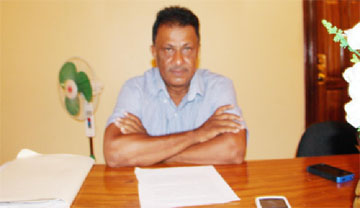 security along the Corentyne River and within the coastline of the two countries" should be implemented without delay.
The joint security patrols is one of several resolutions that arose out of last week's two-day security sector meeting last week between the two countries in Paramaribo.
Minister of Home Affairs, Clement Rohee; former GDF Chief-of-Staff, Rear Admiral Gary Best; Commissioner of Police (ag) Leroy Brumell and Commissioner General of the Guyana Revenue Authority (GRA), Khurshid Sattaur were among the delegates on the Guyana side at a meeting which a GINA release said was "aimed at expanding cooperation, particularly in the areas of law enforcement and revenue protection."
Berbice fishermen plying their trade in the Corentyne River have for years been plagued by attacks by river pirates. "The announcement is definitely a big deal for our business community. Piracy has affected our economy and has also affected employment in the community since the frequency of the pirate attacks has meant that some fishermen have given up the river," Jaichand said. He said losses arising out of pirate attacks have also led to boat owners falling into arrears with regard to their repayment of bank loans.
"All in all it has been difficult so that we welcome the decision and are hoping for its speedy implementation," Jaichand said. Official estimates indicate that the joint patrols could come into force in about six months.
The Guyana/Suriname border has also been plagued with controversy associated with smuggling of goods across the border though Jaichand sought to play down suggestions that the practice was out of control. He said the Corentyne businessmen continue to be engaged in significant levels of legitimate cross-border trade. He explained that the system under which invoices were examined and duties paid on the Guyana side had been shelved by the Guyana Revenue Authority for a new system the required that invoices be examined and monies paid only after the goods had arrived here. Jaichand said that under this new system importers were required to wait for considerable periods that could extend into several days while imports were examined before they could be uplifted.
Around the Web