Qualfon's recent multi-million dollar investment in the expansion and upgrading of its facilities here could result in the creation of additional jobs beyond the projected 6,000 expected to be in the company's employ after work is completed on its present pursuits.
Mark Boyer, Qualfon's Site Director for its Berbice operations told Stabroek Business that a key part of his mission was to recruit the additional 4,500 persons to add to the 1,500 already employed at the East Coast facility. He said the high quality of service that continues to be offered to the company by the local work force meant there was every likelihood that the relationship could bring even greater benefits to Guyana than are envisaged at this time. "There is no reason why recruitment should necessarily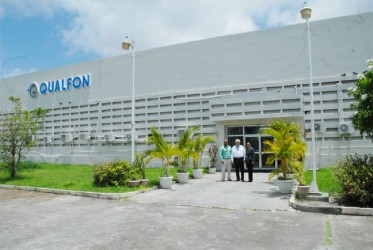 stop at 6,000 workers. Guyana has some attributes that other places don't have. Your culture is perfect for this kind of business," Boyer told Stabroek Business. Asserting that Guyana is "a critical cog" in the Qualfon wheel, Boyer said that from what he sees of the workforce he believes 6,000 is "a very conservative estimate." He said the Guyana workforce was saving Qualfon "a lot of money" since the suitability of the vast majority of the workforce for serving the United States market meant that less finances had to be invested in training.
Many of the additional jobs Qualfon might offer to Guyanese beyond the envisaged 6,000 could come from "significant expansion" of its local back office operations which delivers services to customers beyond the conventional services provided by call centres. Those functions might include the processing of claims, customer administration, medical transcriptions and other services for major companies to which Qualfon serves as a contractor. Customarily, back offices repetitively process large volumes of transactions that can range from mailing and payments to what are commonly described as "multi-step, multi-touch" processes that include processing commercial loan applications. Employees involved in back office operations can range from data entry clerks to case managers and IT professionals. The business objective is to expedite work quickly and accurately at the lowest cost.
According to Boyer, the high quality of service being offered to the sector by Guyanese workers could significantly increase the likelihood of more major US companies showing an interest in the call centre service here. "Qualfon has been here seven or eight years and has 1,500 employees here. That is significant," Boyer said, adding that "big business needs to trust both the local work force and the investment climate."
Boyer told Stabroek Business that Guyanese workers were currently excelling in a highly competitive global market. "Based on recognised measurements Guyana is number one against the other countries, not by a bit but by a long way," Boyer said.
Around the Web