For the second consecutive year, Lawrence Chung, the proprietor of the Lethem-based Ebony and Ivory an enterprise that crafts jewellery from semi-precious stones, will not be participating in GuyExpo.
In layman's language, the numbers don't add up. Put differently, when the costs of travel, meals, accommodation and display booth are totalled, it amounts to around $100,000. Those expenses must be cleared and Chung must realise some measure of profit if the trip to GuyExpo is to make business sense.
Lawrence Chung is no fly by night craftsman. He has been making his jewellery from the various semi-precious stones that can be found in the interior for a number of years. He has travelled to Mexico, Italy, Brazil and elsewhere. Just last week he attended a craft show in Boa Vista.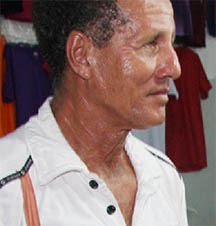 At home he has been a regular exhibitor at both the Berbice Expo and GuyExpo. He had developed a pattern of using some of the returns from the Berbice Expo to finance his GuyExpo visit. But since the Berbice Expo secured him no returns this year, there is nothing with which to finance this year's GuyExpo.
Chung's tale is almost certainly a microcosm of a wider problem. Not only for craftspeople and other small businesses in the interior of Guyana, but other micro enterprises, wanting to be at GuyExpo but not having the wherewithal to be there.
Chung says the cost of exhibiting at the Berbice Expo could be more reasonable and he was less than impressed with the size of the display space.
Other small craftspeople, micro enterprises, have made the same complaint about GuyExpo. Modest display spaces cost $40,000. The craftspeople say that's exorbitant. The organisers disagree and, we are told, unlike last year, there will be no subsidy this year.
Stabroek Business first met Chung at the Berbice Expo in July. He had been there from its inception. His jewellery usually sells well though rising costs has meant the even cost recovery is difficult. This year was a bad year at the Berbice Expo. He believes that this might have to do with the state of the sugar industry.
Amethyst, Agate, Jasper, Rose Quartz, and Rock Crystal are amongst the stones used in Lawrence's trade. He buys these from the miners, with the exception of Red Jasper which he acquires from the Guyana Geology and Mines Commission.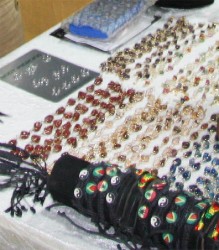 Set in the various bands and chains the stones are transformed. A beautiful band can be had for as little as $700. A chain can be had for around $1,000. Chung believes there is considerable scope for growth in the industry. Many of the semi-precious stones found in the interior regions are simply thrown away.
Chung usually works alone but would secure hired help in the event of a large order for jewellery. He explains that the making of the jewellery is "mostly repetitive". The stones are procured, chipped and chiselled then placed in a tumbler with sand and water. The tumbler is heated with a jewellery torch. This is a polishing process. Afterwards, they are left to cool then subjected to a second, separate polishing process.
Chung produces about 50 pieces daily but business is not what it used to be. He wants to diversify. There are prospects but they all depend on investment capital. Uppermost in his mind is the potential for the creation of a leather tannery. He said more than 30 cows are slaughtered in the area each week and the hides are simply gathered and buried. Afterwards, dogs exhume them and they become a health hazard. He has also been mulling the use of cow horns in his current trade.
Chung is also a farmer. His homestead is 100 x 100 plot and he cultivates passion fruit, sugar cane, cassava, guava, cherry and mango among others. It is a small operation that brings in modest returns.
During his visit to Boa Vista last week to attend the September 19-22
Feira do Empreendedor – a trade fair for business entities seeking to invest in Brazil – he discovered "another species of pineapple". He is interested in its commercial prospects, particularly as an export commodity.
Chung has used his hands to make a living for much of his life. He started with macramé and tibisiri weaving. In 1972 he migrated to Brazil. From there he travelled outwards, in the Americas and Europe. It was on those travels that he "picked up" the jewellery trade. He returned to Guyana 1998 and opened his jewellery business, Ebony and Ivory. His market is largely dependent on the local expos, gifts shops in Georgetown and his store in Lethem. He continues to look outwards, for more opportunities to broaden his own production base, expand his local and external markets and diversify into new sectors. It is a perpetual process and Lawrence Chung appears up to it.
Around the Web