Chief Executive Officer of the Guyana Pegasus Hotel Robert Badal has said that the unfolding circumstances of the Marriott Hotel have given rise to the need for President Donald Ramotar to mount an enquiry into the project "without delay".
In his latest critique of what is billed by government as a five-star accommodation showpiece, Badal declared that officials close to the Marriott project were "deliberately, fraudulently and openly" seeking to deceive the nation. Asserting that they were being "reckless with the taxpayers' resources" Badal, in a written statement sent to the Stabroek Business,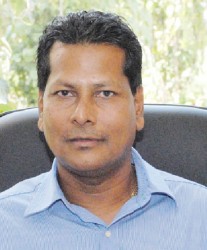 said the project amounted to "an indecent assault on the private sector and fraud on the taxpayer".
Badal has been accused of criticising the Marriott project on the grounds that he is afraid of the competition the new hotel will bring. However, in a written comment made available to the Stabroek Business, Badal declared that the Marriott could stumble on the interest payments on its US$27 million loan. At 8.9% interest per year on Republic Bank's syndicated loan it would require US$2.4 million per year to cover interest payments. This sum far exceeds "the
total profits of the entire hotel and hospitality industry in Guyana," Badal asserted. He added that interest payments would be even higher, "considering that accumulated interest during the construction phase, at least 18 months, would have to be capitalised and added to the principal."
Meanwhile, he added that the details of the Marriott project made public recently reflect "unrealistic assumptions" about the performance of the hotel. Badal said that while the feasibility study assumes an average occupancy of 62% and an average daily rate of US$150 it should be noted that the Pegasus and Princess with aggregate stock of 380 rooms are currently running at below 50% annual occupancy, while secondary boutique hotels are running at less than 40% on aggregate of 274 rooms. "Where would the additional traffic come from to realize 62% for an additional 197 rooms which the Marriott is bringing?" Badal asked.
He said in his statement that the operating crisis at a completed Marriott Hotel was likely to be compounded by the fact that "electricity costs amount to 25% to 35% of revenue, labour to around 15%, other direct costs and overheads another 15-20% depending on occupancy." He said what this meant was that in the first few months of the Marriott's operations these percentages would be even higher "resulting in crippling operating losses with no cash flows being available to cover interest payments as this outfit would not even realise 15% occupancy." This, he said, "would rapidly lead to bankruptcy. It is no surprise that no credible investor showed any interest in this project."
Around the Web