While most local wood products' manufacturers embrace the ambition of capturing lucrative overseas markets, the  Hauraruni Agricultural Development Company (HADCO) Farm and Sawmill Incorporated is proceeding in the opposite direction. After several years of carving its niche in the Caribbean, Europe and North America, HADCO is ready to parade on the local stage.
HADCO was established in 1986 and is situated on a 217-acre complex situated at 284A Long Creek on the Soesdyke-Linden Highway. The company's owner and Chief Executive Officer Vincent David readily admits that taking aim at the external market first was a deliberate strategy aimed at securing the best prices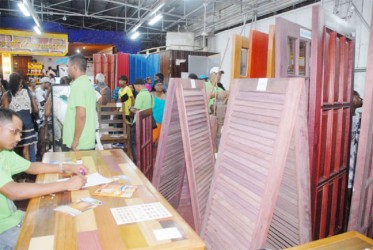 for his products. Nor does he believe that it is by accident that his decision to secure a niche in the local market has coincided with a building boom here.
David had been travelling to the city from the Soesdyke-Linden Highway just two weeks before the launch of GuyExpo XV, when he spotted the advertising board marketing the event. Then and there he decided that there could be no better platform on which to launch his domestic marketing drive.
The export market has been kind to HADCO. In the Caribbean, Barbados and Jamaica have been key target markets for a range of products that include doors, spindles, pedestals, windows, floorboards, decorative mouldings, cabinets, doors, kitchen cabinets, bedroom closets and dining room suites.
So keen is he to break into the local market that David has decided to significantly reduce his prices though, he emphasises, not the quality of his goods. He is, he says, determined to offer Guyanese "the very best products".
At GuyExpo last weekend HADCO's employees were preoccupied with showing the company's product range. David said that at the conclusion of the event the items on display would be sold at what he described as "GuyExpo prices".
On Friday evening, while between responding to product enquiries from visitors to the HADCO display, David told Stabroek Business that HADCO's primary accomplishment was the success it has realised in sustaining the high standards required by the international market. More than that, he pointed out that the company had withstood the competition from extra-regional markets and remained competitive.
On Saturday evening, the HADCO booth attracted an even steadier stream of visitors. David appeared particularly pleased with the public response to his company's local debut. He was, he said, gratified to know that some Guyanese still prefer wooden houses and furniture, a fact that challenges him to strive to meet the requirements of the market. Still, he says, he is baffled over the fact that so many home-owners prefer concrete structures particularly since, as he puts it, people in the region and around the world are clamouring for Guyana's hardwoods for both houses and home furnishings.
The wooden doors manufactured by HADCO have been named after some of the rivers of Guyana: Abary, Haruraruni, Amaila and Cuyuni among others. The wooden shutters have also been named after the country's three counties: Demerara, Essequibo and Berbice. That, David said, is his own particular method of branding.
HADCO's Soesdyke/Linden highway wood complex boasts one of the country's largest kiln-drying facilities. It dries sixty thousand square foot of lumber every two weeks, with the moisture extraction process significantly enhancing the quality of the product.
Without a timber grant of its own the company purchases timber, a pursuit which David said is one of HADCO's most important and delicate operations. A bad consignment of timer can set a wood products operation back significantly.
David unhesitating said that "finding committed and dedicated staff is a major problem". Accordingly, HADCO pursues a policy of in-service training though there is always the risk that trainees will leave at the conclusion of their apprenticeship. Over time, the company has had its own experiences with losses resulting from poor workmanship. It had even reached a point where the reputation of the company had been put a risk. Eventually, David took a decision to import labour for the factory. His Indonesian workers have not let him down. Things have changed dramatically and these days HADCO is so confident in its quality that it offers warranties on all of its products.
HADCO employs around 32 persons who reside both within and outside the community. Many of his skilled workers are from West Coast Demerara, East Bank and Georgetown and David said he values his workers sufficiently to provide them with transportation from the Linden-Soekdye junction. There are year-end bonuses for regular attendance and early arrival at work. He further revealed that he follows the health and safety rules stringently outfitting all of his workers with safety gear.
David told Stabroek Business that at a very early age he discovered that he was "good" with his hands. Coming from a working class family of nine he turned to the land, planting tomatoes; this helped to supplement the family income.
On January 1, 1986, he tendered his resignation to the management of the Guyana Airways Corporation and took up farming on a full-time basis. His first plot of land was acquired with the cash which he received as severance pay from GAC. HADCO sits on that very plot of land today.
David said he was an ambitious and diligent farmer and very soon his pursuits included chicken and pig rearing, and eggs in earnest. At one point he exported peppers and pineapples. In 1996 the farm was devastated by an unknown disease. Attempts to refinance the operation through the commercial banking system failed. More than that, specialists recruited from the United States, the Dominican Republic and the University of the West Indies all failed to determine the nature of the pestilence.
Pressed to find an alternative form of employment, David financed the creation of a website in 1997 on which he listed all the various local items that were available for export. It wasn't long before he began receiving enquiries from the region – particularly Barbados – for lumber.
His export business began in earnest in 1999. First Barbados then Jamaica, began to pay an interest in his lumber and his furniture. Further afield, North American, European and even Asian markets materialised. Next, he secured a niche in Haiti.
While HADCO's operations now focus fully on wood and wood products the company has retained the reference to farming in its trading name.
David believes that customs procedures associated with the clearance of goods arriving in Guyana is a significant impediment to business. He believes that the authorities here should pattern themselves after Barbados where consignments of goods are usually cleared by customs in a single day. David is now in the process of reopening his trading office at Nandy Park. He believes that his business is entering a new and significant phase and said he anticipates his re-integration into the local business community and his interaction with a Guyanese customer base.
Around the Web