For Zarinah Hameed GuyExpo XV provided a timely opportunity to show her creations to a wider audience while simultaneously broadening her client base. She knows only too well that the competitive nature of the fashion design industry compels young professionals like herself to seize the kind of opportunity afforded by the sizeable potential market which GuyExpo represents,
This is not her first appearance at GuyExpo. It is, however, her first as the Chief Executive Officer of her own establishment, Zee's Ingenuity Productions.
Her first appearance was in 2010 as a fledgling exhibitor. The following year she displayed her creations as part of the Fashion Weekend group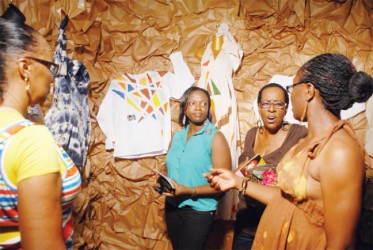 and last year she appeared under the banner of the Fibre Association.
Hameed's was a familiar beginning. As a girl she had cultivated a strong desire to "look different" and she eventually fell into the habit of taking her clothing apart then putting it back together in a manner that pleased her. Her formal education, however, remained on track. In 1998 she completed secondary school and read for a degree in Mass Communications at the University of Guyana. Upon graduation she worked at several private sector media houses in both print and television.
In 2000, she bought a sewing machine and began to sew her own clothes. Family members and friends began asking her to design clothing for them; that was the springboard to the creation of her own business enterprise.
Securing the first runner-up position in the Designer Portfolio Competition provided a further incentive for Zarimah to envisage a serious career in fashion design. Designer Portfolio is organised by the accomplished Guyanese fashion designer Sonia Noel to provide opportunities and incentives to up and coming designers. Hameed was now well on the way to turning a hobby into a profession.
In her unceasing quest to broaden the appeal of her creations Hameed shows off her clothing at fashion shows, social functions and even at public and private sector workplaces. "As you showcase at these functions, others invite you. That is a useful avenue through which you become known," she said.
Hameed has participated in the three most recent Inter-Guiana Festivals, sent her designs to the recently concluded Caribbean Festival of Arts (Carifesta) in Suriname and to another show in Atlanta earlier this year. She is, she said, pleased with the impact which her creations continue to make on foreign stages.
At Sophia last week Hameed's hand-painted pieces were catching the eyes of groups of browsing women. One piece, an attractive white dress adorned with precise and boldly coloured hand-painted shapes stood out. With one eye on the possibility that some of the women who had stopped by would extend their interest beyond simply being curious, she talked about the time-consuming nature of the effort required to produce pleasing pieces.
She studies the fashion market too. Men, she said, offer a less challenging market.  "Men see a piece of clothing that they like, they buy it. And you are able to make a faster turnover." Women, she said, shop for special occasions.
Pricing is an issue. It appears that on the whole, Guyana is still to arrive at that juncture where the market fully understands the nexus between value and price. Zarinah believes that this limited appreciation of the worth of a creation will come with time. In the meantime designers must endure the prevailing culture of haggling with potential buyers steeped in the habit of seeking to beat down prices. The competitive nature of the industry means that the designer must often endure the habit. Hameed said its different with the more sophisticated overseas market.
Prices vary depending on circumstances. Hameed explained that creations become more expensive when you have to contract a seamstress to do the sewing and accessorising. Recruiting a skilled seamstress to sew a complex piece can cost as much as $7,000. "If you do it yourself pricing can be more flexible," she said.
Acquiring quality material locally can also be challenging. Hameed favours Indian cotton, rayon and linen. Indian cotton, particularly, is costly and difficult to acquire locally.
Hameed speaks about a side of the dress design world with which, perhaps, Guyana is less familiar. Stealing or copying other designers' works is one of the occupational hazards of the trade. She says she is not so much concerned about her other Guyanese colleagues in the profession as she is about strangers, foreigners, who may be tempted to copy designs, mass produce them then simply let them go on the market at a much more competitive price than the original designer can.
Reflecting on what she believes is still the lack of local opportunities for seamstresses and designers, she expressed concern that in the absence of such opportunities they will be compelled to sell their talents elsewhere. In this regard she drew attention to a recent advertisement placed in the local media by a Trinidad & Tobago garment factory seeking machine operators and persons to stitch. She believes that Guyanese women are likely to respond to the advertisement and that some may even be recruited to work in T&T. "There is talent here. It is a matter of a lack of opportunity," Hameed said. She would like to hire a seamstress but that option is beyond her reach financial at this time so she does most of her sewing herself.
Hameed is a self-taught designer. She learnt art in school. Those skills have been combined to make her what she is. A member of the Fibre Association of Guyana, she is also the Assistant Public Relations Officer of the newly-formed organisation.
Around the Web