At 34, John Lewis bares the persona of an experienced businessman without appearing burdened by the responsibility. Still, he concedes that sometimes the preoccupations of the pursuits associated with running a business take their toll. To those he adds the responsibilities of a young family, a wife and three children to whom he wants to give much more than the material things success can buy. He wants to give them more of himself.
When we met Lewis in his Waterloo Street office on Tuesday afternoon he appeared preoccupied with things that had to do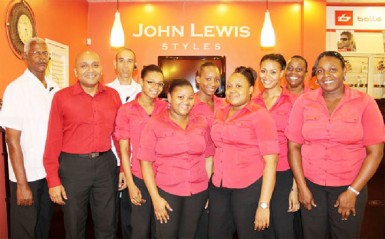 with last evening's commemorative cocktail to mark the tenth anniversary of John Lewis Styles, which, in a relatively short period of time has become one of the better-known high-end clothing stores in Guyana.
The investment in the Waterloo Street complex that is now home to John Lewis Styles was preceded by a significantly smaller outfit on Lamaha Street. Even then, Lewis said, the store prided itself on offering quality imports. In order to do so he has had to immerse himself thoroughly in the clothing trade, working with large manufacturers and distributors to offer his customers the best prices.
He takes a particular pride in displaying knowledge of his chosen trade, articulating with practiced ease the advantages of dealing with distributors in Panama and establishing relationships directly with factories.
Before all this started, Lewis should have been a doctor; at least that was what his father wanted. So he pursued Biology at the University of Guyana for a year and a half. That was as far as he got before the business bug bit him, in much the same way that it had bitten his parents, notably his mother, Doris, whose name is synonymous with another Lewis enterprise, The Gift Centre.
Lewis makes it clear that he felt no pressure to "follow a family tradition". He is comfortable with what he does even though, he says, "the pressures are there." He alludes to a measure of self-neglect that afflicts many businessmen, conceding that these days he has become much more conscious of the importance of good health.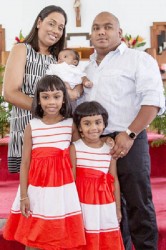 Still, he concedes that business is a treadmill. It can distract you from other matters that are equally important. Extra hours at work, missing meal times and too little exercise are occupational hazards of managing a demanding business. But Lewis recognises that he is no middle-aged entrepreneur looking at retirement in a few years' time. He cannot afford to neglect those things that will enhance his staying power.
His business decisions are informed by a mixture of understanding and intuition. His next venture, before the end of 2013, is the launch of a children's department. Parents, he says, are tending to spend as much – if not more – on their children than on themselves. If he had had his way that project would have awaited the completion of the third floor of his Waterloo Street complex. But he refuses to let the investment wait any longer.
Perhaps surprisingly, Lewis says that his company has never been approached by local clothing designers. You would think that a company like his may do good things for their exposure. But, he says, there are other complications that have to do with sizes and volume.
While he refuses to bash the prevailing business climate, Lewis says that it has "its headaches".
When asked about the cost of capital for business he responded quickly: "Ridiculous! It's probably double the rate at which you borrow in the United States. The difference between that rate at which you borrow and the rate at which you save is ridiculous." Listening to Lewis articulate the relationship between the commercial banking sector and local business borrowers puts into perspective a remark increasingly made by businessmen about the banks "owning" them.
He talks about diversification, "perhaps rentals". With additional business, however, will come greater demands on his time and Lewis is modest enough to be aware that for him, there has to be life beyond business. After all he is still more than five years away from forty.
Around the Web