After 20 years in the business of fashioning craft Kenneth Nelson – Ras Judah to the brothers and sisters of the faith – is unsure of the condition of the industry. He wanted to know whether the question had to do with "the business of craft" or whether it had to do with "craft as culture", when he learnt that we were seeking a business perspective on the sector. It was the former; he knew that we were really there to talk with him about GuyExpo.
Judah was banking on Saturday evening being good for business. Like the other vendors at GuyExpo, he opined that it was as good a retail market as any. He had rented two trading spaces in the open air. They cost him $30,000 and he had taken his three children along to help him. His wife was running one of the two stalls.
The creative arts are a way of life for Judah. It is also a livelihood. Judah trades on Merriman's Mall and on Main Street avenue, adjacent to Courts. His stall at GuyExpo displayed a host of jewellery and trinkets made from an assortment of wood and coconut shells with tiny painted flags and beads. He was offering chains adorned with pendants made of an assortment of beads and local material. Some of the wristbands were adorned with tiny flags of Guyana.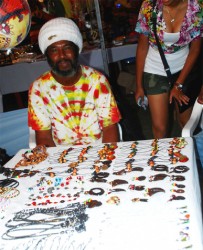 Judah was concerned that the market might not be as sensitive to what he believes is "the significance of local craft" as it ought to be. He believes that when you buy local you do more than support a local industry; you reflect a brand of nationalism, a brand of patriotism that can only do good for Guyana. Twenty minutes of conversation brings us to the subject of cheap foreign imports. He believes, he says, that you lose much more than an industry when your art and your craft gets swallowed up by the great mountains of what he calls "imported trinkets". He says that it's not about "putting down" foreign creations. He gestures to his stall pointing out that he is offering trinkets too but that they are "our trinkets".
When we ask about the influx of Chinese manufactured costume jewellery, he pauses. "They hurt our market but this is a global business," he concedes. He is one of the few traders who appear to bear the Chinese traders no ill will. "At any rate," he says, "did you know that even those of us who make craft locally have to rely on imports like clasps and hooks from China?"
Rather than be preoccupied with the Chinese Judah says, we should look inward. There is scope, he says, for official support for growing the craft industry and he believes that there should be opportunities that allow craft producers to trade on a more level playing field. Then he looks outward to Brazil and elsewhere and wonders aloud about the fact that other people have made fortunes out of local craft. He still believes it can happen here and he says he is not giving up.
Nor does he have any fear that the craft industry will eventually die of neglect. "Craft is culture. It cannot die."
Then he returns – more aggressively this time – to the theme of more official support for the craft industry. Sometimes, he says, it seems that it is different in other countries. He does not believe that it is only what he calls "the mainstream products" that should matter. He points out that in most instances ordinary people gravitate towards craft as a means of making a living, "and ordinary people have to make a living too," he says.
As darkness descended, people began to pour into the Sophia site and some were stopping to look at what he had to offer. We had been given as much time as Judah could afford.
Around the Web