The head of one of country's leading commercial banks on Monday mounted a spirited defence of the banking sector against sustained charges from the small business sector that its borrowing conditionalities are invariably onerous and frequently unattainable.
Chief Executive Officer of the Guyana Bank for Trade and Industry (GBTI) John Tracey in an incisive address at the launch of the Micro and Small Business Development Project rejected critics of what has been described as the ultra-conservative lending posture of the banking system, on the grounds of the banking sector's better understanding of risk.
"It has been said that our financial institutions have a negative attitude to lending.  If this is so, this is a necessary protective measure. We think risk. We know and measure risk much better than the individual borrower who comes to us as the external optimist, positive that his business plan is bound to succeed," Tracey told the gathering that included President Donald Ramotar, Finance Minister Dr Ashni Singh and Acting Tourism, Industry and Commerce Minister Irfaan Ali.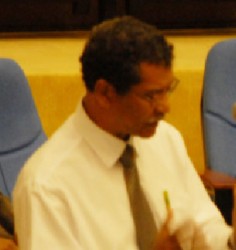 The rejection of the notion that conservative commercial bank lending policies may have stymied the growth and development of local small businesses was all the more poignant given the fact that Tracey's remarks came during the launch of a project which has been described in some quarters as "a way around" stringent lending conditions.
And according to Tracey, micro and small businesses have placed limits on their ability to attract lending on account of a number of factors including their inability to formulate properly researched and credible business plans, deficiencies in "financial literacy and poor financial practices," inefficient production processes, lack of knowledge of markets, inability to forecast and inability to adapt to market movements. Our limited resources and an underdeveloped business infrastructure drive the allocation of finance to more profitable and therefore less risky business entities," Tracey said.
Directing his remarks to the small         owners who attended the launch ceremony, Tracey declared that access to finance was not the "be all and end all" of the problem. "Small business persons must recognise that now their success will depend heavily on their integrity, their resourcefulness, their ingenuity, their perseverance, their business acumen, their sacrifice and many other noble attributes that are necessary for successful business and that we take for granted," Tracey said.
When the project commences its execution phase under the management of the Small Business Bureau, commercial banks will play a key role in facilitating small business access to financing. The project opens a new door to commercial bank lending to small businesses by guaranteeing up to 40 per cent of the banks' collateral requirements for loans up to a maximum of $12 million. Additionally, the project will provide a maximum 5 per cent subsidy on interest rates for loans.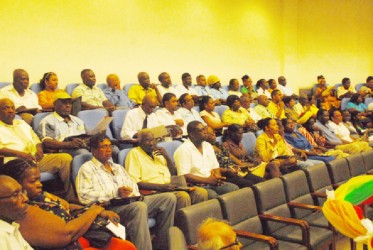 In cases where loan applications are turned down by commercial banks because of perceived risks, these could become eligible for a grant.
The GBTI Chief Executive Officer cautioned that the success or failure of the relationship between the commercial banking sector and the project was likely to depend heavily on the efficiency of the Bureau. Alluding to the "pre-screening and monitoring functions of the Bureau", Tracey said that "if these are done effectively, the financial institutions will have the easier task." At the same time he declared that "if these are not done well the financial institutions will have the more difficult and injurious experience."
Around the Web