Their aim, they say, is to utilise the opportunities afforded by information technology to provide the best possible promotional platform for Guyana and for what the country has to offer. That includes its rich cultural heritage, its natural beauty and the goods and services it has to offer.
Chris and Stacey Rahaman are the couple behind Christa Marketing, an internet marketing company that has caught the attention of both the public and private sectors and already secured a sizeable end of the local market.
The company's clients range from up-market hotels and night clubs to conservative real estate agencies. The company's brochure says that it specialises in social media marketing, search engine optimization, online public relations, website design and development, online content management and development. That is simply another way of saying that the Rahamans have worked to develop creative means of reaching out to audiences; ways that generate consumer interest in the products and services they market on behalf of their clients.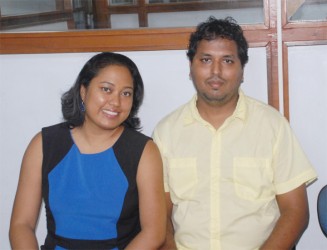 Meeting the needs of their various categories of clients requires that the Rahamans pay particular attention to detail. Stacy is the creative and information technology half of the duo; Chris is the company's marketing man.
Christa Marketing is the parent company of what its proprietors describe in their promotional brochure as "Guyana's first line of tourism, hospitality, dining & shopping websites." Its Visit Guyana website is an online travel and tourism website designed to provide information to visitors and potential visitors to Guyana. The site provides the sort of basic information – location; how to get to Guyana; where to stay; where to dine; where to visit as well as tours and tour operators – which would otherwise have to be culled from brochures.
To attract potential clients the information provided is supported by full colour photographs and other types of relevant information including the rates for the various services. Stacey says that people are more inclined to be responsive when details are put before them.
On the lighter side Visit Guyana offers a social introduction to the country, providing food recipes and features that highlight places of interest, national landmarks, flora and fauna and aspects of the country's multi-cultural heritage.
Its Facebook page, the Rahamans say, "is the number one tourism page in Guyana with over 30,000 fans from all over the world." They also manage the official webpage of "Where to Dine in Guyana," created as a spinoff of the Visit Guyana page. Stacey says that the creation of this page arose out of "popular demand" from fans to feature the "top places to eat" including those eating houses that specialise in local foods, other creole foods, Chinese and Italian dishes, vegetarian dishes, health-related dishes and juices blended from local fruit.
In addition to these full page listings, "Where to Dine in Guyana" provides daily menus, special recipes, and cooking tips. Stacey says that as a special "treat" the page also features food-related interviews with local chefs.
A nightlife page features the hottest day and night events in Guyana. It seeks to garner the full range of formal and entertainment-related information from across the country including important official events, parties, sporting events, exhibitions, cultural events and events for children and young people.
The Rahamans' most recent project seeks to feature all of the country's major businesses "with a twist". They say they intend to infuse a significant element of creativity into the manner in which they present information on the country's business community.
Over time, Christa's has targeted as it clients some of the country's major hotels, restaurants and bars auto sales dealers, realtors, tour operators, furniture dealers, airlines and travel agencies.
Christa's has now carved a modest but potentially lucrative niche in the local social marketing sector and Stacey says that the current focus is on enhancing the quality of service provided by the company whilst continually expanding its market share.
Around the Web