A decade or more of national preoccupation with fitness and health has witnessed the emergence of business enterprises that offer a range of goods and services linked to what is commonly described as the health and wellness industry.
These days, large, mostly urban stores and sports shops offer a bewildering array of gym equipment, a response to the emergence of a market that includes affluent citizens seeking to make home exercise an integral part of their lives and entrepreneurs whose modern, well-equipped gyms are reflective of affluent lifestyles.
Among the more modest enterprises in the sector, the spa has emerged as one of the more popular choices among the health and wellness clientele. The word spa conjures up images of mud baths and meditation classes, exquisitely prepared spa cuisine, and fragrant eucalyptus groves. These days, however, spas seem to be everywhere: in office buildings, malls, storefronts and salons. They range from amateur masseurs/ masse-uses with a single table to large, well-appointed, well-equipped establishments.
Here in Guyana, spas are mostly small establishments that offer limited services. One such facility is Divinity Spa, situated at 245 Sheriff Street, Campbellville. Divinity Spa is owned by Dianne Ashwood. She has been providing the service for four years. During the first three years she operated from a salon owned by a friend. Her Sheriff street operation has been in business for the past year.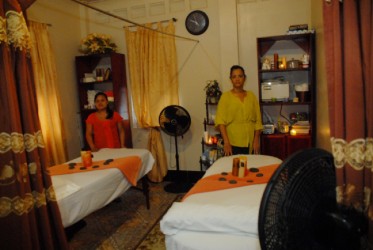 In 2009 she underwent a six-week practical programme in massage therapy. She emerged from the programme equipped to offer massage for both therapy and relaxation. She is also equipped to provide deep tissue massage for persons recuperating from injury.
Her premises are equipped with two massage tables, one of which was imported and the other acquired locally. Together, they cost approximately $150,000. Those apart, the facility boasts a heater for ensuring that towels used in the process are warm. She also owns a stone warmer, a piece of equipment that heats stones used in another type of massage process. It is not a process that is in great demand here.
The sector, she says, emerged about a decade ago. Over the past two years it has grown without really blossoming. It is, she says, driven largely by courses in massage therapy that are being offered locally.
Her own clientele includes urban businessmen, persons recuperating from injury and athletes. She also has an older clientele seeking therapy for relaxation. The periodicity of visits can range from thrice weekly to once monthly. She offers home visits for some clients.
Her clientele remains modest, a function, she says, of a perception that the spa is the exclusive purview of the wealthy. Far from being the case, Ashwood says, the spa is both affordable and good for health and wellness.
She is keen on extending her service to workplaces, targeting executives with high-stress jobs for 15-minute back and shoulder massages designed to relieve tension.
Last month, she recruited an employee for the first time. Onika Edwards, a qualified nurse who hails from Kamarang and who has undergone training in massage therapy. She handles the relaxation, stress and tension cases while Ashwood does the therapy clients.
Body massages are done with the particular direction of the client. The industry is mindful of considerations of propriety associated with making contact with off-limits body parts.
Massage costs range from $3,000 to $10,000 and Ashwood wants the public to know the Divinity Spa is entirely above board and offers a professional service.
Providing the service is costly. Divinity's rented premises costs her $60,000 per month and that does not include electricity. The oils used in the massages are mostly imported, and costly.
She is persisting with the service despite lean periods. She is optimistic that enhanced attention to good health will increase the demand for spa services. It is, she believes, a matter of continually marketing the Divinity Spa through the various means at her disposal and hoping that those clients who seek her out will be sufficiently impressed by her service to recommend others to her.
Around the Web