At a time when small businesses in the region and further afield are reportedly experiencing "considerable difficulties" in securing financing "for initiatives associated with growth and expansion," the recently launched Micro and Small Enterprise Development (MSED) project under the Small Business Bureau (SBB) reflects government's focus on better positioning the sector to play a meaningful role in the country's economy, SBB Chief Executive Officer Derrick Cummings has told the Stabroek Business.
Cummings was at the time commenting on the 2013 Global Economic Conditions Analysis released recently by the Association of Chartered Accountants (ACCA) and the Institute of Management Accountants (IMA).
According to the report, the current period of global economic recovery is "a delicate time" for SME's with rising orders increasing the number of workers and capital to be financed. "If that is indeed the global condition, as far as the well-being of the small business community is concerned then that is all the more reason why local small business owners should want to take advantage of what the local project has to offer. The fact is that the local small business community, particularly those entities that have not been able, in the past, to access funding through other avenues, have never really had this kind of opportunity put before them," Cummings said.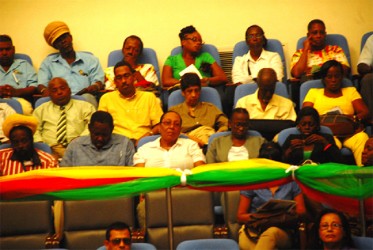 According to the report, global small businesses are now compelled to resort to "trade credit and late payments" on account of the difficulties they continue to experience in financing growth due to a lack of liquidity. Cummings told Stabroek Business that the small business support project being administered by the Bureau was "in every respect aimed at addressing the problem of financing growth. The structure of the project reflects government's understanding of the key problems confronting the small business sector, the critical one being the financing of growth."
Support for growth financing through the first phase US$5 million project comes in the form of collateral guarantees offered by the Bureau to help small business borrowers access commercial bank loans as well as limited loans and grants available directly through the Bureau.
And according to Cummings while the report prepared by the ACCA and the IMA reflected "the challenges confronting small businesses at this time" it was important to make the point that much of the focus of the local project was on building small businesses locally. "For me it is important that people understand that this project is not only about helping small businesses with financing. It is about investments in sound projects so that we are going to have to be persuaded of the soundness of the business plan. The good thing is that through our training programmes we are actually going to be helping small entrepreneurs and prospective entrepreneurs to develop sound business ideas and business proposals among other things, Once that is done we expect that they will deliver viable businesses that can create jobs."
Meanwhile, Cummings says that while the formal launch of the project two weeks ago by President Donald Ramotar means "we are closer to beginning work in terms of putting small businesses and lending institutions together [the intent] was … to pursue the unfolding of the project in a structured way. If you look at the structure of the project you will notice that there is a Small Business Council which oversees the work of the Bureau. The Council will have to have its say before the various small business projects are executed."
Around the Web