Five years after the signing of a trade and development agreement between the Cariforum member states and the European Union aimed at adjusting the trading regime between the two regions, President of the Georgetown Chamber of Commerce and Industry (GCCI) Clinton Urling believes the Economic Partnership Agreement (EPA) has been underperforming as a tool for enhancing trading relations between Europe and the region.
Urling believes the jury is still out on whether or not and to what extent Cariforum countries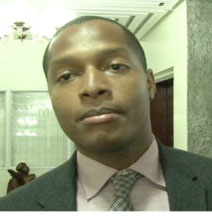 have benefited from the EPA and says the five-year landmark reached last month provides an appropriate occasion for reviewing the EPA to determine ways in which it can be more meaningful for the development of the region.
Previous trading arrangements between Europe and the region had been repeatedly challenged by other countries and deemed to be incompatible with the rules of the World Trade Organisation (WTO). As a consequence, what emerged was a reciprocal arrangement covering all trade between two very different regions.
The EPA had set out a number of goals for Cariforum countries including enhanced access to EU markets for regional goods and services, collaboration in initiatives associated with sustainable development, poverty reduction and integration of the region into the global trading system.
According to Urling, the historical importance of trade and development relations between the EU and the region is good enough reason for us to seek to determine whether or not, five years after its implementation, the EPA has fulfilled its mandate.
Urling, a student of international trade, told Stabroek Business in an interview earlier this week that "if one was to be serious about the role which the agreement has played in cementing trading relations between Cariforum member states and the EU the conclusion would have to be that it has not done much." He said that while the EPA was "meritorious in expression" it "has not produced the sterling results that one would have envisioned at the signing of the agreement."
Urling said that "as an agreement" the EPA was sufficiently "robust" to have ensured "an enormous positive impact on improving the lives of the people of the Cariforum region" if its objectives were achieved.
"Unfortunately, the agreement has not resulted in much actual trade between the Cariforum countries and the EU which is part of what it was intended to do.
He blamed the absence of positive outcome on what he described as "the structural impediments" to the effective implementation of the Agreement.
And while Urling conceded that it may perhaps be "too early" to pass judgement on the EPA, he stated that "one has to make a current assessment of the agreement based on the evidence on the ground. It's been just five years but that is how I see it based on the evidence of five years."
According to him, the effective implementation of the EPA had been impeded by, among other things, the "absence of technical capability" in Cariforum countries to take full advantage of the "free market access to EU markets for Cariforum goods and services… With the exception of primary agricultural product not much trade in other sectors has resulted from the EPA."
One way of improving the EPA might repose on the adoption by the Implementation Unit of Cariforum of what he described as a "country-specific approach", which he said was important because each country in the region had to respond based on its own realities and should not be confined to a "regional one-cap-fits all approach to dealing with the EU."
According to Urling, at the level of individual countries "the private sector should be targeted to improve their capacity to compete, in specific areas."
Around the Web