The Machinery Corporation of Guyana Ltd (Macorp) is further consolidating its already considerable investment in providing critical technical support and services to the country's mining sector with a $100 million investment in the establishment of a mining support
facility at Port Kaituma.
The company's Chief Executive Officer (CEO) Jorge Medina told Stabroek Business in a telephone interview on Wednesday that the facility, which is expected to provide both equipment and services to miners in the North West District, will open for business on November 21.
The opening of the company's Port Kaituma facility is a landmark private sector investment in the mining sector and comes just months after both Macorp and Caterpillar Inc publicly committed to supporting the Guyana Geology and Mines Commission (GGMC) in the setting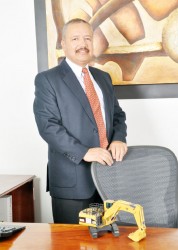 up of the Guyana Mining School and Training Centre.
Medina told Stabroek Business that the decision to launch the Macorp outlet at Port Kaituma was based on the rapid growth of the mining sector in that area and on what the company felt was the need "to move closer to our customers."
The CEO said the positioning of an operations centre in an important Guyana mining community signalled the company's readiness to provide a higher level of support for the industry. He explained that one of the concerns of the company was with providing miners with easier access to parts and servicing for high-performance equipment and various forms of training. "One of our key concerns is to provide training in the transport of fuel since the efficiency of the equipment used in the sector is dependent on fuel that is not contaminated. That is one of the areas in which we will be providing training," Medina said.
Macorp opened its operations here in 1993 and according to Medina the company "brought our past experience in the mining sector to Guyana." He said the support for the mining sector started with the provision of services in the equipment and power-generation sectors as well as in the area of efficient fuel consumption. Medina said the company's support for smaller mining operations in Guyana began with the supply of excavators. "We were the first company to begin to finance equipment for the sector. Others, including the commercial banks, are now involved in the sector." Those services apart, Macorp also visited mining areas in Guyana to instruct operators in the efficient and effective use of equipment and helped provide "highly qualified labour" for the sector.
Around the Web