(Reuters) – Despite a blizzard in the US Northeast, "Identity Thief," a newly released comedy starring Melissa McCarthy, collected $36.6 million in weekend ticket sales in the United States and Canada, making it the top-performing film.
Produced by Jason Bateman, who plays the hapless man whose identity is stolen by McCarthy's character, "Identity Thief" easily swiped the top spot from last weekend's champion, the zombie love story "Warm Bodies," which earned $11.5 million.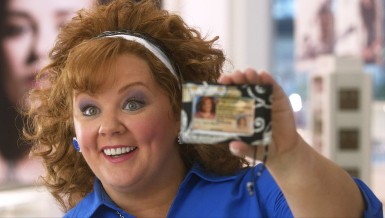 Director Steven Soderbergh's crime drama "Side Effects," which stars Jude Law and Rooney Mara, came in third with $10 million, according to studio estimates for the three-day period starting Friday.
Nikki Rocco, president of domestic distribution at Universal Pictures, said that while she was pleased with the performance of "Identity Thief," ticket sales were hurt by the storm.
"We're thrilled, even though friends and my family on the East Coast are suffering from a tremendous blizzard, which cut into the box office at least 10 percent," she said in an interview.
"We are very, very excited by the results and hopefully next weekend the picture will make up for lost ground."
"Silver Linings Playbook," still benefiting from the buzz surrounding the Oscar nominations for its stars, was fourth with $6.9 million. It has generated total domestic ticket sales of more than $90 million.
The special-effects take on the children's fairy tale "Hansel & Gretel," in which the grown-up siblings hunt down witches, was fifth with $5.7 million.
Initially seen as a summer film, "Identity Thief" was moved from its initial May 10 release slot by distributor Universal Pictures.
It heavily promoted the movie with television ads featuring McCarthy, TV's "Mike & Molly" star and an Oscar nominee last year for her supporting role in "Bridesmaids."
Best picture Oscar nominees continued to lure theatergoers ahead of the Feb. 24 awards ceremony and telecast.
"Zero Dark Thirty," the story behind the U.S. military killing of Osama bin Laden, came in seventh for the weekend with $4 million in ticket sales. It is nominated for five Academy Awards, including best picture and best actress for Jessica Chastain's performance.
"Django Unchained," also nominated for five Oscars, collected $2.28 million in ticket sales.
Director Steven Spielberg's "Lincoln," nominated for 12 Oscars including best director and best picture, continued to draw moviegoers with $1.86 million in ticket sales.
"Identify Thief" was distributed by Comcast's Universal Pictures. "Side Effects" was released by Open Road Films, a joint venture of theater chains AMC Entertainment and Regal Entertainment.
Comments

DENVER, (Reuters) – Taylor Swift won her trial against a Colorado radio personality yesterday after a jury found that the former DJ assaulted and battered the pop star by groping her bare bottom, and awarded her the symbolic $1 in damages she had sought.

(Reuters) The Indian government dismissed the controversial chief of its movie censorship panel on Friday, following months of criticism from Bollywood film-makers and fellow panelists angered by attempts to sanitise art and popular culture.

CROPREDY, England,  (Reuters) – Grammy award-winner Petula Clark sang her global hit "Down-town" about as far from "where the neon signs are pretty" as she could at the weekend — to thousands in a field in rural England.
(Reuters) – Bruce Springsteen is headed to Broadway for an eight-week solo theater run that he says will feature "just me, the guitar, the piano and the words and music." "Springsteen on Broadway" will start Oct.
VANCOUVER,  (Reuters) – "Deadpool" star Ryan Reynolds said yesterday that actors and crew were "heartbroken, shocked and devastated" at the death of a driver in a motorcycle stunt in Vancouver that went wrong.