(Trinidad Guardian) When Melanie Fiona performed at the 2013 Tobago Jazz Experience this past weekend, it was her first time in Tobago. The Canadian songstress, who has Guyanese parents, came to Trinidad many times as a child, however, and was happy to be back in the Caribbean.
"I really love that I can come back here and be familiar with the culture and then be familiar with me and be able to feel at home. When I'm here I feel at home. When I'm on an island anywhere I feel at home because that's what I know," she told the T&T Guardian during an interview on Saturday. At the time, Fiona was meeting up with her Trinidad-based family who'd she planned on spending the rest of the weekend with.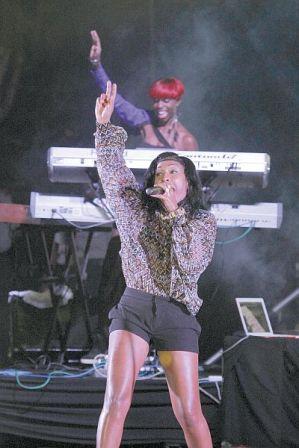 On Friday, Fiona gave a high energy performance during the World Music Night at Pigeon Point Heritage Park. While performing her reggae hit, Somebody Come Get Me, Fiona did a soca-inspired jam when she instructed the crowd to "jump and wave."
Fiona wasn't just appealing to a Caribbean crowd with this jam; the jump and wave is one of her trademarks. "I do that jump and wave movement even in America. I do it in Europe, at all my shows because it is a big part of who I am and I'm so proud to be West Indian. I feel like that's what makes me the diverse artist I am," said the 29-year-old who's currently working on her third album to be released early next year.
Her sophomore album, The MF Life (2012), included the song Fool For You featuring Cee Lo Green, which earned Fiona two Grammy awards for Best Traditional R&B Performance and Best R&B Song. Her debut album, The Bridge (2009), earned Fiona a Grammy award nomination for Best Female R&B Vocal Performance for the song It Kills Me.
According to Fiona, her Caribbean heritage will be much more audible on her next album. She loves reggae and said she spoke to reggae stalwart Freddie McGregor about doing new music.
McGregor performed before Fiona on Friday while she stood stage-side singing along to his classics.
Fiona also shared that she's in talks with Orville "Shaggy" Burrell on a collaborative project. She also expressed interest in working with hip hop sensation Kendrick Lamar, soul crooner Miguel and Stevie Wonder.
Her choices of collaborators is just as eclectic as the musicians Fiona cites as major influences like Sam Cooke, Lauryn Hill, Whitney Houston, Bob Marley and even fellow Tobago Jazz Experience headliner India.Arie.
New music from the album will be released in June or July, but Fiona is in no hurry to deliver work she's not completely satisfied with. "I just love putting out music for the fans. I'm really in no rush to comply with industry demands for how rapidly music needs to turn over. It's quality over quantity for me and I just want to make an amazing album."
Complying with industry demands to make her life an open book is also a no-no for Fiona. "I really only want to do this for music and for people. And when it comes to my family and my personal life, especially now in this business, it's become that that's the business. They want the story and they want the gossip, but certain things just need to be protected," she said.
Apart from losing some of her privacy, fame has also put Fiona's every word and movement under scrutiny. Last October many American bloggers lashed out at Fiona's for comments during an interview with Sophisticate Black Hair magazine.
She was quoted as saying her heritage was a "good mix for (hair) growth." The comments sparked a "good hair" debate. In the US, there is a history of attributing long, straight hair to being good or better than curly or kinky hair and Fiona was thrown right in the middle of a still very sensitive topic. "The interview that I did was taken out of context. If anybody was sitting down listening to the conversation that was had rather than reading what was printed you would understand that there was no disrespect intended."
"And it really hurt me to have my words taken out of context and for people to judge me based off of something that they want to assume because its easier to assume that I'm this self righteous person who wants to feel like I'm better than everyone and that's a lot of the things that I read," she said.
Fiona added that it was time for black women to understand that hair was not that serious an issue. "To be completely honest, the fact that black women have this constant topic of discussion about hair is ridiculous to me.
"No other culture is talking about that so it hurts me that my culture, black culture, mixed culture, has this topic and it's a sore topic or it's taboo or whatever is just ridiculous." Fiona said she tried be conscious of how she was perceived in the media but also felt that media often misconstrued issues and played on people's insecurities.
The one thing Fiona hoped her young, female fans would know is that she's committed to being real. "I would say (to fans) be strong and find yourself and don't be afraid to be yourself. I hope that the one thing they'd see from me as an artist is that I'm an individual in this industry and that I'm not afraid to be different," she added.
Although being in the limelight can be difficult, the deep love for music keeps Fiona going. "It makes me happy and I've always been a young girl with an old soul and I've learned that life is about being happy. If you can do what you love and be happy then you're living a blessed life," she said. "I feel like I was chosen to make music. I was chosen to do this and when you're chosen, you don't really have a choice. You just do it."
"At the end of the day no matter how stressful the business side of it gets for me, the minute I make music and the minute I get on the stage I'm happy again so as long as my happiness is outweighing my stress then I'll always do music."
Around the Web