(Reuters) Singer Manna Dey, whose versatile voice charmed fans of Bollywood cinema for more than 60 years, died in Bangalore today, a hospital spokesman said. He was 94.
He had been suffering from a lung ailment for several months.
Dey was part of the golden era of Bollywood, when Mohammed Rafi and Kishore Kumar reigned supreme, and carved a niche for himself with his lilting, husky voice.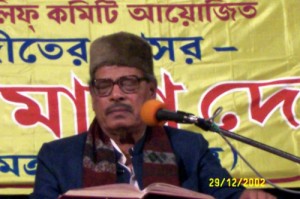 Manna Dey, whose real name was Prabodh Chandra Dey, was born in 1919 and grew up in Kolkata. Dey accompanied his musician uncle to Mumbai in 1942 and started assisting him and other composers.
Dey sang his first movie song for the film "Tamanna" in 1942, the first of more than 3500 songs in a singing career spanning six decades and several languages.
His most memorable Bollywood songs include 'Aye meri zohra jabeen' in Waqt (1965), 'Aye bhai zara dekhke chalo' from "Mera Naam Joker" (1970), 'Zindagi kaisi hai paheli' in "Anand" (1971) and the friendship anthem 'Yeh dosti' from the 1975 blockbuster "Sholay", a film that often tops polls for Bollywood's best.
'Pyar hua ikrar hua', Dey's duet with India's most famous playback singer Lata Mangeshkar in the 1955 film "Shree 420", is often played on the radio.
Dey's distinct voice made him a favourite of music directors S D Burman and Anil Biswas, while his ability to bring in a Western lilt to Hindi songs, especially in songs such as 'Aao twist karein', distinguished him from his contemporaries.
Dey received the Padma Bhushan, one of India's highest civilian awards, in 2005. He was honoured with the Dadasaheb Phalke award, the highest award in Indian cinema, two years later.
News of his death brought tributes from a number of Bollywood's top stars.
"Manna Dey, stalwart of the music world, passes away. Flooded with memories and his songs. In particular his rendition of Madhushala," actor Amitabh Bachchan said on Twitter.
Dey is survived by his two daughters. His wife Sulochana died last year.
Around the Web