Canal No 2 Polder on the West Bank of Demerara is one of those rapidly developing communities in the countryside where movable shops on buses and trucks take care of residents' consumption needs. The area got its name from the canal which runs through it and which was dug in Dutch times.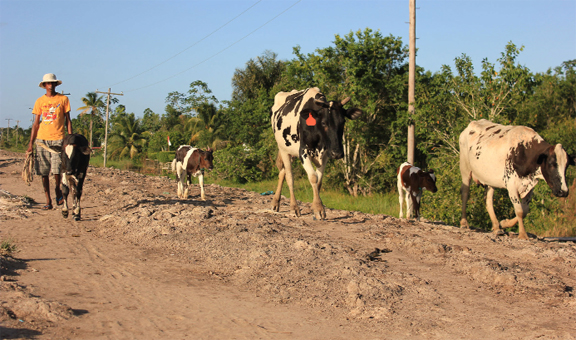 Canal No 2 currently has a population of about 3000, and majority of its people are of Indian ethnicity. A few Africans reside there along with a small number of Amerindians. Most people belong to the Hindu faith while some are Muslims. Christians make up the smallest group.
About 90 per cent of residents earn their income from farming.
Cash crops such as bora, pumpkin, mamee, pineapple and plantain are grown. The rest of the population is engaged in small businesses or employed in the private or public sectors.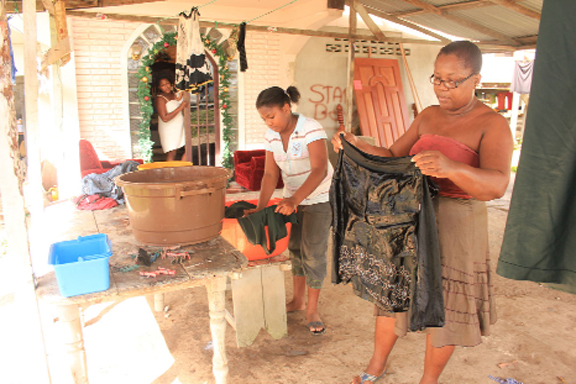 Everybody in the community has at least one fruit tree in their yard. Residents said that they try their best to be self sufficient where vegetables and fruits are concerned. There is no market, but produce is sold to wholesale buyers who visit the area.
Unlike most communities in the country areas where residents retire inside their homes very early, Canal in the afternoons and evenings is filled with the sound of young boys liming on the street or men taking a few drinks with friends at shops or in their houses.
Most of the children in Canal attend the Bellwest Nursery and Primary schools and the Kawal Secondary, but a few parents have opted to send their kids to schools in Patentia, a few miles away. Most of the young people have a primary level education with a few completing secondary school and moving onto the tertiary level, residents said. As early as the age of thirteen, young boys begin to work on the farm to earn their own income. The residents also said that as early as age two the children in the community know how to swim.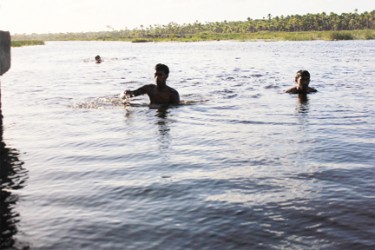 Winifred Watson, a seamstress, was busy hand washing her clothes when we stopped at her house. Winifred said that she moved to Canal 30 years ago after she got married. She, her husband and five children were living together after they bought a property, but her husband subsequently left, leaving her with her five children and the grandchildren who came later.
When she moved into the area, she said, there were many bushes and fruit trees surrounding her home, and she only had one neighbour.  As time went by, the community began to develop and more and more houses were erected. She said "people came home back and build."
At present, there are still large amounts of bush on one side of the road and Winifred said that "We just glad if they could get rid of the bushes, cause it is a lot of mosquitoes and so."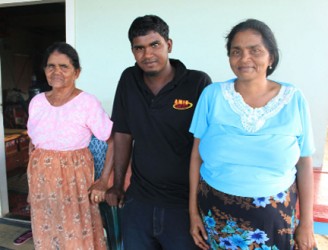 When asked about what shopping is like for residents, she responded: "The shop come to you. There are trucks that come in here on Saturdays and so. It sells anything an everything including fish and greens. But if we don't catch the truck we have to go out on the road or to Vreed en Hoop."
Winifred described the ambience of her community as being calm and peaceful. "The only time we were fearful was when Neil Bovell [who raped women and girls] used to live in here," she said; "life was very scary. Many times we used to see him walking at the trench corner dressed in dark clothing. This land was bare bushes and I had my girls but my sons were very small then so they were no match for him because he was a very strong man."  She went on to say that she and other residents used to make sure they were in their homes as soon as the place became dark, as they feared the rapist.
Bovell was shot dead by police at Stanleytown, West Bank Demerara on December 27, 2007 as he tried to escape from his father's house where he had apparently spent the holidays.
Further down in the village, chicken vendor Steve was conducting his business from the back of a truck which was parked along the road.  He was blow-torching a chicken when we visited him. He told us that some people liked their chicken skin to be roasted so he did the blow torching with a cooking gas bottle and a gas hose. The nineteen-year-old told this newspaper that he had been doing this business for the past two years, and business had been good for him. Most days he sells out all his chicken, but some days he would return home with a few.  Steve also told us that he is not married but he has his own home and plans to get married soon.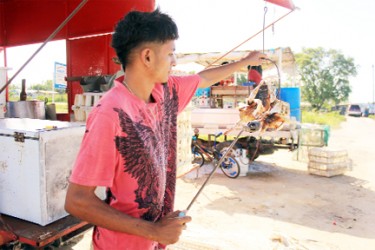 Eighteen-year-old Nishal Singh, like many other teenagers in the village does farming. His first word to us when we approached him for a comment was that the village is boring. He farms in the savannah area at the back of the village. He leaves his home around 6 am for the half hour  journey by canoe to his farm where he plants pine, plantain, corn and pumpkin. He would leave his farm around 2pm in the afternoon bringing out his produce in the canoe. Nishal said that no one steals his produce because his farm is very far away.
As Sunday Stabroek talked more with the youngster, he told us that tigers roam in the area where he farms. He said, "every day tiger ah see me, when dem see me dem a run; them nah trouble you." Nishal also told us that women and children farmed at the back of the savannah as well, and a mother and three children had left minutes before we came for her farm.
Nishal said that farming is kind of fun for him, but he plans to take up a trade to become a mechanic or electrician some day. The black water separating the savannah from the community becomes a pool for young boys to swim in.  Three young boys were taking a cool afternoon bath when this newspaper was there. One of them showed us his skills as he back-flicked into the water.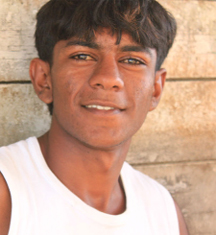 Logging, fishing and cattle rearing is also being done on the dry lands past the savannah. As we waited at the makeshift stelling, a boat loaded with 'crook' wood came. As the boat moored about six men began to load the wood onto a wholesale tractor and trailer. One of the workmen stated that they would go into the backdam in the morning to start work and would normally return around 4 pm.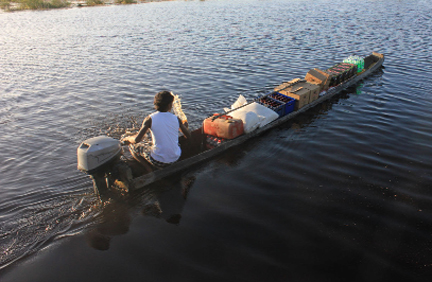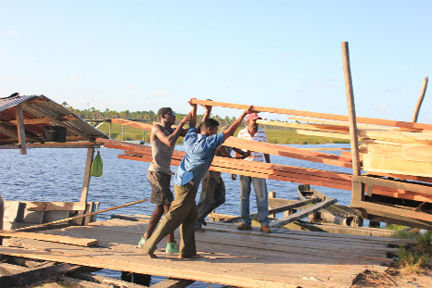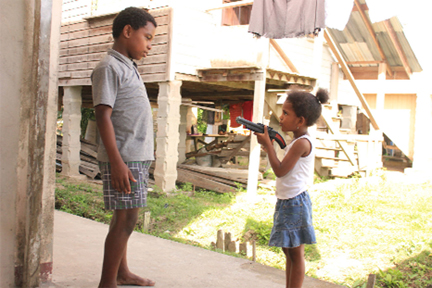 The logs are put through a miser which cuts and planes the wood, so when they are finished it can be taken directly to lumber yards or sawmills.
One of Canal's oldest residents is eighty-three year-old Rose, who is called Sister Rose by residents. She was relaxing at her daughter's home, located a few blocks away, when Stabroek News visited the area. The old lady spoke with vibrancy as she told us that she has been living in the village since she was born.  She said, "Me husband dead an left me, and me and me son a live. Ma cook me food and wash me clothes but me nah do like how me been young, but ma cook me own food, me nah cook fuh nobody."
Sister Rose said that despite her age she does not suffer from any health complications other than pain in her joints, which sometimes affects her ability to do chores such as washing. Owing to the pain, she explained, she cannot squeeze her clothes when she washes. She said "Meh soak me sheet dem a morning and meh wait one couple hour and geh am wan couple beeta. Then me tek am and put am leh de water drain cause me can't wring am."
She told us that life long ago was very difficult, and when she and her husband bought their house lot they could not afford to pay for it, but as time progressed they were able to complete the payment. She said, "Ah be mek but five lil lil hut then a mek this one [house] wha lil mo betta, so long time life deh tough."
Access to potable water, telephone and transportation was very hard in those days Sister Rose said. She told us, "Abe use to gah go pond fuh wata and me had one dress. Me use to wash am and put am fuh dry. It been very difficult but nah mind, it been sweet."
She said that her children used to go barefoot to school and their mode of transportation was the paddle boats which used to traverse the canal. The main economic activity for villagers then as nowadays was farming, and like many other women Sister Rose said that she used to be by her husband's side in everything he did. She described how, "me husband cut cane, me cut cane, he plant mah plant, me bin a do all thing. Everyway me get one a me children with me. Me had me cow wah mah milk."
People in the community used to grow provisions, vegetables and cane – the cane being sold to the estate. Farmers' cane is still grown in the community but at present it is not crop time. Sister Rose also mentioned that when she cooked a meal with plantain and cassava, it was a meal. She said, "When me cook one pat then and me grate one or two, three coconut and dry fish – man look!"
When asked if she prefers living in the present era or times past, Sister Rose replied, "Man wah me go tell you, all the time we go true and all the time me like because ah be live abe life."
She stated that life now is much better and she survives on her old age pension and her husband's pension from the Wales Estate, where he was employed. She said, "Dah a do, and left ova fuh me cause ma  mek am do. Ration very dear, so if dem [government] can help abe out lil bit more it go be nice."
Sister Rose's daughter Ileen told us that for health care in the community villagers have to go to health centres in neighbouring communities or to the West Demerara Hospital. This is because there is no doctor at the health centre in the village on most days; he is there one day per week. She said, "Ah be gah go out and ah be nah get one nurse in hey, no nurse. When you go out dem a ask you fuh see you card and tell you go back a you area."
They told this newspaper that this can be frustrating at times, since in simple situations they would have to travel long distances to access medical care on the days the doctor is not at the centre.
Ileen observed that they have almost everything in the community to make their life comfortable, but they still need landline phones and a police station. Most residents shared Ileen's position on this issue, but despite this they are all agreed on one thing – that the community is very nice and comfortable to live in. People are very friendly and helpful, they said, and crime is not a major problem.
photos by Arian Browne
Around the Web