Anyone who knows anything about my work in music will know of my commitment to Caribbean dialect.  In my consciousness, there is no high meaning as to why this is so, but there it is. It may owe to the very rhythm of the dialect that lends itself so naturally to music, or it could be the "sweetness" of some of the constructions, or to the unique words that we find only in the dialect. Frankly, I don't waste my time trying to figure out the propulsion; I love the dialect expression and verve, I embrace it fully, and I'm always listening for it in my travels.  But it wasn't always so.
Going back a bit, in my early years as an immigrant to Toronto I would often be embarrassed by some mispronunciation of mine that Canadians would laugh at.  I particularly remember my difficulty with what linguists call the interdental – the "th" sound that is missing in most Caribbean dialects – and the confusion, for example, when I would point to the apples in the grocery and say, "Can I have tree of those?" Like many Caribbean immigrants I went through my share of such awkward moments, but probably propelled by my involvement in Caribbean music where I was constantly dealing with dialects, I continued to enjoy the expression though I must admit that I was selective about where I would display it.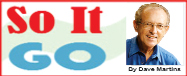 And then there was a signal occurrence.  In the late 1970s, with Tradewinds well established, I decided to go to university, as a mature student, to widen my horizons, so to speak. In the first year of a BA programme I jumped headlong into a linguistics course along with a number of foreign-born immigrants to Canada.
Halfway in the year, with some linguistics basics in place, we were askedto do a paper on the dialect we spoke in our homeland, and I set about to unravel the way I spoke at Hague and Vreed-en-Hoop growing up on the West Coast. I was less than enthusiastic.
After all, this was my "bad English".
Halfway through the paper, came the epiphany.  In sifting the West Coast dialect through the linguistics matrix, it suddenly struck me that what I had been led to believe was "bad grammar" or " people talking ignorant" was actually a very precise language with all the ingredients (tense, declension, plurality, aspect, syntax, etc) of such.
In the dissection to explain it, I saw, for the first time, the legitimacy and correctness of our language, the adherence to rules and structure. I saw it for the first time as legitimate, for its function, as Standard English was for its.  It was a thunderbolt. It affected me powerfully, because it went, as I interpreted it, beyond the language aspect into every aspect of Caribbean life, and it consequently transformed the way I saw myself and, by extension, my people.
It may sound melodramatic to some, but that moment of revelation in that classroom in Toronto has had more impact on me than any other single experience in my life.
The irony of it – and this came to me early as well – was that the very thing that had served in the past to embarrass me, or even make me feel second-rate, was now instead actually a demonstration of the self-worth and intelligence and inventiveness of Caribbean people.
It is a realization that has been hardened and embellished over time, and probably because of the effect it has had on me, I take particular delight in this dialect "awe dis does talk" whether it's West Dem, or Montego Bay or Bridgetown or Castries.  Naturally, we must learn Standard English – the reasons are obvious; I won't bother to list them – but we must also wholeheartedly accept these dialects we speak because time after time they are the most telling and pungent and effective ways we have to communicate, and they are our creations; substantial ones.
It's there in the brevity. How better to describe a pane of glass breaking than to say "kleeshing"?  Just one word – "kleeshing".  Take the meaning we convey, referring to someone who ignored us, when we say, "She didn't even voomps on me."  In that single word we all know, "voomps", we immediately grasp what a dictionary sequence would take a sentence to explain.  Think of the convolutions one would have to achieve in Standard English to describe what you mean when you say, "She? She too ruction."  Or the delicate accuracy of "she siddung bad"?
In matters of cuisine, we have an expression referring to some food a small bite of which blunts your appetite; we say "it gains' mi".  See the difference? Seven words one way; three words in dialect.  In the Cayman Islands, they're even more brief.  They say, "it stallin'".
Think of the Guyanese expressions "cummerish", "fenkyfenky" and "watawata".  Do you know how to explain such conditions more concisely? I know that I don't. Indeed, are there any single words in Standard English at all to properly describe "cummerish" and "fenkyfenky" and "lamata"? Those are only three examples of the kind of word creations that we exhibit in our dialects that are not only rhythmic to the ear but very precise in their meaning.
Where, for example, is there a more beautiful description of a roguish, conniving person than in the Jamaican word "jinal" or in their description of a sensual folk dance as "brukkins"?
Our dialects sing in their manipulation of words into picturesque patterns. In our Tradewinds nightclub in Toronto we had a champagne draw every Friday night at midnight.  A Jamaican patron came in late one Friday, very upset that he had missed the draw.
When I asked him what had happened, he said.  "I was in the West End, and a lateness take me."
Learn your Standard English people, but put your dialect under lock and key and let no one take it from you or attempt to devalue it.
It is a powerhouse of information and specificity and besides, in these days when all mankind is scrambling to be unique, it is one of the things that belongs only to "awe dis".
Comments
CARACAS/HOUSTON (Reuters) – Venezuela's unraveling socialist government is increasingly turning to ally Russia for the cash and credit it needs to survive – and offering prized state-owned oil assets in return, sources familiar with the negotiations told Reuters.
By Carl Bildt CHICAGO – We are now in the final days of the industrial age.

During Men's Health Week, the man/woman in the street were asked to speak on their lifestyles and what they do to maintain their health or to encourage their significant others to lead healthy lifestyles.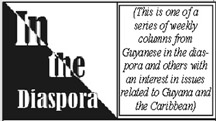 By The Caribbean Voice There are no reliable statistics on the amount of persons engaging in the use of illegal drugs or those described as addicts.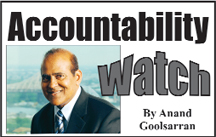 In last week's article, we referred to the two recognized methods of accounting for costs relating to the exploration, development and production of crude oil and natural gas: the "successful efforts" (SE) method and the "full cost" (FC) method.