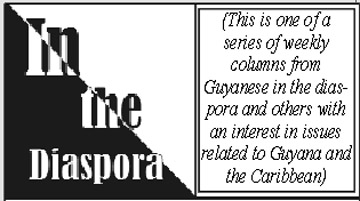 By Janet Gillis and Maya Trotz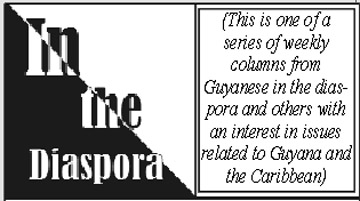 Janet Gillis is Marketing and Communications Officer at the College of Engineering, University of South Florida (USF). Maya Trotz is Associate Professor of Civil and Environmental Engineering at USF and a founding member of the Caribbean Science Foundation. A version of this article first appeared on the USF homepage on July 24, 2013 at http://news.usf.edu/article/templates/?a=5570&z=210
Twelve students and twelve teachers from twelve Caribbean countries spent one afternoon of their week-long visit to Central Florida last week, touring labs at the College of Engineering and learning about sustainability, water resources, clean energy and nanotechnology. The groups were winners of the SAGICOR Visionaries Challenge that ran across the region this past year, and for many of the visitors this was their first trip to the United States. The Challenge is sponsored by SAGICOR, CXC and the Caribbean Science Foundation (CSF).
The Florida event was organized by Maya Trotz, Civil & Environmental engineering professor at the University of South Florida (USF), and a founding member of the Caribbean Science Foundation (whose interim Executive Director is Cardinal Warde, a Barbadian Professor at MIT). According to Dr. Trotz, who spent her sabbatical working on this project, "This has really showed me how relevant the sustainability work we do at USF is beyond academia and the US and has opened my eyes to the role I can play as an educator and a member of the Caribbean diaspora based in Tampa. The support from USF's faculty and students in terms of mentoring Caribbean teams in this challenge over the past year, and opening up their engineering labs for tours this week without hesitation speaks volumes to our belief in transdisciplinary education and global sustainability."
The SAGICOR challenge is aimed at secondary school students who are encouraged to identify a challenge facing their school and/or community and present a sustainable solution that shows how Science Technology Engineering & Mathematics (STEM) were used. The winners from each Caribbean country competed in a regional competition in Barbados, with the prize of a seven-day all expenses paid STEM Ambassador Program trip to Florida. The participating countries were Anguilla, Antigua and Barbuda, Barbados, Belize, Dominica, Grenada, Guyana, Jamaica, St. Kitts and Nevis, St. Lucia, St. Vincent and the Grenadines, and Trinidad and Tobago. In addition, approximately 50 projects were mentored by USF faculty, graduate students and alumni. Winning projects can be viewed at: http://sagicorvisionaries.org/site/ winners/.
The mentors included Trinidadian-born Ken Thomas, '10 PhD who now teaches at Auburn; Guyanese-born Kofi Dalyrmple '11 PhD; and Haitian-born Prony Bonnaire '12 PhD who wants the program to expand to Haiti. All are environmental engineering graduates. Lilia Abron, founder of Peer Consultants and one of the first African American women to earn a PhD in chemical engineering in the United States had her company mentor multiple energy-related projects. While USF provided the largest concentration of mentors, professionals from around the world were matched with the 175 projects that entered the challenge. Guyanese born Prof Dawn Lewis from the biology department at Florida Agricultural and Mechanical University mentored Zeeburg and when they won Guyana's national competition she said to them, "Just shows what hard work can achieve. I am proud to be associated with Zeeburg High School. If you need any help with planning future science projects in the future, please do not hesitate to contact me."
In Florida, students and teachers attended an International Summer Camp organized by the Museum of Science and Industry (MOSI) that included visits to the Kennedy Space Center and Disney's Epcot. It's been an exhausting, nonstop week for the students but the smiles on their faces said it was all worthwhile. Teshanna Mohammed, 15, a student at Naparima Girls High School in Trinidad & Tobago described the week as amazing. "It has been an exciting learning experience. My favorite part of the trip so far has been building the Lego NXT robots at MOSI. My team came in first!" Teshanna loves mathematics and hopes to someday have a career in actuarial science. Angel Navidad, the regional challenge winner from Bishop Martin High School in Belize, said that "USF stood out as he learned a lot about nanotechnology & things that Caribbean people have done in science and engineering. We don't meet or hear about many Caribbean scientists, but they exist and are role models to students like myself."
At an evening reception hosted by the Patel School of Global Sustainability and USF's College of Engineering, the students and their teachers described their projects to representatives from the Hillsborough Country Public Schools, MOSI, Sagicor, the Caribbean Science Foundation, and the Caribbean Examinations Council. Teacher Sarah Balgobin said that student interest in science, especially by girls, is at an all-time high in the Caribbean. "Our school admits 700 students and we can't fit all the applicants in." Balgobin was hoping to meet one of her former students, Trina Halfhide, now a doctoral student in environmental engineering at USF. She described Halfhide, a Fulbright Scholar, as one of the most honest and dedicated students she has ever taught.
As a result of the challenge, three Sagicor Visionaries winners (Danielle Bartholomew and Stacy Charles of Grenada, and Lakshman Ramdat of Guyana) were selected and sponsored by the Emerson Collective, headed by Laurene Powell Jobs (widow of Steve Jobs), to attend Malala Day on July 12 at the United Nations in New York City. Malala Yousafzi is a courageous advocate for universal education and girls' rights. July 12, Malala's 16th birthday, was supported by the U. N. Secretary-General's Global Education First Initiative that aims to have all of the world's children in school and learning by 2015.
According to his bio, 15 year old Lakshman Ramdat is a student at Zeeburg Secondary in Guyana, South America. He led his school team to win the national competition of the Sagicor Visionaries Challenge. Their project aimed to improve the air quality around their school with a safe and efficient renewable energy system for the drying of shrimp that the local fishermen continuously dry on the sea defense structure in front of the school. In addition to reducing the air pollution which usually shut the school on bad days, his team's solution will also produce a more healthy food product and useful by products. At the regional competition he represented his team against 11 other Caribbean winners and received the award for best project plan. According to Lakshman, "It was indeed a wonderful experience interacting with youths from different countries who had great interest in Global Education. Malala is a young and courageous lady with peace and love in her heart. She has inspired millions of youths around the world, including myself. I stand firmly with Malala to ensure every child has access to education, for EDUCATION IS THE KEY TO SUCCESS WHICH COMES WITH DETERMINATION AND HARD WORK. I'll like to appeal to parents and teachers to CO-OPERATE with each other to ensure every boy and girl has access to education in our BEAUTIFUL country GUYANA. LETS WORK TOGETHER TO ERADICATE ILLITERACY!"
Ms. Petal Jetoo, Guyana's National Science Coordinator served as a chaperone to the Caribbean group at this UN Youth Assembly.  She says, "I am encouraged by the strength and fearlessness of young Malala and was especially moved when she quoted the wise saying, "The pen is mightier than sword".  In our efforts to try to improve education we sometimes forget to use what we have around us and complain of the things we do not have.  The Ministry of Education continues in its drive to eliminate illiteracy; modernize education and strengthen tolerance."
Danielle Bartholomew is a 2nd year student at T.A. Marryshow Community College in Grenada where her focus is on Physics, Biology, Pure Math and Chemistry. She was part of the winning team from Grenada in the Sagicor Visionaries Challenge with a project that was developed to solve multiple challenges at her school. She has recently cofounded a website for promoting STEM in Grenada. 19 year old Stacy Charles recently completed her CAPE exams at the T. A. Marryshow Community College (TAMCC) in Grenada where she focused on the science subjects. She represented the school and country, along with 4 other peers, in the 2012 Caribbean Youth Science Forum where she garnered a lot of information, gained insight and made new friends. Together with her friend and colleague, Danielle Bartholomew, they resuscitated the TAMCC Science and Technology Club. Through this, they formed the group Water Striders which took part in the inaugural Sagicor Visionaries Challenge this year. They were awarded National Winners for their project that implemented many water efficiency measures at TAMCC. Currently, they are working on a magazine to promote STEM (Science, Technology, Engineering and Mathematics) in Grenada and the Caribbean region. According to her, "The UN Youth Global Education Conference was truly amazing. I got to meet persons from so many different countries and hear their touching and inspirational stories. This experience made me realize the opportunities that we have here in the Caribbean and how little we value our education…Like the popular saying goes, "You never miss the water 'til the well runs dry", and I hope to God we learn to appreciate what we have before something forces us to. It will be a shame to throw away such a valuable gift that millions of boys and girls around the world are longing for. After being a part of the UN Global Education Initiative and Malala Day, I think it imperative to motivate young students to take education seriously. Be excited for school: Be engaged; Be motivated; Be enthusiastic. We need to be grateful for what we have. But we shouldn't just leave it at that. We need to keep upgrading and elevating to higher standards. To settle for sub-par levels of education is nothing but cruel to our intelligent young minds. We need to stimulate these young brilliant students and kindle that passion and desire for learning; not cramming and memorizing, but truly learning and being engaged in the world around us. The Sagicor Visionaries Challenge was a lovely start, but we can still do more. Our "best" is never good enough because tomorrow, we can ALWAYS do better. But talking about making a change does nothing; we need to take action and do it NOW. Like Malala said in her truly touching speech, 'One book, one pen, one student can make a difference.' She was one brave girl who made a difference and sparked a world-wide revolution. Likewise, we can be that small change that triggers major positive transformations in the Caribbean. It all begins with us. It is my dream to see Science and persons in this field celebrated and discussed in Grenada. I do believe I will achieve all of my goals someday: All it takes is one step at a time."
As Maya Trotz notes, reflecting on the conclusion of the 2013 Challenge, "This Florida visit is the final official activity of the inaugural year of the Sagicor Visionaries Challenge. Our work does not end here though as the whole point was to get teams to push projects that transform their schools and communities into better spaces for learning and living. I think it's neat that a private company that started in the Caribbean over 170 years ago has helped to create a STEM educational challenge that is stirring up so much excitement, in the region and as far as Tampa. When this phenomena happens with technology we call it reverse innovation."
Around the Web