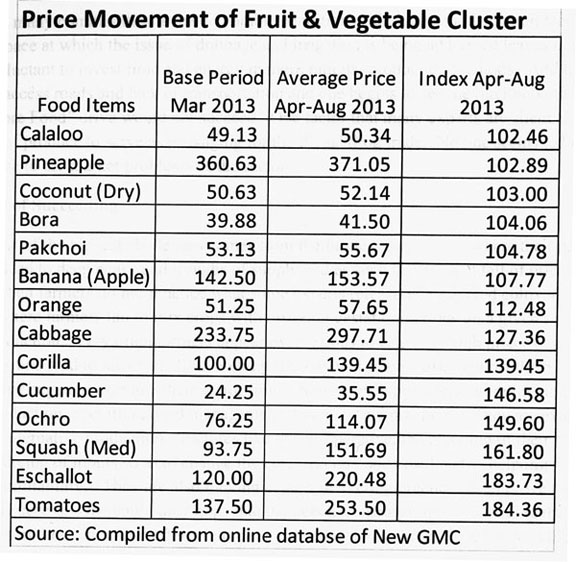 Reliable data is very important for conducting analysis and for making good decisions.  One source of reported data is the annual report of the Bank of Guyana, which has been publishing information compiled either by itself or by other entities such as the Statistical Bureau and the Ministry of Agriculture.  It has been doing this for many years and one has to believe that with the scrutiny that its work gets from multilateral financial institutions, the Bank of Guyana seeks to ensure that the information contained in its reports meets the integrity test.  It is the reason that this writer relies on information in the various reports published by that institution.  Much use is made of the Bank's annual report in which could be found statistics on domestic output of many products.  Of particular interest is the condition of the agricultural sector where the data suggest that sugar might not be the only thing in crisis.
Economic diversification
In 2008, Guyana embarked on a 'Grow More Food' campaign in an effort to reverse the downward trend in food output that became quite noticeable after 2000.   Couched in a framework of economic diversification, the focus has been on the "non-traditional" commodities since the products that make up this part of the agricultural sector never had the same status as sugar under colonial rule.  A wide range of products forms part of the non-traditional agricultural sector and are grouped into three clusters, namely aquaculture, livestock and fruits and vegetables.  Aquaculture speaks for itself and deals with fish farming.  Livestock, according to data from the New Guyana Marketing Corporation (NGMC), emphasizes three types of meat, namely beef, chicken and pork, and eggs.  The largest cluster is that of other crops which consists of 18 types of fruit, five types of root crop, one type of legume, five types of seasoning, and 12 types of vegetable.  Each grouping of food is reported on by the Bank of Guyana, even though not all of the products are included in the production index.
Halo of positive growth
The effort to revive agriculture might be facing serious difficulties that are not being addressed with fierce urgency by the administration.  Instead, the troubles of the industry are being shrouded in a halo of positive growth statistics trotted out in the annual national budget report.   The non-traditional sector reportedly grew by 7.7 per cent in 2008 and has not stopped growing since that year.  In 2009, it grew by 5.8 per cent.  In 2010, it reportedly grew by 2.5 per cent.  In 2011, it grew by 5.7 per cent and in 2012 growth was reported at 5.3 per cent.  However, the drivers of this growth cannot be found in the production statistics that appear in the annual report of the BOG.  A review of the Bank's production table indicates that every crop in the largest cluster (fruits and vegetables) has struggled to reach even the relatively low production level that was attained in the year 2000.  Despite the potential to do better, production is consistently down between 67 and 92 per cent since the start of the 'Grow More Food' drive.  Things are so bad that the Bank could not even publish production statistics for most non-traditional crops for 2012.
Production gap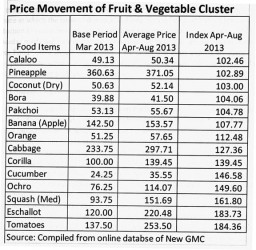 The production gap of 67 to 92 is exceptionally large for the level of investment supposedly being made in the non-traditional agricultural sector. From 2009 to 2012, an estimated $4.9 billion has been invested, and by the time this year is over, a total of about $7 billion would have been invested in a food drive that seems to be going nowhere.  The struggle to make produce available in the local markets in the face of unmet demand has put upward pressure on food prices.
It is not surprising therefore that many households are grieving about food prices and are constantly debating what to cook and eat.  Things have been severe this year despite the favourable impressions of the earlier months of 2013 as shown in the table below.  Fourteen of the 18 items in the fruits and vegetables cluster have increased significantly since March of this year.  The increases range from 2.46 per cent for calaloo to 84.36 per cent for tomatoes.  One would not know the full impact of the higher prices on the cost of living of households until the important Consumer Price Index (CPI) for the year becomes available.
Support
The problems are known, but the issue is whether they are being addressed with the attentiveness and urgency that many of them deserve.  Efforts have been made to support farmers.  Market surveys by NGMC have helped to find export markets.  Farmers have also received support with cold storage facilities and general advice on how to package and sell their produce.  Despite the official support, problems persist.  Persons close to the sector have identified a series of difficulties that undermine the motivation and performance of farmers.
Production problems
There is evidence that some farming communities might be suffering severe labour shortages arising from high levels of labour mobility between industries.  Farming is tough and production methods in Guyana do not always use technology that could lighten the burden of labour.  Workers are therefore opting for industries in and out of Guyana that offer better wages for their labour.  Discussions also reveal that farmers are finding crop care and management too costly.  They need help and are not getting it fast enough.  Farmers are being turned off too by bad weather, disease, pest infestation and the continuing problem of access to finance.  A major concern in many communities is the deplorable condition of drainage and irrigation facilities.  The slow pace at which the issue of drainage and irrigation is being addressed leaves many farmers reluctant to invest time and energy in more rational production methods.  Add to that improper access roads and lack of transportation and one begins to see the likelihood that the 'Grow More Food' drive would not succeed.  One factor that many experts are silent about is the diversion of produce to serve as 'packaging' for the illegal drug trade.  No one seems to be linking this practice to the market problems of the sector.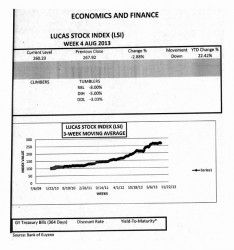 A chance of succeeding
Perhaps one of the biggest challenges comes from the farmers themselves where their production strategies lead to deep peaks and troughs of supply and as such the rise and fall of prices.  This happens when farmers do not practise what some experts refer to as staggered cultivation, a situation where they fail to mix crops with differing gestation periods on a given acreage during production.  Very often farmers appear over zealous to catch the high prices of a particular commodity and tend to adopt an all-or-nothing strategy that often works against them.  Some farmers have begun to examine their sector from a holistic viewpoint and are rethinking their overall production, operational and management strategies and practices.   They are examining the use of alternative production structures like the co-operative, the planning of their production and the sourcing of inputs so as to change the cost structure and cost level to help improve cash flow and profitability.   They are also looking at their marketing practices to improve their chances of success.  One could only hope that the persons responsible for managing the sector would support these and other efforts in order to give the 'Grow More Food' drive a chance of succeeding and to bring agriculture out of its crisis.
Around the Web